Marques Bolden "The 6'11 Golden Child"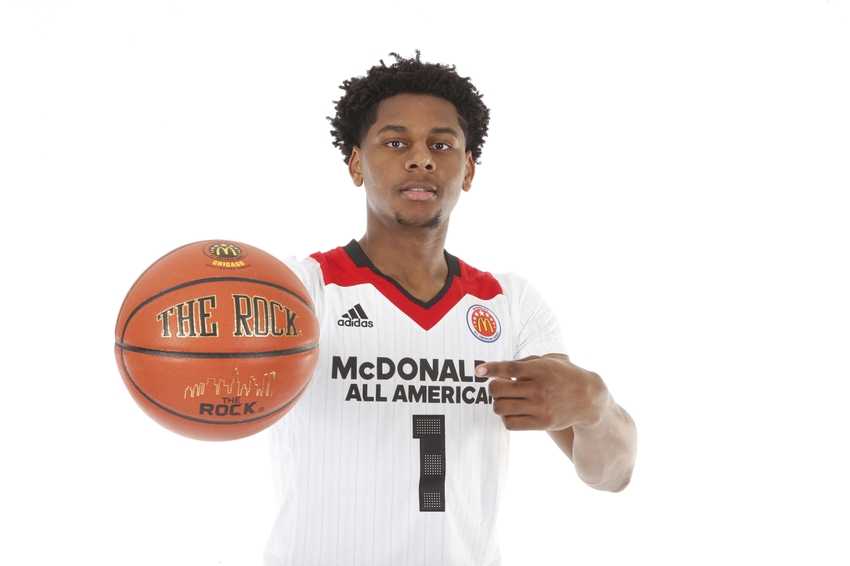 Exceptionally valuable, lustrously gifted.
Standing from bottom to top at 6'11, Marques Bolden's presence underneath the rim shines like a pot of gold.
Incidentally, how many karats of gold makes Bolden's game shine?
Not to overemphasize, but I would say approximately 24 karats.
24 karats of gold, coincides with his 24.0 ppg average at Desoto High School in Texas.
Precisely, Bolden's playing style at the center position is unprecedented.
Duke fan's, "The Golden Child" is not just a man amongst boys, but when you analyze his style in the paint as a center, it's almost like, " Alley-Oop, turnaround, spin move, up and under, jab step, 13 footer".
Out of the six I just presented, only one makes the 24 karats of his game shine more illustrious.
"Alley-Oop" to the "Golden Child".
Bolden's dunk, sends the crowd in a frenzy.
BOOM. 24 KARATS OF THAT DUNK. Someone grab the trainer, guy is down after experiencing 24 karats of the "Golden Child".
After 24 karats of explanation, there's a little more about the "Golden Child" that needs to be attributed.
Massively, he weighs 245 lbs and runs the floor like a shooting guard, or small forward. Bolden's hometown Desoto, Texas, is where he became a primetime player. According to major recruiting services, Bolden was ranked the No.8 overall recruit and the No.1 center in the 2016 high school basketball class. In addition, Rivals.com listed him as the No.11 overall prospect, along with being No.12 by ESPN. As a senior at Desoto High School, Bolden averaged 24.0 points, 10.2 rebounds, and 2.6 blocks per game. As a result, his leadership led Desoto to a Texas Class 6A state title. Briefly the other day, I had the opportunity to analyze a few highlights on Ballislife.com, and after what I visualized I ratified my own conclusion.
His game is worth, 24 karats of gold.
Shiny hook shots, shiny jumpers.
30 second timeout. Big time play for the "Golden Child".
Bolden catches the pass at the right block with one hand, pump fakes, one dribble, and BANG.
Another player's body was mutilated, by the "Golden Child".
Early in preseason practice, the Blue Devil freshman center suffered a lower leg injury which caused him to sit out the first four games of play. He's the third freshman for Duke that's been sidelined due to injuries, as top recruits Harry Giles and Jayson Tatum's status is still being updated.
Bolden's strong presence down low, along with incredible shot-blocking ability will give Duke an extra option for a big man, this 2016-17 season. Surely, head coach Mike Krzyzewski feels enamored by the propensity that Bolden brings to the Blue Devils. Not only will Bolden be an integral part of Duke's offense, he'll be a problem in the paint for many centers in the NCAA.
Conclusively, if Bolden stays healthy and makes an immediate return he could easily emerge as a top ten NBA lottery pick. And with the temperament of Duke's basketball program, it won't be an issue.
Well Blue Devil Nation, Marques Bolden is Duke's 2016-17 "Golden Child".
24 more karats of gold, and this analysis will be done.
12.7 seconds in the fourth quarter, Bolden inbounds to his point guard, throws a nice alley-oop!
Bolden catches the alley with one hand!
BANG!
Oh goodness, another body has flew to the 1st row of the bleachers.
Fan's, Marques Bolden's game is worth 24 karats of gold.
Pay attention this season to, "The Golden Child".
This article originally appeared on