LSU Basketball: Ben Simmons takes shots at NCAA in Showtime documentary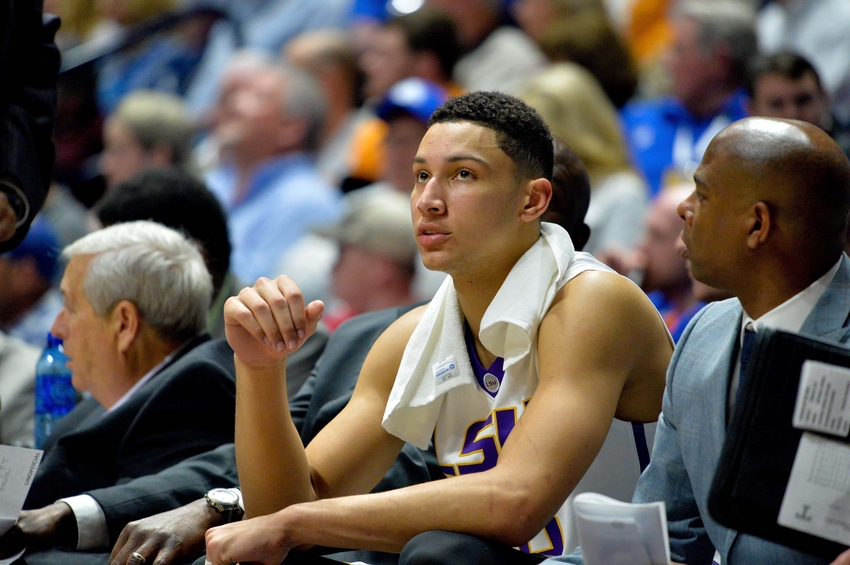 The former number one overall recruit is blaming the NCAA for "wasting" his lone season of college basketball.
Former LSU Tigers forward Ben Simmons was the most polarizing figure in all of college basketball last season. No one denied his talent and skill level, but Simmons was placed on a pedestal as the number one overall recruit in the class of 2015 and the eventual number one overall pick in the 2016 NBA Draft.
There's no doubt that Simmons delivered with his stats (19.2 points, 11.8 rebounds and 4.8 assists per game). However, he was unable to lead LSU to the NCAA Tournament and led the team to a couple of embarrassing outings down the stretch, including a 71-38 defeat at the hands of Texas A&M in the SEC Tournament.
Simmons' lack of leadership and poor body language showed up during SEC play, resulting in criticism throughout the nation for a player that was supposed to keep the Tigers in the top-25 rankings all season long.
In a Showtime documentary that followed Simmons from his time in Australia through the process of the NBA Draft, the forward ripped the NCAA and blamed them for "wasting" his only season of college basketball.
"The NCAA is really f—ed up," Simmons said on "One and Done," a film that will air on Showtime on Friday night. "Everybody's making money except the players. We're the ones waking up early as hell to be the best teams and do everything they want us to do and then the players get nothing. They say education, but if I'm there for a year, I can't get much education."

…"I got B's and C's; I'm not going to class next semester because I don't need to," Simmons said. "… I'm here to play, I'm not here to go to school."

…"The NCAA is messed up," Simmons said. "I don't have a voice. … I don't get paid to do it. Don't say I'm an amateur and make me take pictures and sign stuff and go make hundreds of thousands of millions of dollars off one person. … I'm going off on the NCAA. Just wait, just wait. I can be a voice for everybody in college. I'm here because I have to be here [at LSU]. … I can't get a degree in two semesters, so it's kind of pointless. I feel like I'm wasting time."
Is Simmons feeling a sense of regret? His tumultuous season didn't affect his NBA stock, but it did expose some of the flaws in his game and attitude.
It's understandable that Simmons would've preferred compensation for his time in college. He was the centerpiece of an LSU campaign before the 2015-16 season called '25 Is Coming' and helped increase LSU's attendance throughout the year.
More from Busting Brackets
But this is no one's fault but Simmons. If he didn't want to play in the NCAA, didn't want to go to class and didn't care about his one year of education, then why didn't he jump at the opportunity of going straight to The Association?
As an international prospect, Simmons had the luxury of playing in Australia until he was eligible to enter the NBA Draft. This is what Kristaps Porzingis did. Dragan Bender did. And what the other 25 international prospects who were chosen in the 2016 NBA Draft did.
Instead, Simmons opted to play his high school basketball at Montverde Academy in Florida and committed to LSU (his godfather, David Patrick, was an assistant). He likely knew what he was getting himself into.
Even after coming over to the United States, if Simmons didn't want to attend college, he could've taken the Thon Maker-route and played a post-graduate year before entering the NBA Draft.
As much as some people disagree with the NCAA's amateurism rules, they aren't exactly a secret.
The other part of this relates to head coach Johnny Jones. Jones is definitely on the hot-seat headed into the 2016-17 after failing to capitalize on Simmons' presence in Baton Rouge. On top of his shaky coaching last season, Jones failed to punish the freshman forward for his academic issues.
Sure, Simmons wasn't eligible for the Wooden Award (he failed to achieve a 2.0 GPA) and he was benched for more than four minutes at the beginning of a conference game, but was that really enough to send a message? Regardless, this documentary is going to be must see television on Friday night, regardless of whether your blamed is placed on Simmons, Jones or the NCAA.
This article originally appeared on