Louisville Basketball: Why the Cardinals have an elite defense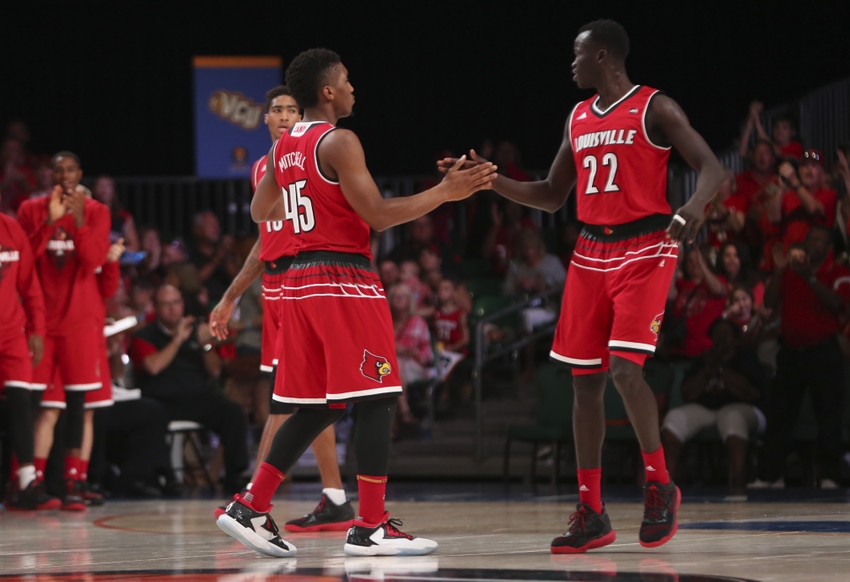 Louisville basketball has the length and shot blocking prowess that have helped them mold into an elite defense.
North Carolina has been the most impressive all-around team in the ACC through the first two weeks of the season.
Louisville hasn't had as grueling of a schedule and they don't have as potent of an offense as UNC. However, the Cardinals not only have been one of the best defensive teams in the ACC, they might be the best defensive team in the country.
Through five games, the Cardinals have given up just 55.8 points per game, are holding opponents to just 32 percent shooting overall and are ranked number one in KenPom's defensive efficiency rankings. Add in the fact that the most points Louisville gave up in a single game came in an overtime win against a feisty Old Dominion team, and it is rather obvious that their defensive numbers put them in the 'elite' category.
There are two reasons the Cardinals are so tough to crack: Their length and their ability to mix-and-match styles.
Let's start with the former because it is the most obvious of the two when you watch Louisville up close. The Cardinals have long, athletic and agile players at every single position. We are talking about 1-through-5. Their guards. Their big men. Their wings.
Just take a look at some measurable's and notes, per Draft Express and NBADraft.net:
Colleges don't always measure wingspans, so some of these numbers could have changed over the course of the last year. However, you can't get much better than having five players that can guard numerous positions due to their physical tools.
And this list doesn't even count Mangok Mathiang (6'10") and Anas Mahmoud (7'0″) who are the two tallest players on the team!
The Cardinals have 41 blocks in five games, which is top-10 in the country. They make it very difficult for opponents to throw it over the top or make simple passes. They can switch religiously, making it awfully tough for teams that want to run the pick-and-roll.
The second part of the equation is Louisville's ability to mix-and-match and play different styles of defenses.
The Cardinals can play man-to-man defense, regular zone defense, a full court press, a half-court press and most recently, a match-up zone, something they haven't shown yet this season. In anticipation of their battle with Wichita State in the Battle 4 Atlantis semifinals, Pitino implemented a match-up zone the morning of the game.
"We had 55 minutes to teach it because we didn't put it in at all," Pitino said following his team's 62-52 victory over the Shockers. "…For them to grasp that and cause confusion and good defensive play. I am very proud of them.
"I said to V.J., 'Are you OK man? You look like your lost', Pitino said. "He said, 'press, zone, then go to man, back to zone, phew.' It's a lot for them to pick up but (King) did an excellent job."
With the match-up zone now in their arsenal, Louisville can use unique defenses against different opponents to throw them off-guard. They can adjust mid-game, depending on what is working and what's not, or just overwhelm the opposing team with their depth and heavy rotations.
The Cardinals aren't the best team in the ACC by any stretch of the imagination. But they have proven themselves to be elite on one end of the floor.
This article originally appeared on