Louisville Basketball: Take a look at the Cards' championship opponent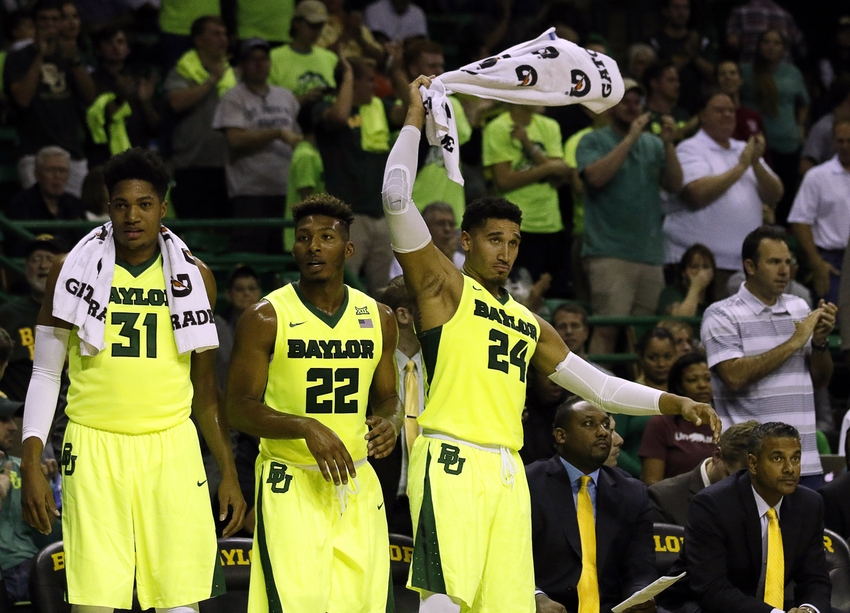 We preview the Battle 4 Atlantis championship game between the Louisville basketball team and the Baylor Bears.
The Louisville basketball team has made their way into the championship game of the Battle 4 Atlantis and will be taking on #20 Baylor. The Cards have won their first five games this season, but nothing so far would be as sweet as beating the Bears Friday afternoon and coming home as the champs.
Want your voice heard? Join the Big Red Louie team!
Baylor is also 5-0 heading into the title game with wins over VCU and #20 Michigan State in the 1st two rounds of the tournament.
Here is all of the TV information that you need to know for Louisville's game against Baylor on Friday afternoon:
What: Battle 4 Atlantis championship game

Who: #20 Baylor Bears vs. #10 Louisville Cardinals

When: Friday at 3:30pm

TV: ESPN
It was an impressive two victories for Louisville, since they weren't challenged too much before heading to the Bahamas. They have been in two battles over the past few days, but they have been able to overcome some early adversity to win each game.
Baylor presents the toughest test so far for the Cardinals this season. Another poor shooting performance could haunt Louisville, but their defense has kept the other teams shooting just as bad.
If they can continue to stay focused and play hard on the defensive end, then the Cards should be able to come out of this tournament undefeated.
With that being said, let's take a look at some more important information about the game on Friday.
Baylor Bears' Players to Watch:
The Bears have been on fire to start the 2016-2017 season. Baylor has already won five games and are creeping their way towards being a legitimate top fifteen team. If they can knock off the Cardinals, they will surely achieve that goal by Monday afternoon.
Here are Baylor's statistical leaders, according to ESPN:
Manu Lecomte: 34.2 minutes per game, 16.5 points per game, 6 assists per game

Jonathan Motley: 31.3 minutes per game, 16 points per game, 7.7 rebounds per game

Al Freeman: 30 minutes per game, 14.3 points per game, 3.5 rebounds per game

Jo Lual-Acuil Jr: 30 minutes per game, 9.3 points per game, 4.5 blocks per game

Ismail Wainright: 26.8 minutes per game, 6.8 points per game, 5.5 rebounds per game
These five players have been the backbone of what has brought five wins their way. Not to mention, they already have a 66-49 win over the #4 Oregon Ducks to add to their resume.
Baylor's best player through five games:
This guy has been on fire since transferring from Miami a few seasons ago. He has added a solid guard to a Baylor team that is already very talented. Louisville's guards must come to play and not find themselves giving Lecomte open looks during the game.
Check out this quick bio of Lecomte, courtesy of Baylor's official athletic website:
"Junior point guard from Brussels, Belgium, transferred to Baylor after playing two seasons at Miami (Fla.) … Practiced with BU squad during 2015-16 season, redshirted to satisfy NCAA transfer requirements … Finished Miami career ranked second in school history with .434 3-point percentage … Holds Miami school record for 3-point percentage in ACC play (.458) … Name pronounced MAHN-ew la-CONN-t."
Lecomte is a legit scoring threat that the Cards need to pay attention to. He has put up 13, 18, 19, 16, and 8 points in the Bears' first five games of the season.
Not to mention, he can pass with precision and experience that gives his teammates great opportunities to find the basket.
This article originally appeared on