Louisville Basketball: Projected starting five for the Cards & Purple Aces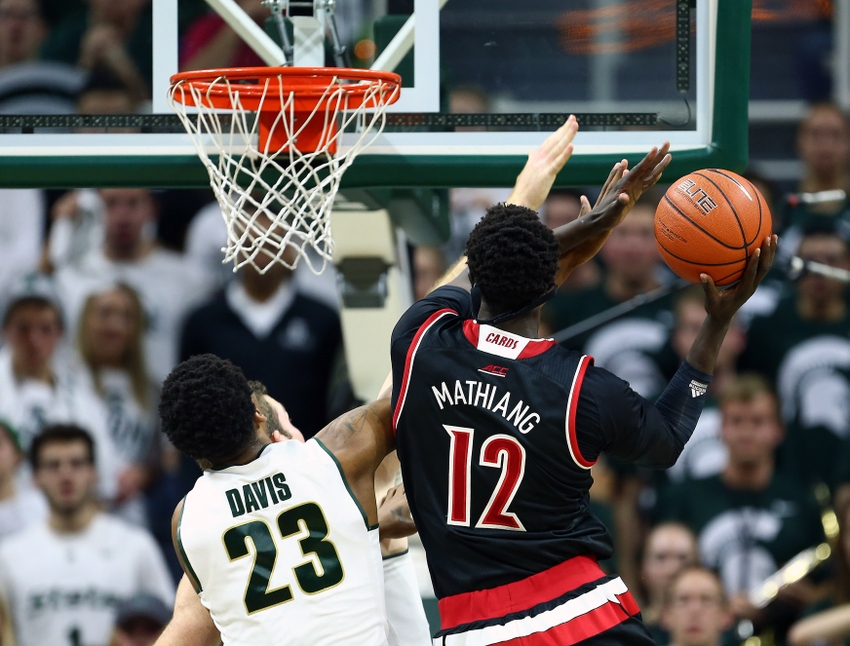 We take a look at the starting lineups of both the Louisville basketball team and the Evansville Purple Aces for their game on Friday.
The 2016-2017 basketball season officially tips off on Friday night when the Louisville basketball team and the Evansville Purple Aces take the floor. The Cardinals are obviously favorites going into the game, but the Aces are a pretty solid team from the Missouri Valley Conference.
The Aces have lost a ton of talent from last year's squad, therefore this could be a rough game for them, despite already having to play one of the best teams in the country anyways.
Here is Louisville basketball's projected starting five for the game against Evansville, according to Jeff Greer of the Courier Journal.
LOUISVILLE 

Pos.-Player Ht. Cl. Rb. Pts.

G-Quentin Snider 6-2 Jr. 3.5* 9.4

G-Donovan Mitchell 6-3 So. 3.4 7.4

F-Deng Adel 6-7 So. 2.1 4.0

F-Jaylen Johnson 6-9 Jr. 3.5 5.0

C-Mangok Mathiang 6-10 R-Sr. 5.7 7.1
There should be no surprise here. It will be interesting to see what kind of offensive magic that Donovan Mitchell and Deng Adel can create together on the court. If these two can work great together, then Louisville could have another great basketball year.
At the same time, Mathiang and Johnson need to be dominant on the boards this season for Rick Pitino if they want to go far into the tournament. The season may come down to if the Cards can out-rebound the other team.
Here is Evansville's projected starting five, also according to Jeff Greer:
EVANSVILLE 

Pos.-Player Ht. Cl. Rb. Pts.

G-Jaylon Brown 6-0 Sr. 2.5 10.8

G-Duane Gibson 6-3 Jr. 1.8 2.0

G-Ryan Taylor 6-6 So. 2.5 8.1

F-Willie Wiley 6-7 Sr. 2.0 2.4

F-David Howard 6-8 Sr. 1.4 2.0
Jaylon Brown is easily the Purple Ace's best player, but I expect Louisville's talented guards to force him to make many mistakes on Friday night.
Let's see if the Cardinals can turn up the intensity on defense in the first official game of the 2016-2017 season.
This article originally appeared on