Louisville Basketball: Cardinals put together strong first half to help hold off Purdue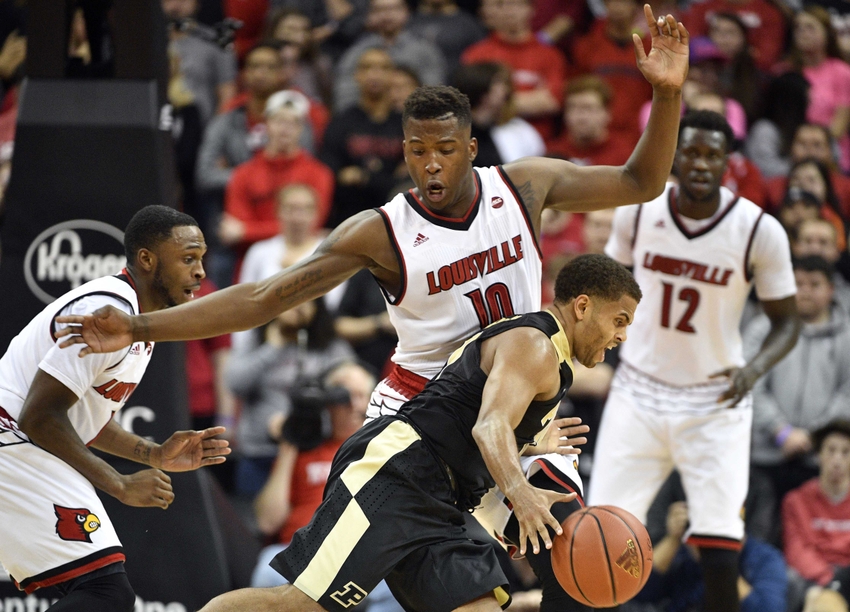 Louisville basketball flexed their defensive muscles by holding Purdue to just 19 points in the first half of Wednesday night's game.

71

64
After coughing up a 22-point lead in the second half of the Battle 4 Atlantis final against Baylor last week, Louisville nearly did it yet again on Wednesday evening.
It wasn't as dramatic and it never truly felt like Louisville was about to lose control of the game, but it brought back some flashes from the Bahamas.
In the end though, the Louisville Cardinals were able to defeat the Purdue Boilermakers, 71-64, at the KFC Yum! Center on Wednesday night. The Cardinals received at least one point from nine different players, while both Raymond Spalding and Mangok Mathiang scored 11 points apiece.
In the opening frame, Louisville held Purdue to only 19 points on 25 percent shooting. They forced 10 Boilermaker turnovers and limited Matt Painter's front court (Vincent Edwards, Caleb Swanigan and Isaac Haas) to one point on 0-of-12 shooting.
The Cardinals' length was clearly giving the Boilermakers problems as they couldn't score in the painted area and had difficulty finding separation on the perimeter. The Boilermakers also shot themselves in the foot with careless mistakes, poor passes and questionable decisions.
On the offensive end in the first half, the Cardinals actually ran some solid, crisp sets that resulted in easy lay-ups or dunks at the rim. They didn't shoot the ball well (per usual), but they were able to get enough offense from their bigs to make up for the lack of perimeter production.
Louisville built their lead to as many as 18 points in the second half before the Boilermakers started to turn the tides.
Swanigan started showing off his versatility and passing expertise. Haas began to establish position down low. And P.J. Thompson and Ryan Cline provided some sharp shooting.
The Cardinals' weak guard play didn't help out their own cause. Donovan Mitchell was in foul trouble for most of the evening, scoring only eight points on 3-of-9 shooting, and Quentin Snider was 2-of-11 shooting.
Also, another reason Purdue started to make their way back into the game was because of their ability to secure the ball. In the second half, Purdue had just seven turnovers, which helped change the dynamic of the game.
Purdue rallied to within four with 19 seconds to go but Deng Adel capped the game off with a couple free throws.
This is obviously a good win for Louisville, but there are some issues that keep cropping up. While it's not promising that they continue to let opposing teams back in games, the struggling guard play is not going to get it done in ACC play. Their non-existent 3-point shooting is a huge detriment to Rick Pitino and company, especially if their defense isn't completely locking down their opponent.
Think about it this way. It seemed like Louisville built a substantial first half lead. However, they were only up 14 because their offense lacks momentum changing threes and post play Louisville's best offense is either in transition or off turnovers created by their defensive energy and aggressiveness.
Meanwhile, Purdue must stop turning the ball over if they want to compete at the top of the Big Ten. This team has talent and potential, but their flimsiness with the ball and inconsistent play won't help them battle with the likes of Wisconsin and Michigan State.
Don't get me wrong, these are two good teams; I think Louisville has Final Four/Elite Eight upside and Purdue is dangerous because of their bigs. However, both teams are certainly no where close to being finished products.
More from Busting Brackets
This article originally appeared on