Louisville Basketball: 5 burning questions for the Cards vs. William & Mary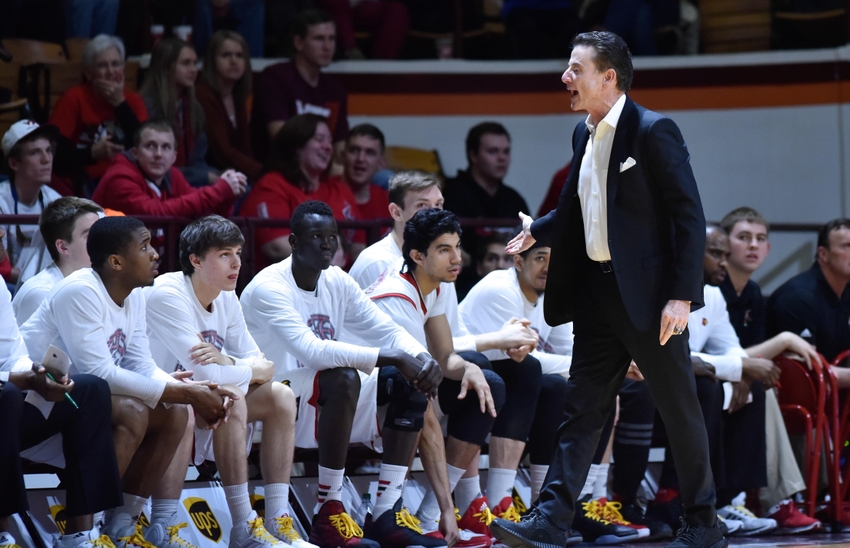 We take a look at five burning questions for the Louisville basketball team when they face William & Mary on Monday night at 7:00pm.
The Louisville basketball team got off to a great start by beating the Evansville Purple Aces on Friday night. They showed a lot of promise, but there definitely needs to be some improvement if they want to make it through their tough 2016-2017 ACC and non-conference schedule.
The Cardinals will now turn their attention towards William & Mary who will be coming into the Yum Center on Monday night at 7:00pm. Just like Louisville, the Tribe are 1-0 after a huge win over a less-talented opponent.
Donovan Mitchell looked like the best player that Rick Pitino has on his roster. Jaylen Johnson does deserve a ton of credit, but it's clear that Mitchell has the best upside of anyone on the team. Feel free to disagree, but everyone should be extremely excited by what this guy can get done this season.
With that being said, the Cards have a great chance to get their second win of the season against William & Mary on Monday. There are many things that we would like to see from the basketball team, but we are just going to focus on five in this article.
Here are the five burning questions going into the game against William & Mary.
5. Can Jaylen Johnson get his second double-double in a row?
It shouldn't be a surprise by now that Jaylen Johnson has huge expectations on his shoulders in 2016-2017. It's going to be important for Johnson to take control of the rim protection or the cards may have a hard time beating teams that can rebound well this season.
He started the season off strong against Evansville last Friday, earning a double-double by bringing down 14 rebounds and scoring 19 points. 
In a game where it was going back and forth, Johnson was the solid force inside when Louisville started to turn things around. It will be important for him to display the same type of dominance against another low-level opponent in William & Mary on Monday night.
To be honest, I think he will have no problem getting his second double-double of the young season.
4. Can Deng Adel rebound from his poor shooting performance against Evansville?
I think Adel would be the first person to tell you that he did not shoot very well in the Cards' season-opener against Evansville. In a game where everyone was scoring, Adel ended the game with only 6 points. It was an unusual performance from a player who needs to be one of Louisville's leading scorers.
He went 1-8 from the field, 0-3 from three, but made four out of his five free throw attempts. Again, this was out of the norm for Adel, therefore we will chalk this up to first game nerves.
However, the Cardinals cannot afford for Adel to keep shooting like that going forward. The schedule gets consistently harder as the year moves along and they need him to be in the double-digits every single game.
Hopefully he can turn it around against William & Mary.
3. Was last game a sign of things to come for Anas Mahmoud?
I was very impressed with how effective and productive Mahmoud was against Evansville last Friday. Rick Pitino challenged him to come down with more than one defensive rebound and he needed up getting four. Not to mention, you could tell how much he wanted to come down with each ball that went off the rim.
Mahmoud was also one of only three Cardinals that ended the game with ten points or more. Not to mention, he was five for five from the field. Yes, you read that right, Mahmoud was perfect shooting the ball against Evansville.
It would really be a huge boost for the Cards if he could have games like this all season long. We have seen glimpses of this type of performance in the past, but it has never been consistent.
Let's see why type of game he has on Monday night before we get too excited.
2. Will we see that type of defensive intensity from Mitchell every game?
Yes, it was impressive that Mitchell's jump shot was improved from last season, but what got my attention was his effort on defense. He forced four steal against Evansville, which brought back many memories of Peyton Siva and Russ Smith.
They were so great at stealing the ball and turning it into points, which was something that Mitchell did perfectly last Friday night. If he can play like this every game, then the rest of the ACC needs to watch out.
It may not be realistic that he steal four per game, but he needs to have that kind of effort night in and night out. It was clear how his athletic ability and lighter bodyweight helped him fly all over the floor against Evansville.
I am very interested to see how he does in Atlantis against higher level competition.
1. Who is going to step up and be Louisville's three point shooter?
This may be the question of the season for the Louisville basketball team. Every season we hope that Pitino will have better shooters, but that still remains a question, even though they have only played one official game.
The Cards went 3-15 from three on Friday night and the only players who made a three was Donovan Mitchell and Jaylen Johnson.
Deng Adel, Vj King, Tony Hicks, Quentin Snider, Ray Spalding and Ryan McMahon all missed their attempts against Evansville.
This is concerning since Evansville isn't the best team Louisville will play all year. They need to figure out who is going to be productive in this category or we may be in for another frustrating year of blaming the Yum Center rims.
This article originally appeared on