Louisville Basketball: 3 things to watch for against Old Dominion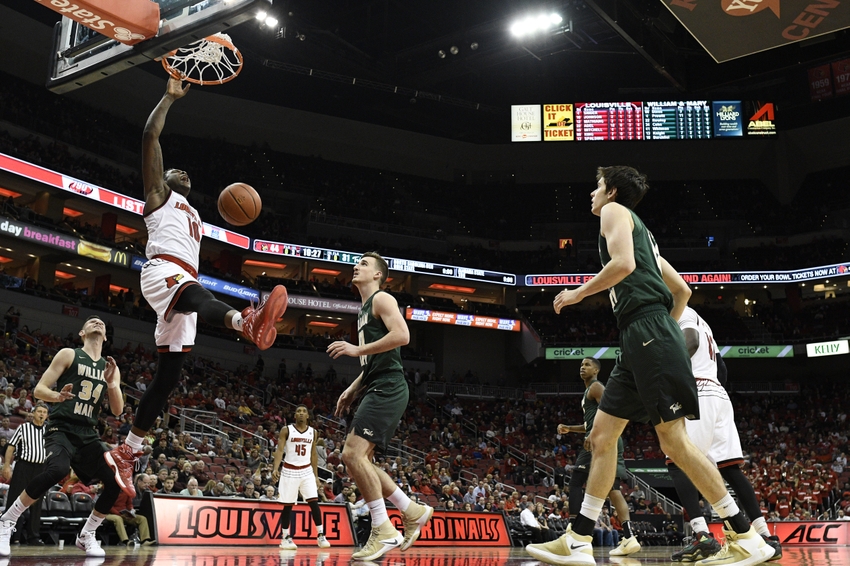 We take a look at three different things to look for in Louisville basketball's game against Old Dominion on Wednesday night.
The Louisville basketball team will be playing their first game in the Battle 4 Atlantis against Old Dominion on Wednesday night. They are seeking their fourth win of the season after entering this week as the 10th ranked team in America.
The two toughest teams that Louisville could potentially face this week is Baylor and Michigan State. However, the Cards have all the ability to beat those teams and could very well leave the Bahamas as the champions.
With that being said, here are the three things to look for when Louisville takes on Old Dominion:
3. Will the Cards' rim-protectors continue to assert their dominance?
The Cardinals have had three players in Jaylen Johnson, Mangok Mathiang, and Anas Mahmoud that have been cleaning up the glass so far this season. Louisville dominated their first three opponents because of these three guys and they need to continue to play at a high level to make it through this Battle 4 Atlantis tournament.
Want your voice heard? Join the Big Red Louie team!
They need to take a lesson from the football team and don't play to the level of their competition. The Cards have done a phenomenal job of handling their business against Evansville, William & Mary, and Long Beach State, but can they keep their focus against Old Dominion on Wednesday night?
If they can, then you'll see Jaylen Johnson lead both teams in rebounds when it's all said and done.
2. Can Deng Adel continue his strong start to the season?
Adel came into this season with being labeled Louisville's best NBA prospect. That is a big burden to carry when he didn't play most of last season. However, when he did play, we saw glimpses of the great player he could become under head coach Rick Pitino.
The Cardinals haven't had a true scorer in some time, but Adel's hot shooting start to this season has all of us pretty excited. He struggled to find his groove in the first game against Evansville. However, he has had 11 and 16 points in his last two games before this tournament.
All eyes will be on Adel as he looks to get into double figures again versus an Old Dominion team that hasn't given up more than 61 points in either of their only two games.
1. What kind of game will Mitchell have coming off an illness?
Donovan Mitchell was dealing with a bit of an illness whenever the Cardinals squared off against Long Beach State last week. He did look a little tired, but it didn't mess with his play on the court, other than maybe having some tired legs impact his shooting.
However, it wasn't like being sick kept Mitchell from playing a solid game. He finished the game with 8 points, 2 steals, 1 block, 1 assist, and 6 rebounds.
With that being said, how will he come out against Old Dominion with just a little under a week of rest? I think we will see a player that is anxious to get back on the floor and play his impressive style of basketball.
Mitchell has been playing with a high level of intensity on defense this year which will sink the Monarchs' chances of upsetting the Cardinals on Wednesday night.
This article originally appeared on