Louisville Basketball: 3 observations after the Cards' win over Wichita State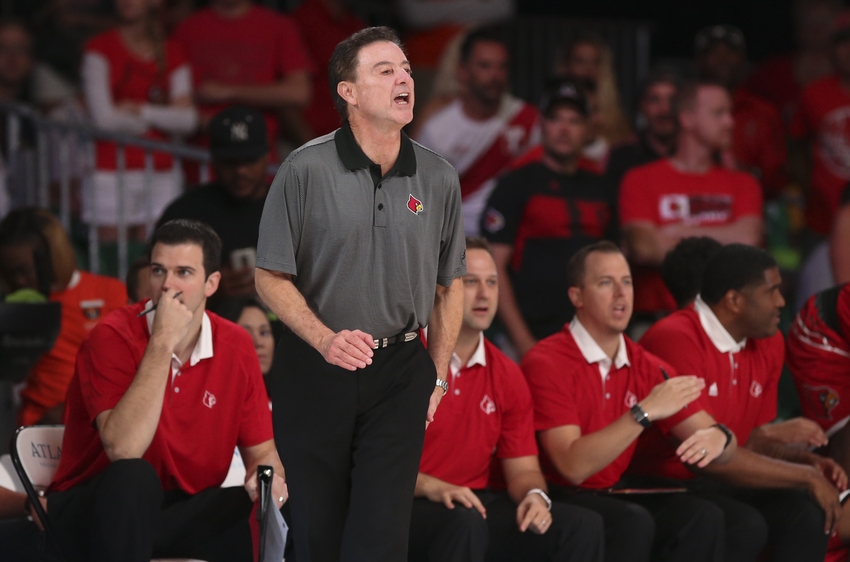 We take a look at three observations after Louisville basketball's big win over the Wichita State Shockers on Thanksgiving.
The Louisville basketball team played much better on Thursday afternoon after a win over Wichita State. Their 62-52 win over the Shockers earned them a chance to play in the Battle 4 Atlantis championship on Friday afternoon against Baylor.
Want your voice heard? Join the Big Red Louie team!
Donovan Mitchell and Quentin Snider tied for the team-high in points with 14 and both made key shots down the stretch to hold off Wichita State.
With that being said, here are three observations from the Cards' win on Thanksgiving:
3. Mathiang is one of the last guys that should get the ball in the paint
I guess we should never be surprised anymore when the Cards have a forward that can't finish at the rim. This definitely isn't a bash Mangok Mathiang post, but it should bring attention to the fact that he isn't a guy who should be trying to create a shot for himself in the paint.
After scoring just one point against Wichita State, it might be worth talking about if Mathiang should be getting as many touches as he is. The Cards have more than enough players who should be taking a shot before Mathiang, therefore he must learn to pass the ball back out if he isn't wide open.
At the same time, it's not worth it to take him off the floor. He is a veteran leader who is solid at the defensive end. However, Anas Mahmoud is creeping up behind him as someone who could have an argument of starting over him.
2. This team is scrappy and will not quit
For the second day in a row, the Louisville basketball team has been pressured and came out on top. Old Dominion was leading for most of the game on Wednesday, but the Cards were able to weather the storm and get the victory in overtime.
What was even more impressive was that they didn't blink. The Cards just kept on playing hard and eventually got back into it and won the game.
You could see the same thing happening against Wichita State. Louisville was leading most of the game, but the Shockers went on a few runs that could have brought them back into it, but the Cardinals never got overwhelmed.
It's extremely encouraging to see guys keep shooting and playing hard when things aren't going their way.
That type of hustle and commitment will help them a ton in the grueling schedule of conference play.
1. Donovan Mitchell has ice in his veins
Donovan Mitchell is the engine that could. This guy just keeps shooting the basketball, even when his shots aren't dropping. However, he has been able to hit some huge shots for the Cardinals in this Battle 4 Atlantis tournament. They would not be going to the championship game without him, hands down.
Mitchell was 0-6 from three, until he hit two in a row with under five minutes left in the game. His shooting at the end of games is becoming huge for a Louisville team that is looking for someone to step up and lead.
Even though Quentin Snider is playing well, Mitchell has been the guy, at the end of games, that has been closing the door on the other team's chances of winning.
I have a feeling Mitchell is in for a huge season.
This article originally appeared on