Louisville Basketball: 2017 forward Lance Thomas commits to Cardinals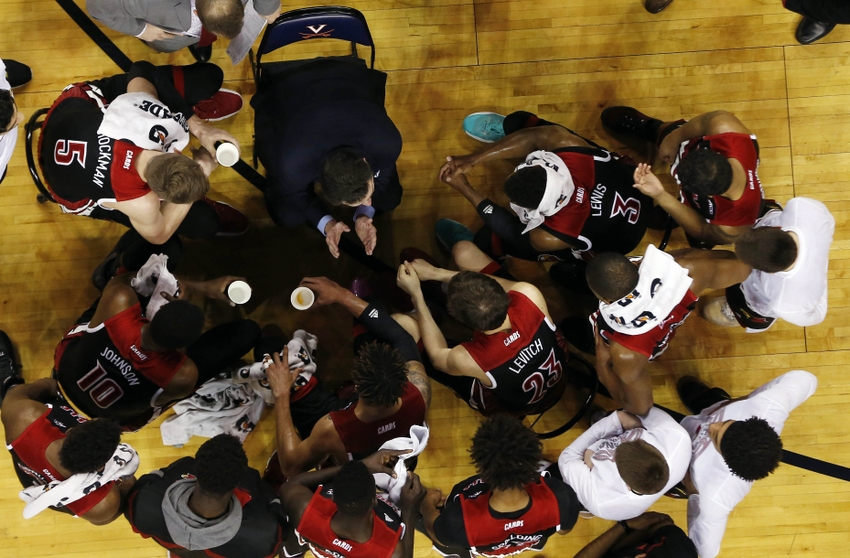 Four Level I violations aren't holding Louisville basketball back on the recruiting trail.
Louisville's escort scandal and Rick Pitino's potential suspension isn't affecting the Cardinals' ability to reel in top notch talent in the class of 2017.
Pitino landed his fourth commitment in next year's class on Sunday as four-star power forward Lance Thomas chose the Cardinals over offers from Florida, Miami and USC. Thomas is the 18th best power forward in the nation and the 13th best player in the state of Georgia.
Thomas is a 6'9″, 210 pound power forward from Norcross, GA who has the versatility, size and athleticism to be an intriguing player down the road. He runs the floor with ease and has good fluidity and flexibility on defense.
His offensive game is still a work and progress because of Thomas' lack of strength and post moves. However, he does show potential as a face-up player due to his solid three-point jumper, soft hands (which could help him be a weapon in pick-and-pop situations) and shooting touch.
On the Nike EYBL Circuit this spring and summer, Thomas averaged 9.1 points, 4.8 rebounds and 1.4 assists per game. He shot 36 percent from the field overall (which is way too inconsistent and inefficient for a big) and 28 percent from downtown.
In his final two games on the circuit, Thomas scored 34 total points against The Family of Detroit and RM5 Elite.
Meanwhile, Louisville is putting together a monster 2017 class. Thomas is the fourth four-star prospect, Malik Williams, Darius Perry and Jordan Nwora, that the Cardinals have added before the calendar has even flipped to November.
With the Cardinals already handing themselves a postseason ban in relation to the escort scandal, the worst of the sanctions are likely over. This gives the future prospects the opportunity to participate in the NCAA Tournament even if Pitino, who was dealt a Level I violation in the NCAA's latest Notice of Allegations, does receive a significant suspension next year.
Also, it's rather interesting to see how Louisville seems to be loading up in the front court. The Cardinals normally rely heavily on their guard play, but they have some of the most versatile big men in the ACC in 2016 and have reeled in three power forwards (Nwora, Thomas and Williams) in 2017.
Without any scholarships remaining, it looks like the Cardinals will roll with the three freshman, Ray Spalding, Jaylen Johnson, Matz Stockman, Anas Mahmoud and Deng Adel up front next year.
The addition of Thomas isn't not going to turn the Cardinals into ACC champs in 2017-18, however, it is another piece to the puzzle. The Cardinals truly haven't dropped off one bit despite a scandal that has loomed over the program for the last year.
More from Busting Brackets
This article originally appeared on