KU Basketball: Three Things to Improve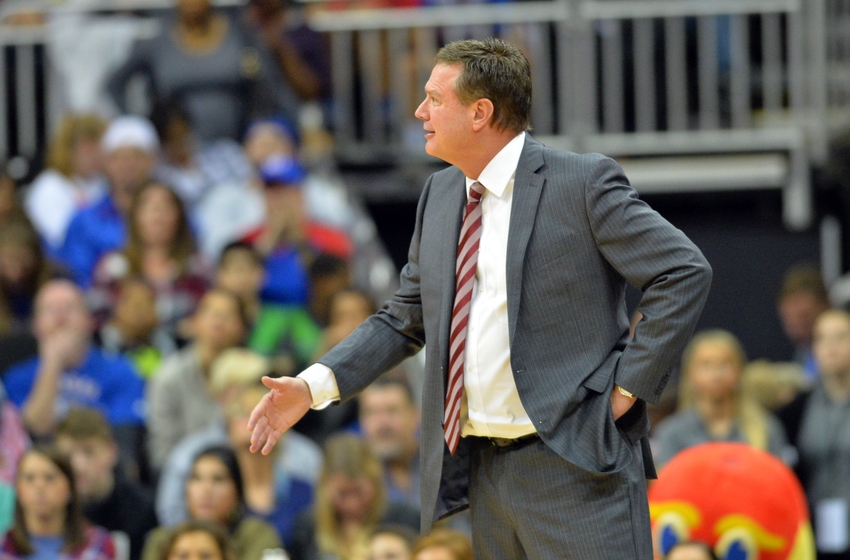 The KU basketball team are CBE champions! However, they didn't play as well as we'd like. What can they improve on?
Frontcourt play is by far the biggest issue for KU basketball.
The stats tell the story for KU basketball's frontcourt: 45 minutes, 15 fouls, eight rebounds, and five points. I'm disappointed, coaches are disappointed, and I'm sure the players are more disappointed than anyone. Landen Lucas had maybe his worst night as a collegiate athlete. The senior was scoreless, had just two rebounds, three turnovers, and fouled out all in just ten minutes. For a Jayhawk team that needs a consistent frontcourt presence, (that Lucas has actually been) they'll need more.
Most KU pundits, including this website, thought Carlton Bragg would be a breakout player for the Jayhawks this year. So far, and it's early, Bragg hasn't lived up to the high praise. The sophomore had three points and only one rebound in just ten minutes. Udoka Azubuike similarly struggled. He only played five minutes, and was scoreless. After the game, head coach Bill Self remarked that Udoka didn't play more because he hadn't practiced playing zone defense. KU played mostly zone the last 30 minutes of the game.
The frontcourt hero of the night was junior transfer Dwight Coleby. We've been waiting on Coleby to show what he's capable of, and tonight he came close. The Bahamian ended up fouling out, but his 20 minutes were crucial for KU. His stat line wasn't that impressive: just two points and four rebounds. However, Coleby played physical and smart defense, recording four blocks and rarely getting caught out of position. I hope Coleby gets more minutes moving forward.
The Jayhawks continue to struggle shooting the basketball.
I'm not that concerned about the poor shooting, yet. KU was downright bad shooting it tonight, only 39% from the floor and 6-21 from beyond the arc. Frankly, part of that is due to fatigue. In a rare admission of external factors affecting his team, Self did just that, "The schedule hasn't been that hard, but the travel has kind of knocked us out. We're mentally more fatigued than anything." I think Self was being a little generous. Late in the game, the Jayhawks looked gassed. A few days' rest over the holiday will be good for them.
One positive tonight for KU was free throw shooting. The Jayhawks shot 73% from the line, but the weak link continues to be Josh Jackson, who only made 3-6. I still think it's just in Jackson's head. He'll never be great mechanically, but should be better than 50%. Thankfully, we're still in the "small sample size" portion of the season.
Kansas needs to defend the interior better, and badly.
KU's opponents have consistently gotten what they wanted at the rim this season. This is in large part because the KU post players haven't been able to stay on the court. In response, the Jayhawks played a 2-3 zone against Georgia. It definitely appeared to disrupt the Bulldogs' outside shooting. They only converted 3-18 attempts from beyond the arc.
Forward Yante Maten had his way with the KU defense tonight. He scored 30 points and had 13 rebounds, both game highs. Maten started out hot as well, scoring 15 of the Bulldogs' first 18 points. Maten is a very good player, but KU will face better come conference play. One of Coleby, Azubuike, Lucas, and Bragg has to step up and become even a serviceable post defender.
Bottom line.
I'm glad these first few games are in the rearview mirror. The Jayhawks are nowhere near their potential, but have another month to go before Big 12 play. If they even get decent post play, this is a national title contender.
More from Through the Phog
This article originally appeared on