KU Basketball Sloppy and Soft in 92-74 Exhibition Win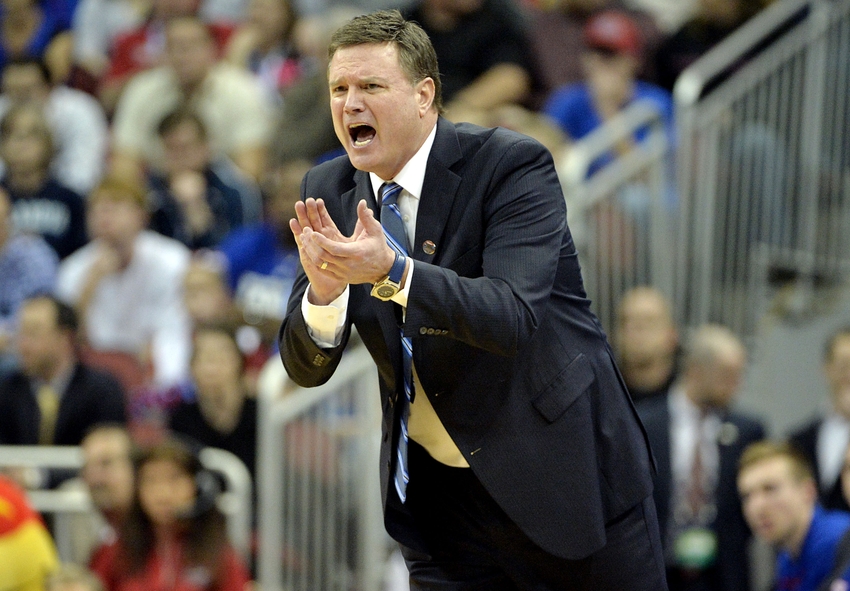 The Jayhawks made their exhibition debut and beat the Washburn Ichabods 92-74. How did they look in the first outing of the 2016-17 season?
This was the first game in Allen Fieldhouse for three freshmen and a transfer, how did they look in their debut?
"I was a little nervous for my first time out. I talked to a couple guys in the locker room and the coaching staff to gather my head a little bit. I tried to be more aggressive (in the second half)." – Josh Jackson
All eyes were on freshman phenom Josh Jackson and he didn't score his first points until six minutes into the second half. He was even benched 30 seconds into the second half for failing to go after rebounds hard enough. Once he got in the scorebook, he loosened up and finished with 14 points though he also had five turnovers.
Udoka Adubuike entered the game early in the game after Landen Lucas had picked up two quick fouls. It didn't take long for him to get a block and a dunk. Then he committed three fouls in his three minute stint to earn a spot on the bench for the rest of the half. He played a bit longer in the second half before fouling out. Coach Self emphasized that saying "I really don't think Udoka had the chance to play much; he got five fouls in eight minutes. I thought that he looked okay while he was out there." Azubuike finished with eight points and only one rebound.
Transfer Dwight Coleby was a huge unknown after rehabbing an ACL his entire redshirt season. One thing he did well was reboud, with 6 total in his 11 minutes. Freshman Mitch Lightfoot may have had the lowest recruiting ranking, yet he made the most of his time on the court with 7 boards in his nine minutes. Self noticed the two newcomers hit the boards hard, "It's amazing to me how our two starting bigs can get three rebounds in 31 minutes and Frank (Mason III) can go get 10 or Dwight (Coleby) and Mitch (Lightfoot) can combine for 13 in 20 minutes. That's obviously a huge weakness within our team is our toughness and rebounding but we have to build off of that."
Three of the starters return from the 2015-16 team. What improvements have the other returning players made?
Landen Lucas and Devonte Graham had fairly quiet nights, though Lucas did end up with 10 points. Frank Mason was the returning starter with the most impressive line as he nearly got a triple double. He was the leading scorer with 21 points along with 10 rebounds and 9 assists.
"I thought Lagerald (Vick) played good early. Svi (Mykhailiuk) made some shots, but obviously our passing and ball handling was pretty brutal and certainly they took advantage of our carelessness and our softness." – Coach Bill Self
Lagerald Vick was very good in the first half and finished with 9 points in 29 minutes. Sviatoslav Mykhailiuk wasn't involved early and missed a couple of shots before heating up to finish with 16 points on 4-6 shooting from deep.
With Perry Ellis gone, Carlton Bragg was expected to take a big step up in minutes and production. He found himself in Coach Self's doghouse by not going hard on the boards. While he didn't use Bragg's name, it was clear Self was sending him a message when he said "How are we going to rebound our position? You know Perry (Ellis) wasn't a great rebounder, but he got seven a game. That's a heck of a lot better than what we're getting now."
With three big guards in the rotation, will we see a four guard lineup?
With Lucas and Azubuike in early foul trouble, the four guard lineup made its debut fairly early in the first half. It featured the starting background of Graham and Mason. Lagerald Vick moved into the three spot and Josh Jackson played the four. When asked about playing power forward, Jackson said "Playing the four felt pretty good. We've worked on it before in practice all the time. Sometimes it can be a really good thing, sometimes it can be tough for me to guard bigger guys. I felt comfortable there overall."
Coach Self warned before the game that it was something that had gotten little work in practice and was only used on four possessions in the entirety of the 2015-16 season. The early look was sloppy and the ball didn't move as much as needed. Mason feels that it can be a good look once they have more experience with it, "I think it could be good for us. I just don't think we executed as well as we could have tonight. We'll just keep practicing and (have to) get better at it. Hopefully it will work better for us moving forward."
Bottom Line
"Nobody got hurt; I'd say that's the biggest positive. We didn't play well at all as a team or individually. We said we weren't going to show anything, which we didn't, but still the couple of things that we did try to do were pretty brutal." – Coach Bill Self
It was an exhibition game and the first time playing in Allen Fieldhouse for four players. Their nerves should be calmer now that they got this game out of the way. The coaching staff has game film to use as a teaching tool before the next exhibition Sunday against Emporia State. Expect to see improvement on the boards and ball movement against the Hornets.
More from Through the Phog
This article originally appeared on