KU Basketball Prevails Over Top-Ranked Duke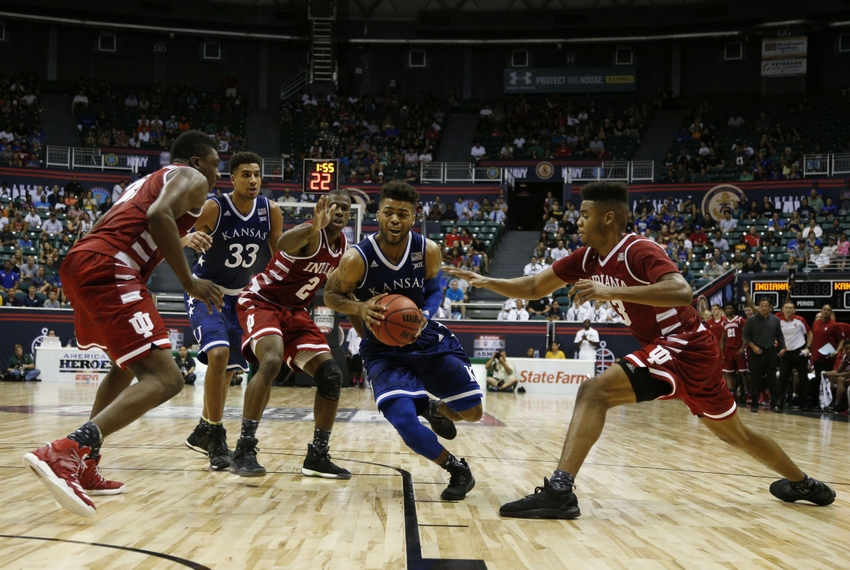 In a riveting matchup in Madison Square Garden, the Jayhawks came out victorious against top-ranked Duke on a last second Frank Mason jumper. Can we learn anything from the KU basketball team being 1-1?
The frontline is already improved.
Many fans were concerned, and even panicked, about the state of the KU basketball frontcourt. Tonight, they came through in the clutch. Udoka Azubuike, Landen Lucas, and Carlton Bragg each had very good moments. Azubuike pulled down 12 boards in 15 minutes, and had a highlight reel coast to coast layup. Bragg pulled down five rebounds in 16 minutes, and showed a feathery shooting stroke and his passing ability. Landen Lucas was never able to get a rhythm, but had a nice dunk on an assist from Devonte Graham. Each will be valuable moving forward.
I've been most impressed with Azubuike's development so far. We saw how raw he was in high school and this summer, not unexpected for a 16-year-old. However, under strength and conditioning coach Andrea Hudy, Udoka has trimmed down and become remarkably mobile and more skilled than given credit for. He made several tremendous effort plays tonight, including four key offensive rebounds (two of which were his own.) He showed very good effort defensively as well, and his length cause Amile Jefferson issues on both ends.
KU's ceiling may be highest with Udoka playing more than Lucas. It's not a knock on Lucas at all. I still think he's a very good position defender and rebounder, but we all know he has his limitations. Udoka has fewer limitations. He can be a very good rim protector, and can score around the basket because of his size and strength. Landen is more skilled as of now, especially outside the rim area. As the season goes along, don't be surprised to see Udoka get more minutes, as Self said tonight that he's "in love" with Udoka's play so far.
Carlton Bragg took a big step forward tonight. He was called for some bad fouls (who wasn't?), but did manage to score nine points and get five rebounds in just 16 minutes. He also showed his passing ability when Duke played a few possessions in zone defense. Bragg also showed his ability to hit mid-range jumpers, making two that impacted the game. In a night where KU struggled from the line, Bragg's 3-4 were key in keeping KU in the game early. In fact, KU ended up outrebounding the Blue Devils 38-29, a huge departure from their poor showing against the Hoosiers on Friday.
Like most freshmen, Jackson is still inconsistent. He had some plays that wow'd us, like a great crossover and midrange jumper. Josh also had a steal and coast to coast dunk. He provided a great spark early in the second half, scoring seven straight points to give KU a lead they would never relinquish. His ball pressure on defense was key to holding Greyson Allen to 12 points on just 4-15 shooting. Jackson's length, quickness, and aggressiveness on defense will frustrate opponents all season long, and only get better.
On offense, he's still a work in progress. Jackson finished 7-9 from the floor, but 0-4 from the line. It may have just been nerves, but Jackson has to get better from the charity stripe. Otherwise his best offensive trait, driving to the rim, will be negated by defensive fouls. Jackson did make five shots in the paint, a good sign for those of us who wanted him to be more aggressive. The star freshman also has to keep his emotions in check. In the first half, he committed a technical foul by slapping the ball out of Amile Jefferson's hands after a timeout. There's no reason for that kind of play, and it cost him plenty of minutes in the second half after fouling out. Josh has to keep his composure to be the player we all know he can be. That being said, it's a lot easier to pull a guy back than to charge him up, so I doubt this will be a negative going forward.
It's Frank Mason's team.
Most of us were actually wrong about this. Most figured it was Devonte Graham's team, and he would be the guy to take the last shot at the end of games. So far, it's been Mason. The results are good to say the least. Against Indiana, Mason drove time and time again to keep the struggling Jayhawks in the game, eventually into overtime. Tonight, Mason was even more valuable. He picked up two fouls early, getting KU out of rhythm and resulted in a five point halftime deficit.
Tonight, the story was much the same for the senior guard. Mason was relentless at attacking the rim, making six shots in the paint. However, his biggest shot of the night wasn't in the lane, but a stepback jumper with just few seconds left in regulation, that sealed the game for the Jayhawks. He finished the game with 21 points on 8-13 shooting, and 5-7 from the line. He also had five assists, a good sign for those of us who want to want to see Mason as more of a distributor early in games. I think the quote of the night is from assistant coach Kurtis Townsend. After the game on 610 Radio, Townsend said "Our season goes as Frank goes." I couldn't have said it better myself. When Kansas needs a bucket down the stretch, I don't trust anyone more than Frank to make it.
Bottom Line.
Kansas didn't play that great tonight. They only shot 11.8% from beyond the arc and 9-19 from the free throw line. However, they did shoot a remarkable 31-48 from inside three-point range. KU is developing depth, even though they've really only played eight. There is plenty of room for improvement, especially on the frontline. We haven't seen this team play well yet. On Friday, the Jayhawks return home against Sienna, a well-deserved home game for the well-traveled Jayhawks. Coming off a riveting 77-75 win, a return to Allen Fieldhouse will be a sight to see.
More from Through the Phog
This article originally appeared on