KU Basketball Meets Former Conference Foe Nebraska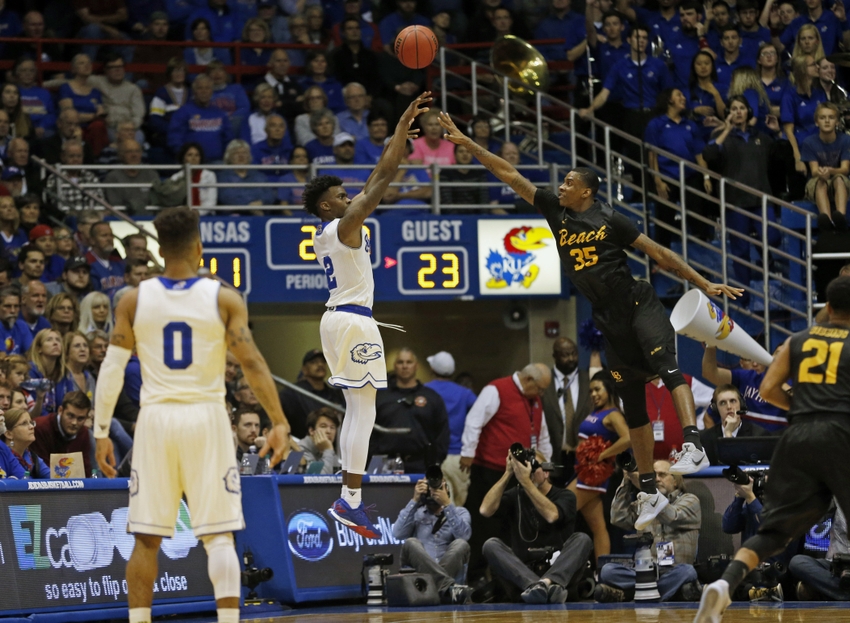 KU basketball plays their final non-conference game Saturday against former Big 8  and Big 12 foe Nebraska. Here's what to watch for.
How will the Jayhawks respond without Carlton Bragg?
After news broke Friday morning of Bragg's arrest for battery, it became clear that Bragg would not play Saturday, and likely not for some time. It does mean that Lagerald Vick will continue to start at the four spot, where he's played well. Bragg's absence does have a big impact on the depth of the KU basketball team. Landen Lucas and Udoka Azubuike will continue to man the center position, but the four will certainly lack depth. Dwight Coleby and Mitch Lightfoot will be the only power forwards available.
The good news for Kansas is that Nebraska doesn't have a lot of size on the interior. Their starters up front, Ed Morrow Jr. and Michael Jacobson, measure at 6'7 and 6'8, respectively. Morrow is a really good rebounder, averaging 8.1 per game. The Cornhuskers' only player with size is 6'11 sophomore Jordy Tshimanga, who only plays around 10 minutes per game. With Nebraska's lack of size, using Josh Jackson as a power forward on defense becomes viable. Rebounding could be an issue, but Vick, Jackson, and hopefully Lucas will be effective on the glass.
Can Kansas speed up the Cornhuskers?
Under head coach Tim Miles, Nebraska plays a slow pace, ranking 212th in the country in tempo, measured in possessions per 40 minutes, according to KenPom.com. Kansas can play much faster, and likes to with four guards in the lineup. It could turn into a rout quickly if KU continues shooting as well as they have been. Nebraska also struggles to score. They rank 292nd in scoring at just 68 points per game. They aren't particularly efficient either, at just 102.3 points per possession, which ranks 183rd in the country. Nebraska's struggles have come somewhat from their inability to shoot consistently. They only convert 29.5% of three-point attempts, 323rd in the NCAA.
The Cornhuskers are stingy on defense, ranking 41st in efficiency. The Jayhawks will have to be crisp in the half-court, and convert on the good looks they do get. Nebraska doesn't force a lot of turnovers either, so KU will have opportunities. Look for Vick, Svi Mykhailiuk, and the guard combo of Devonte Graham and Frank Mason to have solid games.
Josh Jackson should continue to run through the competition.
Jackson is quickly becoming my favorite one-and-done player for KU. He's the perfect talent for the Jayhawks at wing. He does everything: pass, handle the ball, defend, rebound, and provide energy. He hasn't shot a great percentage yet, but it should come. Self expanded on Jackson at this week's press conference, "I think he's going to be a good shooter. He hasn't shot it great statistically yet from deep, but I think he's going to be a good shooter. I think he's going to be a good free-throw shooter, but the way he can slide for size and blocking shots and creating havoc and so unselfish. But I think his vision is probably the best thing. He's inside a zone. I haven't seen him be inside a zone before he got here, and man, he's good in there."
Jackson has really come into his own during KU's last several home games. Since returning from the CBE Classic, Jackson has averaged nearly 15 points per game, along with six rebounds and five assists. His shooting has come along as well, especially at the free throw line. He's made almost 69% of his free throws over the last two weeks. He's been noticeably smarter too. Over the same stretch, Jackson is down to two fouls per game, and under three turnovers. It's scary to think he's still getting better.
Nebraska has nobody capable of guarding the talented freshman. Sophomore forward Jack McVeigh will at least try to guard Jackson, but doesn't really have the quickness to stay with Jackson. He should at least match his recent string of good performances against Nebraska.
Bottom Line.
This would've been a much better game had former Jayhawk Andrew White III not transferred to Syracuse. However, it's still a power conference game against a decent opponent, and a good tune-up as conference play approaches. KU should win pretty easily, 79-59.
More from Through the Phog
This article originally appeared on