KU Basketball: Jayhawk Firepower too Much for Saints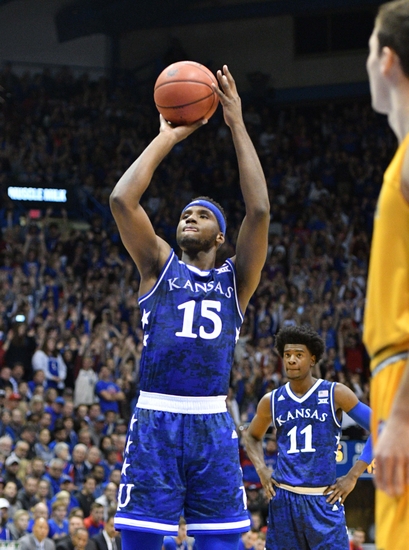 In the home opener, the KU basketball team easily dispatched the Siena Saints, 86-65. What are three takeaways?
Sure enough, there was a bit of a hangover.
Throughout the game, it was obvious to me that the KU basketball team was still not 100% after back-to-back tough games against Indiana and Duke. It showed on several lob plays, as well as KU's 12 turnovers against a sub-par Siena defense. It appeared that especially Landen Lucas isn't completely health, as he didn't show even the average athleticism we normally see from the KU big man. In 21 minutes, Lucas only scored six points and pulled down five rebounds, a poor line for the senior.
KU's fatigue also showed in shooting. They shot 57% from the floor, but only 3-12 from beyond the arc. Free throw shooting is still an issue. The Jayhawks only shot 17-26 from the line, not good enough to win a game against a better opponent. Frank Mason showed some fatigue, or at least had an off game. He still scored 18 points, but shot 6-13 from the floor, including 1-4 from three-point land.
More from

Through the Phog
The frontcourt was better.
It was indeed better than it has been, but still not where it needs to be. Lucas wasn't that good, but we don't know if he's healthy. Carlton Bragg might've been KU's best player tonight. Bragg recorded his first double-double of the season, with 16 points and 11 rebounds in 27 minutes. What's more, is Bragg only recorded one foul on the night. With the poor depth up front, Bragg will have to play at least that many minutes per night for the Jayhawks to be as good as we hope.
The rest of the group needs work. Udoka Azubuike, Mitch Lightfoot, and Dwight Coleby combined for exactly ten minutes on the night. When the game was well in hand, I would've liked to see them get more minutes in the second half. Coleby is still definitely not 100% with his knee, and only recorded one rebound. Lightfoot recorded no stats in just a brief entrance into the game. I was disappointed in Azubuike. He seemed more lost tonight, and only scored one point in seven minutes.
The backcourt is still improving, so look out college basketball.
Devonte Graham was quiet, but brutally efficient, scoring 13 points on 4-7 shooting. Graham played his best tonight as a distributor, dishing out nine assists and never turning it over. Mason was good, but not nearly as efficient as he has been over the first two games. KU's lack of depth affects the backcourt as well. In a 20-point game, we'd like to see Mason and Graham play less than 35 and 31 minutes.
Josh Jackson had a good game as well. The talented freshmen only scored 11 points, but shot 5-6 from the floor, and was aggressive in driving. He added five rebounds and three assists. There were a couple signs for concern as well. Jackson turned it over four times, but two of those were marginal offensive fouls. He was almost too aggressive at times, picking up "effort fouls." Over time, these should become less and less frequent.
Lagerald Vick was one of KU's stars of the night. He played 32 minutes, and had a great all-around night. Vick scored 12 points on 6-9 shooting, and added eight rebounds. Vick was a very good defender as well. Svi was on and off tonight. He played decent defense, but missed a few open looks from three-point land and was a non-factor for the most part.
A final note
Congratulations to head coach Bill Self, who became the winningest coach in Allen Fieldhouse history tonight. His record in the Old Barn stands at 207-9, an absurd record. Even with the win, Self wasn't happy, "I didn't think we played very tough," Self said. "We looked slow defensively." The Jayhawks travel again on Monday, but only a short distance to play UAB at the Sprint Center.
More from Through the Phog
This article originally appeared on