KU Basketball: Billy Preston Signs with the Jayhawks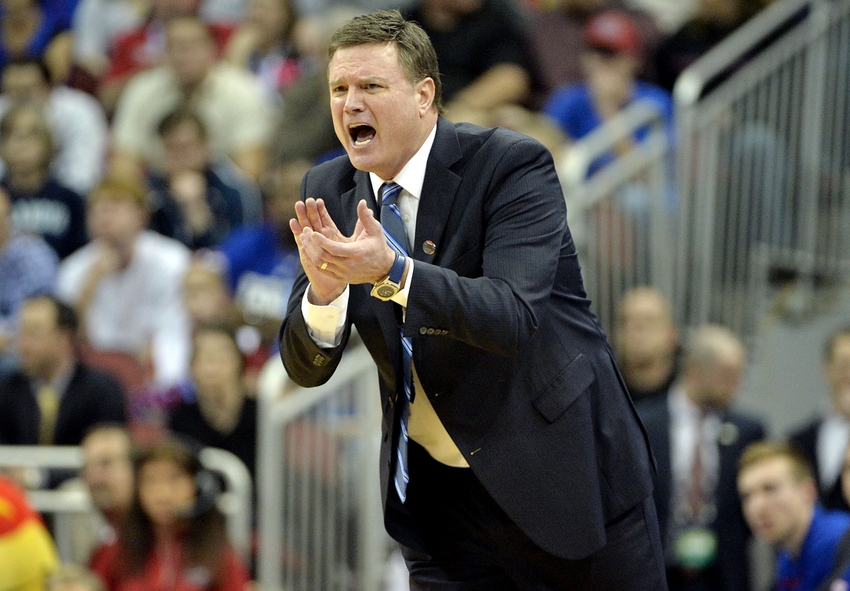 Like usual, the Kansas basketball staff gained a commitment from a five-star big man. What does Billy Preston bring to the program?
Preston committed to KU basketball on ESPNU Friday after a long recruiting process. KU's pursuit of the talented big man picked up steam after DeAndre Ayton committed to Arizona. After Preston's visit to Lawrence for Late Night in the Phog, momentum shifted Kansas's way in Preston's recruitment. There have been rumors that Preston will not qualify or go overseas to play professional basketball before entering the NBA Draft, but his choice of Oak Hill Academy in Virginia is a concrete signal to programs that Preston is serious about playing college basketball and erasing any doubt of his eligibility.
Preston described why Kansas was his choice on ESPNU, "Coach Self and the staff, I feel comfortable… they had my best interests at heart. They wanted me to come in right away and make some changes hopefully next year we can win the national championship, and they saw the best in me." Of the Kansas basketball program, Preston was very impressed. "It was crazy. Allen Fieldhouse was ecstatic, just to see how much they appreciate the sport of basketball." Preston said. "They showed me lots of love on my official, and it was great to see and great to feel." According to Evan Daniels of Scout.com, Preston has signed his letter of intent with the Jayhawks. That move, plus enrolling at Oak Hill, mean the rumors of going overseas or not qualifying will quiet dramatically.
How does Preston fit with the Jayhawks?
In short, Preston is a matchup nightmare for collegiate forwards. Preston is a legitimate 6'10," and has the skillset of most wings. He's an elite ballhandler for his size, and is much more comfortable on the wing and high post than banging in the paint. He's a stretch four, and when comparing him to former Jayhawks, Marcus Morris is a decent comparison. However, Preston is miles ahead of where Morris was at the same stage.
With respect to Morris, Self will likely use Preston in the same ways. On ESPNU, Preston described a potential role, "I'll play everywhere, you know. I can rebound the outlet, bring the ball up the floor, run great hi/lo sets. High or low. I'm just versatile." Preston will be a lethal scoring threat off high pick and roll situations, where he can use his driving ability and force the defense to switch. Opposing teams will either have to switch, putting Preston on a guard, or force one of their big men to defend an elite driver for a four-man. He's also a very good shooter for his size, with range out to the three-point line.
Preston needs a little refinement
There are a couple things Preston will need to improve. Most noticeably is his defense. He's not a great, or even that good a defender yet, but his length (7'0" wingspan) and above-average quickness mean he can be an average defender eventually. Head coach Bill Self and the staff will begin instill the effort piece on Preston the day he gets to campus. To reach his offensive potential, Preston needs to become a more unselfish player. This will hopefully come with a strong supporting cast and a more structured system, where Preston will lock in on the high post and wing, instead of floating around the perimeter. Preston can make flashy passes, which leads me to think he can be a good passer, but needs to get better at making the easy play instead of the flashy one.
The biggest beneficiary to Preston's commitment may be Udoka Azubuike. Udoka is a pure center, who loves to bang in the paint. Preston's presence will mean that defenses can't collapse on Azubuike, and leave him one-on-one in the paint. Floor spacing will be one of KU's biggest advantages with Preston and Azubuike in the fold. If Preston develops an entry pass, KU's patented hi/lo will be lethal.
Bottom line
Preston fills KU's most pressing need for 2017-18, a versatile power forward to put opposite Udoka Azubuike. Preston's commitment wraps up the early signing period for the Jayhawks, and they now turn their attention to guards Trevon Duval and Trae Young.
More from Through the Phog
This article originally appeared on