Kris Dunn's entire life has been one big roller coaster ride
PROVIDENCE, RI — The low point of Providence redshirt junior Kris Dunn's basketball career — before the best two-way point guard in college hoops would spend the 2015-16 season as a national player of the year candidate, before Dunn would lead Providence toward its most promising postseason in nearly two decades, before he would become a surefire lottery pick in the 2016 NBA Draft — came his second year in college, when for three straight weeks he lay on his father's couch while his team played on without him.
It was in an exhibition game against a Division III school before the 2013-14 season when his life had turned to this point. Before Dunn had even enrolled at Providence College, he'd had surgery on a torn labrum in his right shoulder. When he was chasing a loose ball in that exhibition game in November 2013, he collided with a player from Rhode Island College. He felt his shoulder pop. It was the same shoulder he'd had surgery on 18 months before.
He knew immediately: What was supposed to be his breakout season was already over.
And worse, his dream felt like it was slipping away.
"My mind was like, 'I am going to have to do everything all over again,'" Dunn told me recently. "It was the same exact surgery: Torn rotator cuff. I was just sitting on the couch at home for three weeks without moving during winter break. It was, literally, you gotta go through the whole thing over again. You're gonna be weak again. I was down to like 175, 180 pounds after the surgery. Trying to learn how to dribble again, because your arm is that weak. You gotta learn to shoot again, because your arm is that weak. You gotta learn how to lift again, get your body strong again. You're trying to condition yourself all over again. And then you have to figure out how you can impact practice. Not even the game yet — you gotta figure out how you can impact practice."
I'm not doing this just for me. I'm doing this for my brother, my dad, my brother's daughter, my niece. I'm doing it for my sister, for my stepmom — the whole family, the whole nine yards.
Kris Dunn
It was a jarring and humbling fall for the young man who had come here to be the savior of Providence basketball. When Providence native Ed Cooley had taken the head-coaching job in 2011, Friar basketball was floundering. Providence hadn't made the NCAA tournament since 2004. Dunn was a heralded McDonald's All-American, a top-25 recruit who was arguably the best point guard in his class. Getting him to come to Providence, the school Dunn's family had grown up cheering for in nearby New London, Conn., had been a coup for the gregarious Cooley. But losing Dunn to his second surgery in two seasons? That was a disaster.
For Dunn, this low point felt even lower because of where he'd come from and where he seemed to be heading. His childhood was unimaginably difficult. He lived with his troubled single mother, Pia Dunn, and his older brother John. His mother spent most of Dunn's fourth grade year in jail while Dunn and his brother lived by themselves in a two-bedroom apartment: stealing food, hustling cash, surviving. Then his father managed to locate the boys — they'd been estranged after Dunn's mother took them to Virginia, and his father had lost track of them — and brought them back to Connecticut. The move to Connecticut, to a life with certainty and structure, changed Dunn's life and helped turn him into this future NBA millionaire.
"My highs were through the roof, and my lows were through the floor," Dunn said.
As he lay on his father's couch with a surgically repaired shoulder, he cried about this newest low. He had cried a year before too, when the surgery before his freshman year — his first-ever surgery — delayed the beginning of his college career. But this time was different. Now Dunn was coping with two things: The idea of life without basketball, and the recent death of his mother. Not long after Dunn felt his shoulder pop, he got a text from his brother that his mother had died at age 50.
"Those are two things that you love that have been taken away," Dunn said. "I love basketball, and I love my mother. To have those two things taken away, it was devastating. You're looking at life a whole different way. It could be sunny out right now but in my eyes it looked like it was cloudy. It was dark. I had nothing to live for."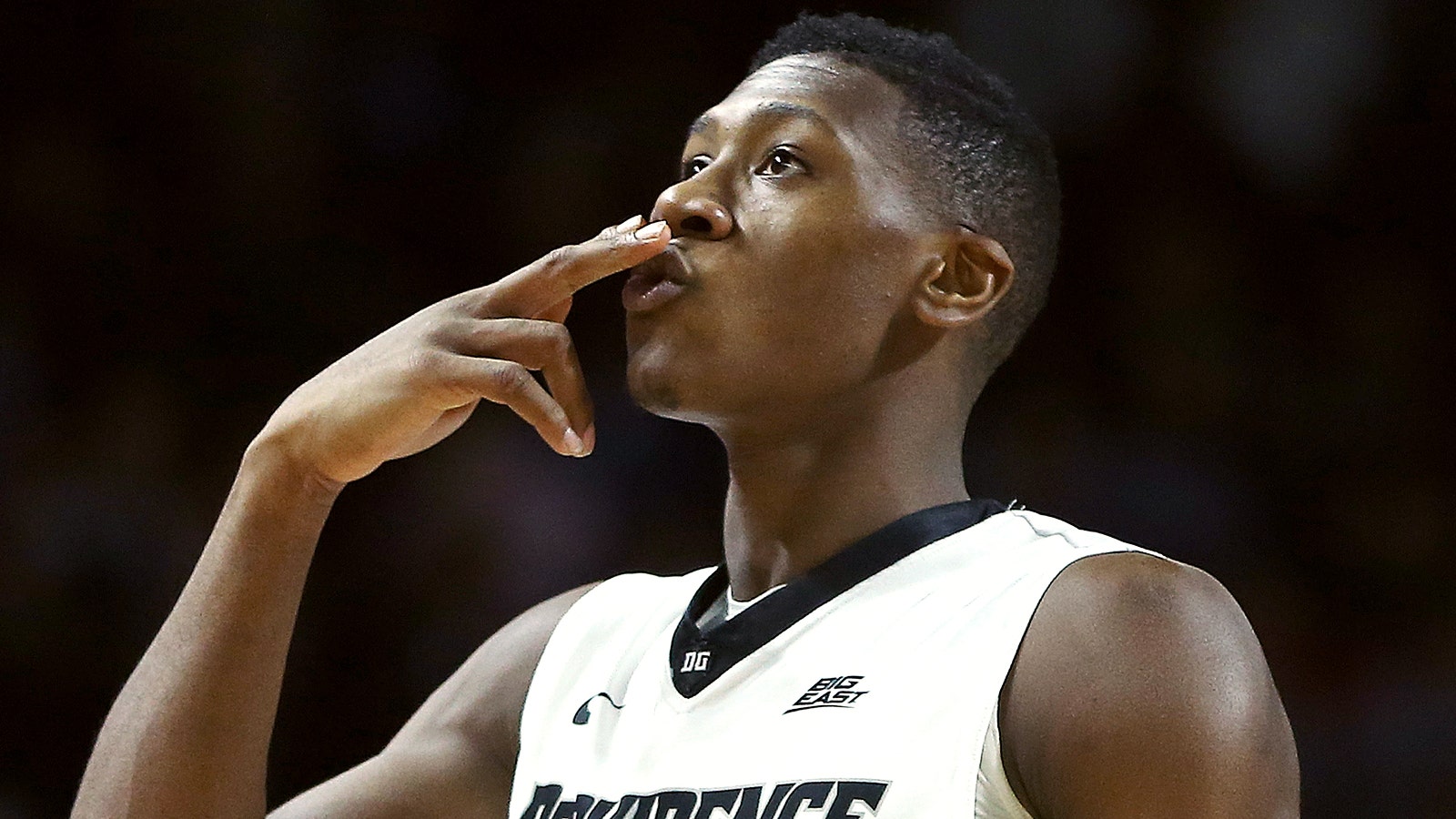 You can imagine how it feels when the sport you love seems to be taken away.
You can imagine that feeling becoming that much more dire when the sport you love also is the way you hope to forever change your life and your family's lives.
Dunn chose Providence, the smallest school in the Big East, because he wanted to continue taking the path less traveled. His life was unique: He went from being an impoverished kid with a troubled mother to living with his dad, stepmother and two younger sisters. When he moved in with his father at age 10, it was a home that valued discipline and tough love. For Dunn, it was jarring. It was also his opportunity.
"I didn't even know what college was growing up," Dunn said recently, sitting in the fancy lobby of a Chicago-area hotel the night before Providence faced DePaul. "I swear to God: I didn't even know what college was. I didn't know how to become better at what I did at sports until I met my father. I didn't have any discipline, because I had nobody around me to show me that. And my father showed me structure. He basically showed me the blueprint of how to become a better person, to believe in those who love you, and to fight for what you want."
Ed Cooley first heard of Kris Dunn when Cooley was the head coach at Fairfield University, not far from Dunn's father's Connecticut home. Cooley began recruiting Dunn — who he described as a "wild colt," someone with loads of natural talent that just needed to be harnessed — to the Metro Atlantic Athletic Conference school. Then Cooley got the job in Providence, the town where Cooley had grown up. He knew Dunn's story, of a kid who was slipping through the cracks before his dad swooped in. He knew Dunn was a different sort of college athlete, someone who valued time with his family because his early family life was so dysfunctional.
So when Cooley had Dunn come to visit Providence College soon after Cooley was hired, he sat him down in the head coach's office. Cooley told his recruit a story. It was Cooley's own story, and it sounded a lot like Dunn's.
Cooley was born and raised in Providence in a situation not far off from Dunn's own childhood. Cooley was one of eight children in impoverished South Providence. His single mother was on welfare. In these parts, the up-from-the-bootstraps legend of Ed Cooley involves four kids sleeping in one bed at the family's house, and involves Cooley doing whatever he could in the neighborhood to scrape together some money: mowing lawns, raking leaves, shoveling snow. By age 13, a local family whose son played sports with Cooley took the boy in. It was a chance to ease the burden on Cooley's mother and to improve Cooley's opportunities.
"He saw in me a person who went through the same things he went through," Dunn said. "There was a message in there for me: No matter what adversity you go through, you can overcome it. Him telling me his story — hearing it from his actual mouth — was just unbelievable for me."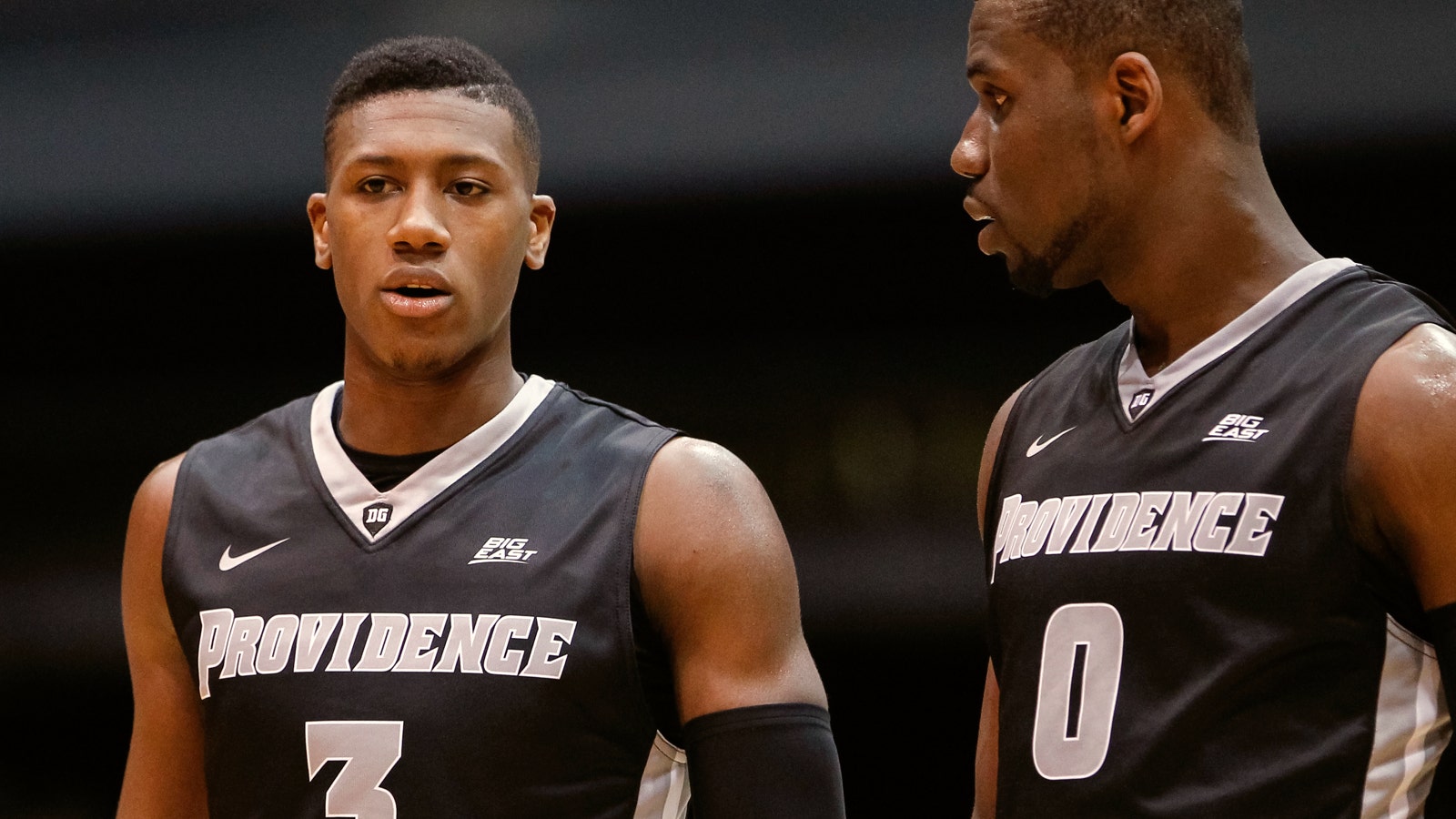 And just like for Dunn, basketball was Cooley's way out of poverty toward something greater. He played at Stonehill College, became an assistant coach at Boston College and the University of Rhode Island, and eventually got the head Providence job.
"His background and him being able to overcome it and become the person he is today — it hit me, because I went through that," Dunn said. "I went through that pain and that struggle. I wanted to be around somebody who'd been through that situation. Who gets why you're mentally frustrated sometimes. And to show me the ropes of how to be successful, to become a better person, to not be mad all the time. To not always think about the past. Try to create a future for those around you."
"He's as mentally tough as it comes," Cooley said of his star player. "You've gotta be when you've been through what he's been through in life, in sports and with the injuries."
Coming to Providence was a surprise to people who saw the loads of NBA potential in the young man, but it makes all the sense in the world if you know Dunn's story and how it echoes Cooley's. Coming back this year, when NBA teams would have loved to take him in the lottery in the 2015 NBA Draft? That was even more surprising.
But if you know Kris Dunn, you know his path is unique. He felt he needed another year of seasoning in college so he'd be ready to succeed in the NBA, not just be ready to be drafted. He wanted to get his college degree so he could show his two younger sisters about the importance of college life. And he wanted to finish this chapter of his life, not just leave the end of the Providence College chapter unwritten.
Said Cooley: "What Kris has meant to college basketball — it's a young man who turned down millions of dollars to be educated and have the opportunity to change not just his life but other young men and women that he told, yes, I have a passion to play in the NBA, yes, I have a passion to be a professional, yes, I have a passion to make millions, but my education is important. Because I'm not ready for that life yet."
The charter bus, with "Chicago Classic Coach" emblazoned on the outside, pulled up to the loading dock outside Allstate Arena not far from Chicago O'Hare International Airport. Providence basketball staffers were unloading gear for the afternoon practice as Kris Dunn stepped down from the bus.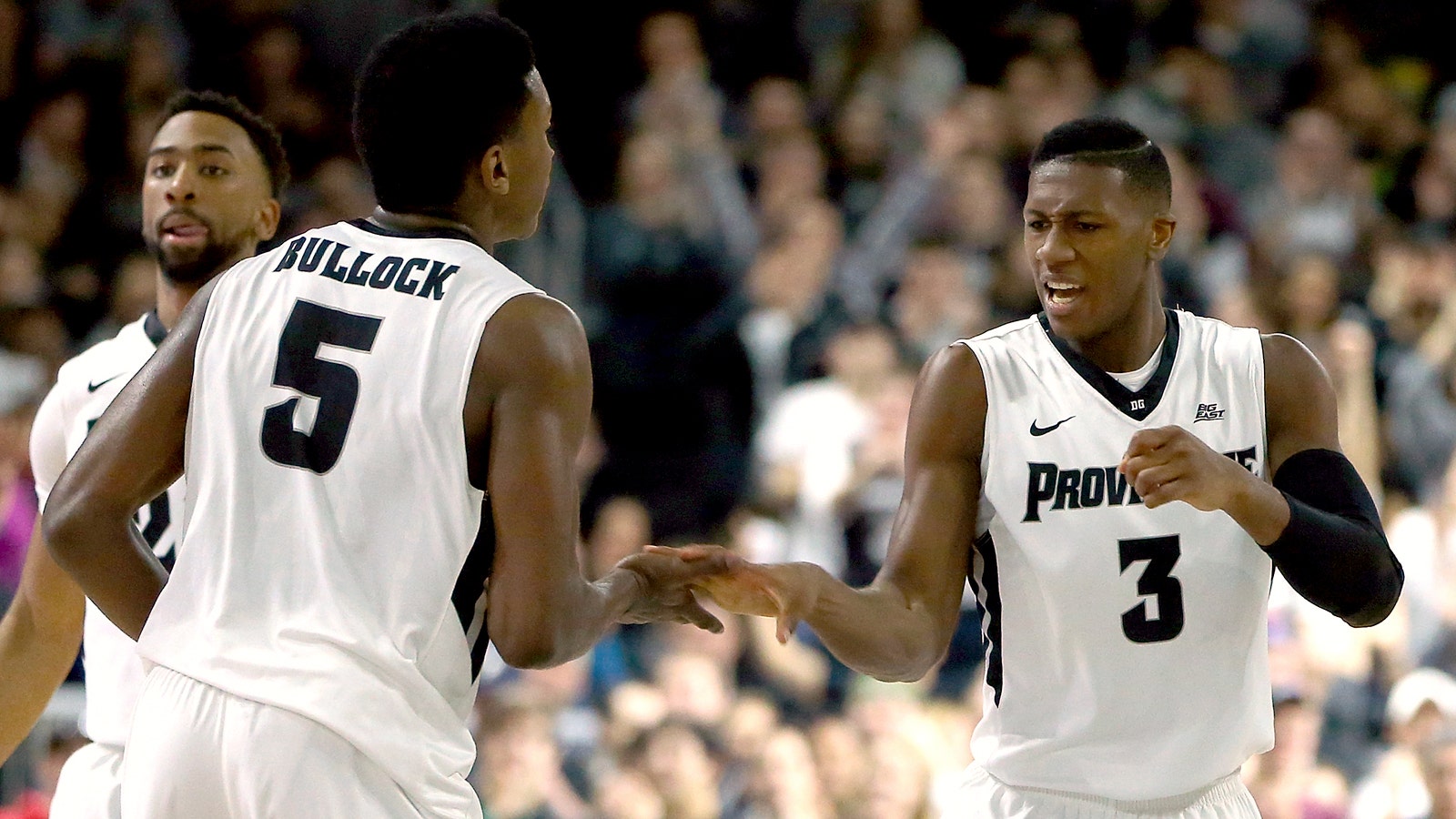 The hood was up on his Providence hoodie, covering the headphones firmly clamped on his ears. A new pair of Jordans hung from his left hand. Dunn followed his teammates down two sets of stairs and onto the court, where a Providence trainer started to tape up his ankles.
It was a two-hour practice the day before a road game, and Dunn had a quiet intensity on his face throughout. The decision to return to Providence for one more year of college basketball came with a specific plan for Dunn: Cooley looked at his young team and said that this team would revolve around Dunn. They would spread the floor and play to Dunn's strengths. It was now two years removed from the second surgery, two years since the dark days on his father's couch, and Dunn seemed to no longer take this sport for granted.
"His joy for playing now is terrific," Cooley said courtside as he watched Dunn put up shots. "I see it every day. It's like that girl that walks into the club that knows she's the best-looking: You're going to get a lot of attention. He's just locked in, his approach, his practices, everything."
Dunn's roller coaster ride through college has mirrored the roller coaster of Providence's return to national relevance the past several years. The program had to reboot after Keno Davis was fired. There were high hopes — when Cooley signed multiple top recruits, when Dunn showed flashes of NBA-level brilliance — and huge setbacks as well: When the future of Providence basketball was tossed into question with the implosion of the old Big East, when some of Cooley's top players transferred, when Dunn's shoulder popped for that second time.
And yet here they are. They have one of the best one-two punches in college hoops with Dunn and sophomore big man Ben Bentil. They have a shot at Providence's deepest NCAA tournament run in two decades. They look like a dangerous 8- or 9-seed in an NCAA tournament that ought to be one of the most unpredictable in years. And all that stuff that turned Kris Dunn from a fourth-grader just trying to survive into a college basketball star who is heading to the NBA? All that stuff is the motivation.
His joy for playing now is terrific. I see it every day. It's like that girl that walks into the club that knows she's the best-looking: You're going to get a lot of attention. He's just locked in, his approach, his practices, everything.
Providence head coach Ed Cooley
"I play with a lot of anger — a lot of anger," Dunn said in the hotel lobby. "It's my past. My past and my struggle. I work too hard to let somebody who doesn't know my pain and struggle to take it from me. That's why I play so hard. Now I've created that animal. I don't even have to think about my past and my struggle. It's already ingrained."
The next evening, Dunn and his team suffered a shocking road loss at DePaul. Nine NBA scouts were in attendance. It was the beginning of a February slide for Providence, losing five out of seven games and moving from a projected high seed in the NCAA tournament to a team whose spot inside the bubble isn't particularly comfortable. For Kris Dunn, this February slide was just another piece of adversity. Come March Madness, rest assured that Dunn will look at the low points of this season — at the low points of his college career, at the low points of his life — and use all of them to propel him forward.
"I'm not doing this just for me," Dunn said. "I'm doing this for my brother, my dad, my brother's daughter, my niece. I'm doing it for my sister, for my stepmom — the whole family, the whole nine yards.
"I can't let this get taken away, and when it did (after the injury), I was pissed because I felt like I was letting everybody down," he continued. "I felt like I was the guy who could help everybody grow."
When Dunn left the arena after Providence's loss to DePaul, bad weather had enveloped Chicago. The team bus was sheathed in fog as it headed to the airport. But even though it was dark and cloudy outside — even though his team was heading into this concerning tailspin — for Kris Dunn, he could now look out at everything and see it all as sunny and beautiful.
Follow Reid Forgrave on Twitter @reidforgrave or email him at ReidForgrave@gmail.com.