Kentucky Basketball: Wildcats-Valparaiso Preview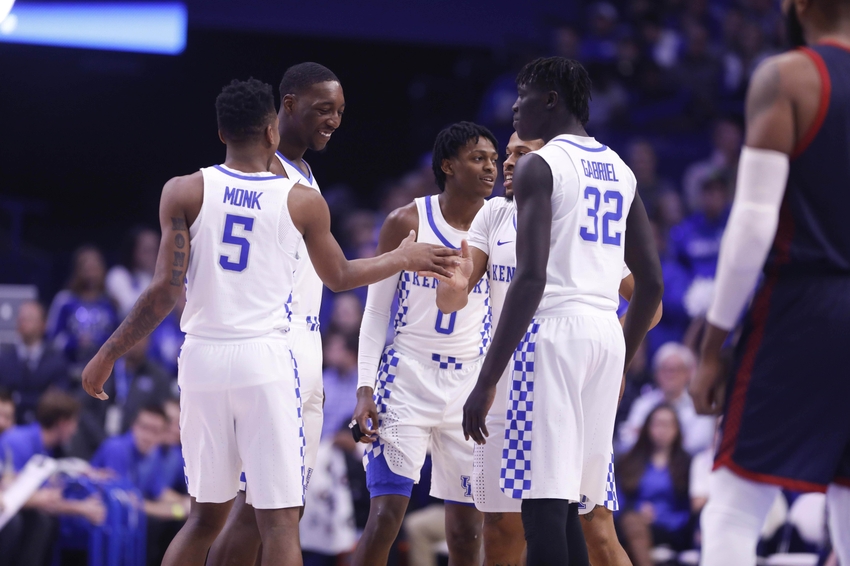 Kentucky Basketball: Kentucky had intentions, just like it does each season, to not lose a game this year. Well, that goal was scratched from the list after the Wildcats were upset by UCLA on Saturday afternoon in Rupp Arena. Against Valparaiso on Wednesday evening in Lexington, the Cats will try to return back to their winning ways.
Kentucky was certainly stunned when then-eleventh-ranked UCLA stormed into Rupp Arena and upset it on their home court in front of its beloved fans last Saturday.
Not only was it tough to swallow, but the setback snapped a 42-game home winning streak and handed head coach John Calipari his fifth loss at Rupp in eight seasons. Yes, just five losses in eight years at the helm isn't bad whatsoever, but if anything's for certain, Coach Cal isn't a big fan of losing.
On the bright side of things from the 97-92 defeat, the Wildcats (7-1 overall) never gave up and fought until the final whistle. They trailed by as much as eleven points with just over 30 seconds remaining and went on to cut their deficit down to three eight seconds to tick, but obviously they just didn't have enough time left to try and pull in front of the Bruins.
"We had a film session on Sunday and we practiced yesterday – and you know what, they're (team) fine," Calipari said as he previewed Wednesday's matchup against Valparaiso. "Look, it is a process; for 24-hours I mourn, then I'm good – let's go. Next game – who is it?"
Now, seeking to return to its winning ways, Kentucky welcomes a Valparaiso club into Lexington on Wednesday for an evening matchup. Here's all of the information you'll need for the contest:
Who: Kentucky (7-1) vs. Valparaiso (7-1)
When: Wednesday, December 7, 2016
Where: Rupp Arena (23,500) | Lexington, Kentucky
Tipoff: 7 p.m. (CST)
TV: SEC Network
Radio: Kentucky IMG Sports Radio Network
LIVE Updates: @WildcatBlueNation
Fresh off an 65-62, upset victory over then-No. 21 ranked Rhode Island at home last Tuesday that was its first over a nationally-ranked opponent in over 18 years, Valparaiso ventures into Rupp with plenty of momentum and its mind set on handing the No. 6-ranked Cats their second-straight loss.
Led by senior forward Alec Peters (6-foot-8, 235-pounds), who pours in 25.4 points and 9.1 rebounds per outing, Kentucky will have to contain him in order to have a shot at walking away victorious. Coach Cal had high praise for the Crusaders' senior, who is projected to be a first-round NBA Draft pick:
"He scores baskets, steps back, fades away and scores, so even if you guard him, he can still score," he said of Peters. "25  (points) a game, man. There's more pro scouts coming to this game than even the last game. He's literally one of those guys that you can double-team and he can still fadeaway and make it."
The Crusaders won 30 games last season and already have three top-100 wins this year – Rhode Island, BYU and Alabama. The only previous meeting against Valparaiso, Kentucky claimed an 83-68 victory in the 2002 NCAA Tournament.
As for the Wildcats, freshman guard Malik Monk leads the group offensively with 19.9 points per game with a 48.4 percent shooting clip. Along with Monk, the trio of Isaiah Briscoe, De'Aaron Fox and Bam Adebayo also combine for 45.2 points per contest and 17.1 rebounds.
"This is gonna be an extremely hard game for us to win," Calipari added. "They have three seniors and two juniors and they're terrifically coached. But, I'm worried more about my team. This isn't one (a game) you just walk into and say 'Okay, let's get in here and play this game.'"
More from Wildcat Blue Nation
This article originally appeared on