Kentucky Basketball: Wildcats romp Arizona State in Atlantis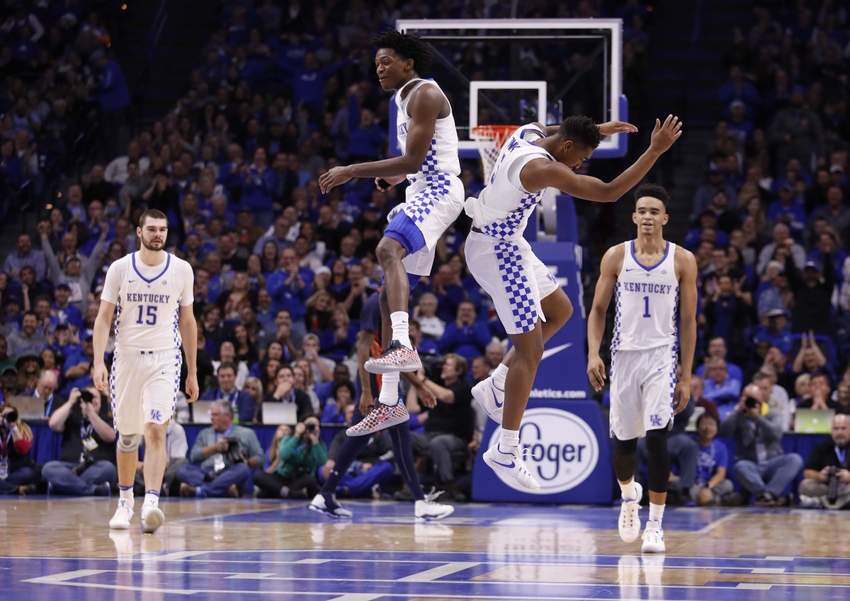 Kentucky basketball looked like the number team in the nation on Monday night in the Bahamas.

115

69
While the Duke Blue Devils overcome injuries to three of their four five-star freshman and their best player Grayson Allen, Kentucky has taken the honor as the best team in America.
They haven't played any outstanding competition, but the team certainly passed the eye test in a 115-69 romping of the Arizona State Sun Devils in Atlantis on Monday night.
Point guard De'Aaron Fox recorded the second triple-double in Kentucky history, as he recorded 14 points, 11 rebounds and 10 assists in 31 minutes. Meanwhile, the Wildcats were led by Malik Monk (23 points) and Isaiah Briscoe (20 points on 2-of-2 from downtown) in the scoring column.
They also received a lift from Wenyen Gabriel, who dropped 10 points and grabbed seven rebounds, and Derek Willis, who scored 11 points off the pine.
John Calipari's team had only nine turnovers, shot 52 percent from the field overall and hit 73 percent of their free throws. While they surely didn't solve their perimeter shooting woes just yet and Monk shot 3-of-10 from downtown, UK added a promising 11 threes (39 percent) to their offensive punch.
The Wildcats played a complete game though. It wasn't just about their transition attack, athleticism and scoring prowess. It was also about their consistent defense that held Bobby Hurley's team to 34 percent shooting and 31 percent from beyond the arc.
Kentucky Basketball's Monk Explodes for 26, Leads Cats Past UT-Martin
In addition, the Wildcats crushed (and I mean, crushed) Arizona State on the boards. They out-rebounded the Sun Devils by 26 and had 20 offensive rebounds.
At least at this point in the season, Kentucky looks like the clear national title favorite. They are good on both ends of the floor, are well coached and have NBA players all over the floor.
They still have concerns regarding their perimeter shooting and their inexperience though.
The Wildcats also haven't played an arduous schedule to this point. They haven't won a game by less than 21 points and their only quality win comes against a Michigan State team that just dropped out of the top-25 and is relying heavily on four freshman.
We truly don't know how Kentucky will play in late game situations. Who's going to close out the game? Monk? Briscoe? Fox?
That's why these upcoming tests against UCLA, North Carolina, and at Louisville over the next couple of weeks are so crucial. Other than Florida, Texas A&M, South Carolina and maybe Ole Miss, the Wildcats don't have many stepping stone games and resume building opportunities in the SEC.
If the 'Cats can hold serve and impress against one of the best offensive teams in the nation, one of the most balanced teams in the nation and one of the most elite defensive squads in the country, then they should have no problem cruising through the SEC and becoming a number one seed in the NCAA Tournament.
That is a long way away though. For now the Wildcats, are going to appreciate this beat down of a victory.
More from Busting Brackets
This article originally appeared on