Kentucky Basketball's Monk Explodes for 26, Leads Cats Past UT-Martin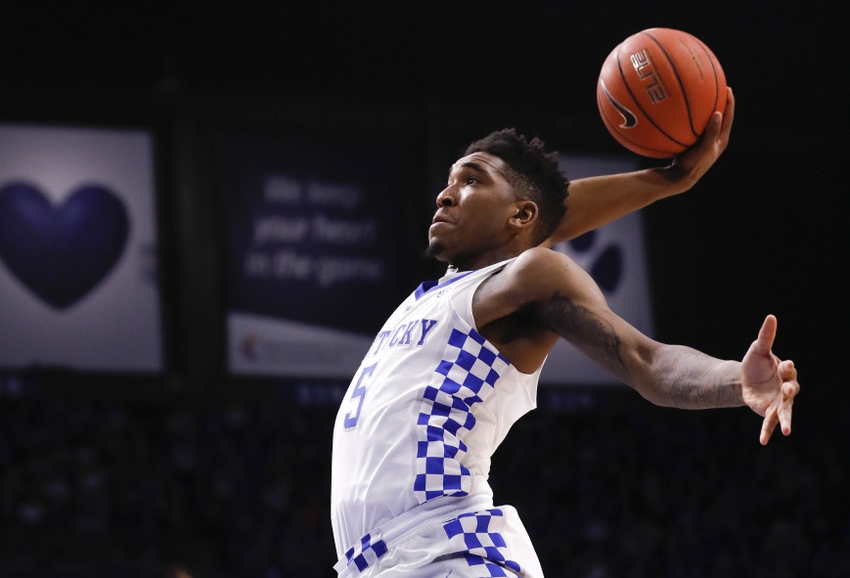 Kentucky Basketball's No. 1 ranked Cats Blast UT-Martin 111-76 at Rupp Arena, led by 26-point offensive explosion from Malik Monk
The top-ranked Kentucky Wildcats, after a competitive game early, pulled away to rout UT-Martin 111-76 at Rupp Arena recently. Playing for the second consecutive game without leading scorer and veteran presence Isaiah Briscoe, the Cats were lead again by Briscoe's backcourt mates. And while De'Aaron played well and scored 16, in the end it was the Malik Monk show.
Monk poured in a career-high 26 points on 10-17 from the field, filling it up every way imaginable. Monk knocked down a couple of 3s, had layups, free throws, you name it. But then he had a stretch of defensive plays that turned into SporsCenter dunks that were just off the chart.
Monk, coming off winning the SEC Freshman of the Week last week, looks to be trending in that direction again.
It's the Malik Monk show tonight, folks. #SCtop10 https://t.co/D5fo2Yguhd

— SportsCenter (@SportsCenter) November 26, 2016
<img src="data:image/gif;base64,R0lGODlhAQABAIAAAAAAAP///yH5BAEAAAAALAAAAAABAAEAAAIBRAA7" data-wp-preserve="%3Cscript%20async%20src%3D%22%2F%2Fplatform.twitter.com%2Fwidgets.js%22%20charset%3D%22utf-8%22%3E%3C%2Fscript%3E" data-mce-resize="false" data-mce-placeholder="1" class="mce-object" width="20" height="20" alt="
For important updates about Profile following the recent corporate transaction,
click here
.