Kentucky Basketball: John Calipari's 2017-18 front court will be stacked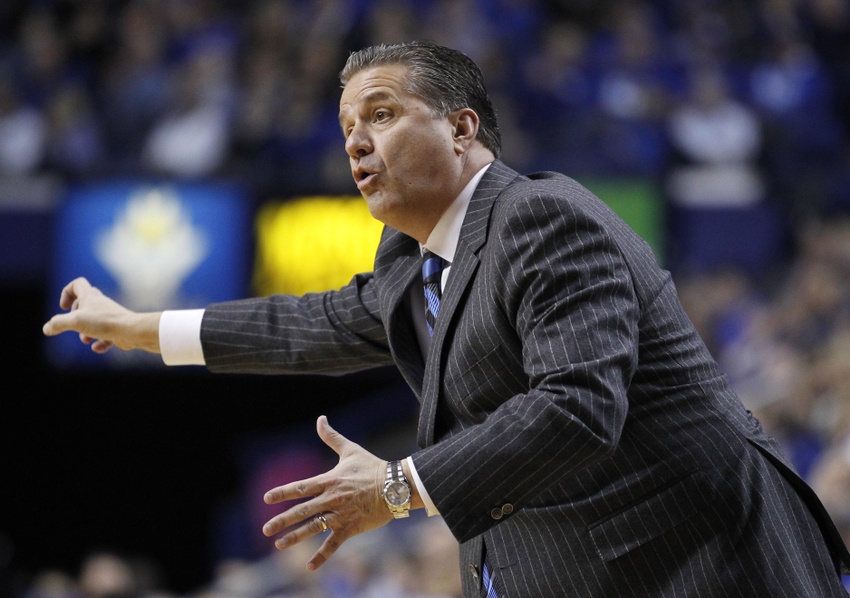 Kentucky basketball reeled in two commitments from Nick Richards and P.J. Washington on Thursday.
The 2015-16 Kentucky Wildcats could've rode their three headed backcourt monster of Tyler Ulis, Jamal Murray and Isaiah Briscoe throughout a long NCAA Tournament run. However, John Calipari's squad was held back by an unassertive and weak front court.
That won't be a problem for Calipari and company moving forward though. This year's interior pieces possess a combination of power and skill, while the Wildcats are already prepping for the 2017-18 season.
As a matter of fact, the 2017-18 Wildcats could have the program's best one-two front court punch since Karl Anthony-Towns and Willie Cauley-Stein back in 2014-15.
Those two pieces, Nick Richards and P.J. Washington, both committed to the SEC powerhouse on Thursday as part of the early basketball signing period.
Richards, a 6'11", 250 pound center from Queens, NY, is ranked 12th in ESPN's top 100 and is labeled as the 5th best center in the class of 2017. The Patrick School (NJ) prospect chose the Wildcats over Arizona and Syracuse, with an eye on potentially becoming a one-and-done player.
The center is still developing his offensive game, however, he is already an elite defender because of his athleticism, length and strength. Richards protects the rim by using his absurd wingspan and solid basketball instincts. With a high level motor and fearlessness in the paint, Richards is also one of the best rebounders on both ends of the floor in next year's class.
He can finish around the rim and has developed a mid-range jumper over the last year or so, but Richards could continue to improve his consistency on the offensive end of the court. As the game of basketball continues to trend towards shooting and spacing, Richards needs to hit jumpers and handle the ball at a higher level in order to maximize his skills.
Meanwhile, Washington is a 6'8″, 225 pound power forward from Las Vegas, Nevada. The Findlay Prep product is ranked 16th in ESPN's top 100 and is the 2nd best four-man in the class of 2017.
Washington was being courted by numerous other blue bloods, including Kansas, North Carolina and Arizona, among others. However, like Richards, Washington opted to play in the SEC.
The power forward is one of the more versatile players in the entire class of 2017. Let's start on the offensive end, where Washington continues to develop. He has made major strides with both his mid-range jumper and three point shot within the last year, and is even capable of attacking defenders off the bounce. He operates with strong post moves on the block and has a nice touch around the rim.
On defense, Washington uses his motor, strength, athleticism and 7'2″ wingspan to block shots, corral rebounds and defend numerous positions. He can switch pick-and-rolls on the perimeter, but doesn't have the greatest lateral quickness in the class.
Calipari will love his ability to impact the game in numerous different ways.
If Richards and Washington were joining the Wildcats as the lone pieces up front, Kentucky may be in trouble, especially given the potential for foul trouble or injury concerns. However, the Wildcats are truly stacked in the painted area.
Edrice 'Bam' Adebayo is expected to declare for the NBA Draft following the 2016-17 season and Derek Willis will be graduating, but Sacha Killeya-Jones, Wenyen Gabriel, Isaac Humphries and Tai Wynyard are all expected to return in 2017-18.
That gives Calipari six (SIX!) capable big men at his disposal.
With the projected departures of Malik Monk, De'Aaron Fox and potentially Isaiah Briscoe, Calipari will now have to focus on his backcourt for next year. However, we cannot overlook how the Wildcats reacted to what was a brutal 2015-16 season in the colored area.
More from Busting Brackets
This article originally appeared on