Kentucky Basketball: Fox's Triple-Double Leads Cats Over ASU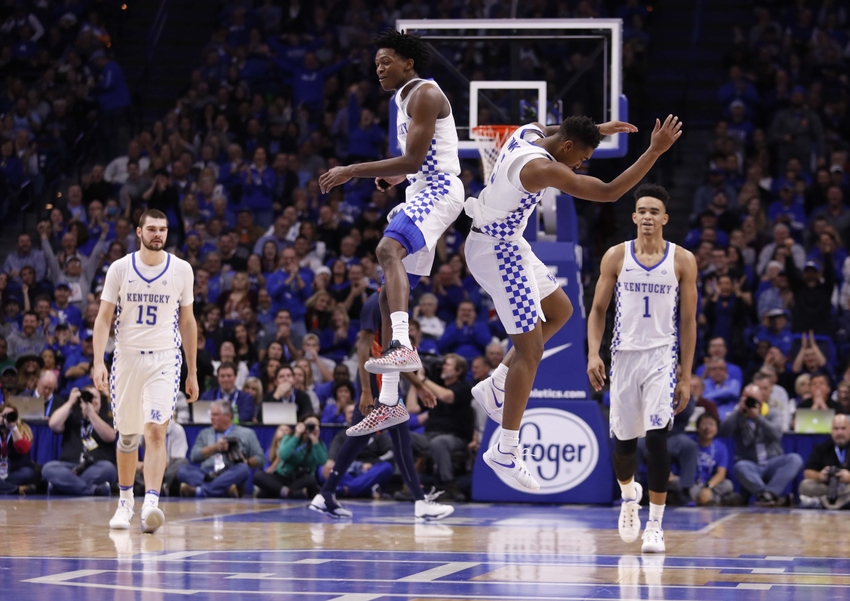 Kentucky Basketball: De'Aaron Fox records programs second triple-double all-time as Cats steamroll over Arizona State in the Bahamas
De'Aaron Fox put up 14 points, 11 rebounds and 10 assists, recording only the second triple-double in the storied history of Kentucky basketball, to lead to Kentucky to blowout win over Arizona State, 115-69, in the Bahamas.
Fellow freshman sensation Malik Monk led the Cats in scoring with 23, while Isaiah Briscoe returned from injury, and didn't skip a beat, putting up 20 points, 7 assists and 4 rebounds in 25 minutes of play. Bam Adebayo added 12 points and 9 rebounds, while Derek Willis added 11 and Wenyen Gabriel chipped in 10, as 12 Cats scored on the way to a complete rout of the Sun Devils.
The more telling sign, and one extremely encouraging for the Wildcat faithful, doesn't show up in the stats sheet-effort. The Cats out-hustled and out-scrapped Arizona State for 40 minutes of basketball, dominating in every single phase of the game. Kentucky players dove to the floor for loose balls, fought for rebounds, saved balls from going out of bounds; it was a stark contrast between a hungry team playing for each other, and a mismatched Arizona State team that looked shellshocked from the opening tip against the Cats.
Kentucky continued to display uncommon unselfishness among a group of heralded athletes such as coach John Calipari has assembled. As such, the Cats recorded 33 assists, against just 9 turnovers. Kentucky's assist to turnover ratio was 3.67 for the game, compared to 1.15 for ASU. Kentucky shot 53-percent from the field, including 11-28 from 3-point range (39-percent), while shooting hitting 16 of 22 free throws. The defense forced 13 turnovers, including swiping 7 steals, and blocked 9 shots, while Kentucky out-rebounding ASU 60-33.
Want your voice heard? Join the Wildcat Blue Nation team!
The competition should dramatically improve in the coming weeks, with several match ups versus ranked opponents, beginning December 3 when Kentucky hosts 11th-ranked UCLA in Rupp Arena.
More from Wildcat Blue Nation
This article originally appeared on