Kentucky Basketball: Five reasons why the Wildcats will win the chip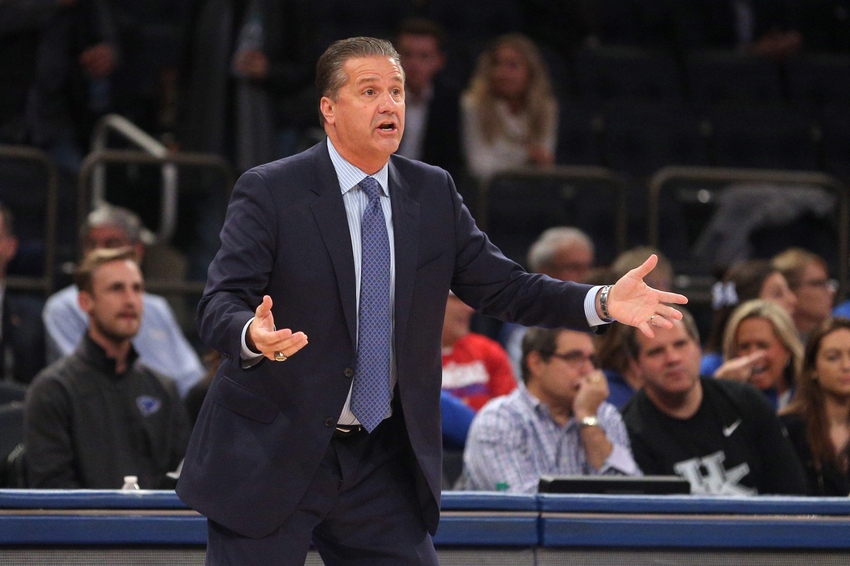 What are the five reasons why Kentucky basketball can win the NCAA Tournament title?
In the second released AP Poll of this young season, the Kentucky Wildcats jumped the Duke Blue Devils and all other teams to reach the number one overall ranking.
And it doesn't seem as if Kentucky is going anywhere anytime soon. John Calipari's squad should be ranked amongst the top 5-to-10 teams in the country and they are almost guaranteed to win the bona fide mid-major SEC.
The Wildcats haven't played anyone great yet — they have beaten Stephen F. Austin, Canisius, Michigan State and Duquesne — but they have all the requisite goods to be a dangerous team throughout the season.
Calipari's rosters are almost always in peak form when March rolls around, and this team should be no different. The Wildcats are a young roster due to the presence of highly touted freshman. That means those talented players are likely to round into form later in the season, as they continue to adjust to the increased speed of the college game.
While Duke is dangerous, Kansas is lethal and other teams in the top-10 have a chance to win it all, there are five main reasons why the Kentucky Wildcats can cut down the nets in April.
5. The new look front court
Let's be honest: So far this season, Kentucky's front court hasn't impressed.
Edrice 'Bam' Adebayo has averaged three fouls per game, and was basically non-existent against Michigan State in the Champions Classic. He hasn't been the force that we all expected.
Wenyen Gabriel is impressive defensively, but he has very little offensive game at this point in his development and is shooting 17 percent from beyond the arc.
Derek Willis is averaging less than 20 minutes per night and is shooting just 25 percent from long range. And Isaac Humphries, Sacha Killeya-Jones and Tai Wynyard have all struggled to make a true impact in the season's first two weeks.
However, this Wildcat front court will be better than last season's. In 2015-16, Skal Labissiere, Alex Poythress and Marcus Lee were very 'soft' on the interior. They had difficulties against more physical bigs, and it wasn't until Derek Willis was inserted as a stretch four that they truly broke out of their shell.
John Calipari's front court is not going to single handily defeat opponents, but as Adebayo and company improve, they won't be a walk-in-the-park to match-up with.
4. The blending of the pieces
John Calipari receives a lot of unnecessary criticism, as some don't believe he is a very good X's and O's coach. I for one don't agree with that notion, but regardless, Calipari is still a terrific coach because he is excellent at blending pieces together.
Remember that 2014-15 team that started the season 38-0? Yeah, well Calipari molded together nine NBA players and two other capable rotation players. Kentucky played as a team and no one complained about minutes (at least as we know of). In turn, even though they lost in the Final Four to Wisconsin, the Wildcats had ultimate success.
This 2016-17 team doesn't even compare to that 2014-15 squad. They don't have the talent, same number of NBA prospects or front court prowess.
But they still have five five-star prospects and multiple returnees that have to be pieced together to play as a team.
Already we are seeing Calipari's magic happen before our eyes. Malik Monk came to Kentucky with a reputation as a "gunner." Monk has been terrific in the scoring department so far, but he has also shown an ability to move the ball within the confines of the offense.
This dates back to last year, but Isaiah Briscoe was also a "bucket getter" in high school. Calipari has pushed the right buttons and suddenly Briscoe, now a sophomore, is one of the best defenders in the country, regardless of position.
The Wildcats are likely only going to get more unselfish and develop more chemistry as the season goes on. This is good news for Big Blue Nation and bad news for the rest of the country.
3. Blazing speed/athleticism
As a team, Kentucky isn't the fastest group in the country. However, they may have the quickest guard in the nation in De'Aaron Fox.
The five-star freshman received comparisons to John Wall before his college freshman campaign already started.
While that may be taking it too far, Fox has been very impressive to begin this 2016-17 campaign. His ability to operate in transition gives the Wildcats a different dimension of the offensive end of the floor.
On top of the blazing speed, Kentucky also has great athleticism. Fox and Malik Monk are superb leapers, while Edrice 'Bam' Adebayo can throw it down with authority. Wenyen Gabriel is also a dynamic athlete.
Between Fox's speed and his teammates' athleticism, there could be a lot of highlight reel fast breaks for the rest of the year.
2. Elite guard play
One way to ensure that your team has success in March: Get good play from your guards.
Kentucky doesn't have just one talented guard, they have three.
We'll start with Isaiah Briscoe because he is the leader of the entire team. He is nearly impossible to stop when he gets a full head of steam going to the rim and has developed into an even better passer at the college level. He can operate out of the pick-and-roll and is elite in transition, using his craftiness to finish around the rim.
Kentucky Basketball: 2017 Recruiting Class Rises to No. 1
There was a lot of talk about his improving jump shot this season, but we truly haven't seen it so far (14 percent from the three point line). His free throw percentage is up to 77 percent (he shot 46 percent last year) though, and as we mentioned previously, he is outstanding on defense.
Malik Monk is a five-star freshman who can flat out shoot the basketball. He his very streaky and can sometimes force up bad shots, however, he is an elite athlete and a good enough scorer to lead this team in points.
Monk has the ability to be a really good defender too because of his solid physical tools (length and size).
Finally, De'Aaron Fox is a quick five-star freshman who is currently averaging 15.3 points, 6.8 assists and 4.8 rebounds per game. Even though he hasn't been highly efficient (38 percent shooting and 11 percent from beyond the arc), his transition play will really help the Wildcats in the long run.
These three guards play well with one another and seem to be very unselfish. If this continues and each guard finds a balance between scoring and passing, this Kentucky team is going to be awfully hard to beat.
1. DEFENSE
The main reason why Kentucky will win it all? Their defense is going to be the elite of the elite.
In the Champions Classic at Madison Square Garden, the Wildcats held Michigan State to 48 points and shut down Miles Bridges. Sure, the Spartans aren't exactly a good basketball team right now, but they are still ranked in the top-25 and it's still difficult to hold any team under 50 in today's brand of basketball.
The Wildcats have stellar individual defenders (Isaiah Briscoe, Malik Monk, De'Aaron Fox, Edrice 'Bam' Adebayo and Wenyen Gabriel have done a little bit of everything on defense). However, what really separates them from other teams defensively is that they have all bought into John Calipari's scheme….already.
It's only November and Kentucky looks really really good on that end of the floor. Imagine what they are going to look like in March with more playing time with one another.
This is not going to be the best defensive team that Kentucky has ever had — they've had some darn good ones. But they could be one of the best.
This article originally appeared on