Kentucky Basketball: First Half Notes Versus Cleveland State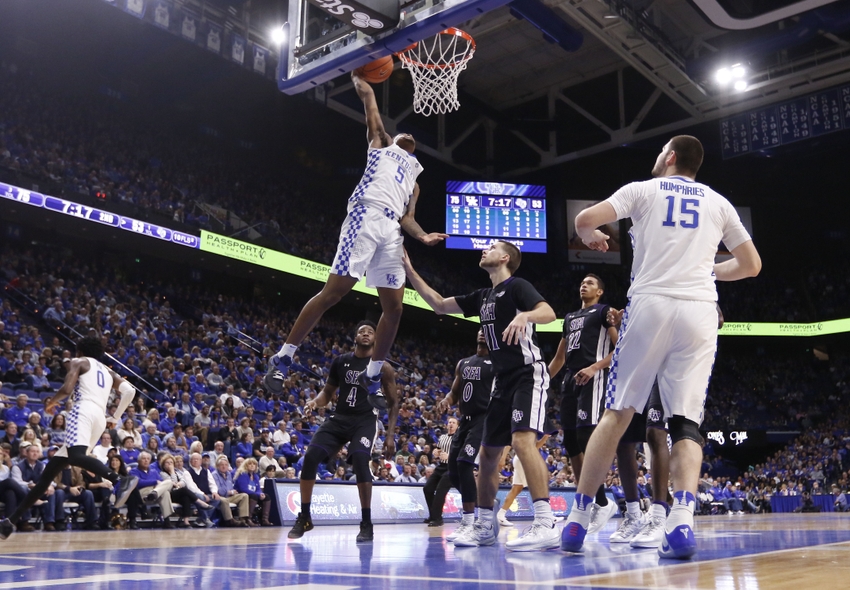 Kentucky Basketball: First Half Notes – Malik Explodes for 19, Fox adds a dozen, as Cats are Rolling early versus Cleveland State
So far it's been the Malik Monk show, as the talented freshman exploded for 19 points in the first half to help put the Cats ahead 56-35 at the half versus Cleveland State at Rupp Arena.
And Monk did it proficiently as well, going 7-8 from the field, including 4-4 from 3-point range, shooting 88-percent overall, to lead the Cats. De'Aaron Fox added 12 points and 6 assists. Monk had 4 assists as well, while overall the team recorded 13 assists to help the Cats get 24 field goals, many in transition or on kick-out 3-pointers. SEE STATS HERE.
The Cats have only out rebounded Cleveland state by 2 (21-19) at the break, however Kentucky's defense has been solid, forcing Cleveland State into 14 turnovers, against just five from Kentucky. While rebounding could be better, one of the bigger letdowns of the day so far has been from the free throw line, where the Cats are just 9-16, for 56-percent, at the break.
We'd like to see more post production in the second half, as Bam Adebayo only had limited looks in the fist half, while Humprhies has been pretty non-existent. However, we really haven't needed much, to be fair. Kentucky's guards, predictably, have owned Cleveland State to this point. Whether transition or half court, they can't guard them off the dribble. However, our bigs need the looks, and we'd love to see the high thrown down to the block in the second half, just to get the big fellas some work.
Want your voice heard? Join the Wildcat Blue Nation team!
Overall, A+ for the Cats in the first half. Kentucky is rolling just like they should.
More from Wildcat Blue Nation
This article originally appeared on