Kentucky Basketball: Cats Ascend to No. 1 Ranking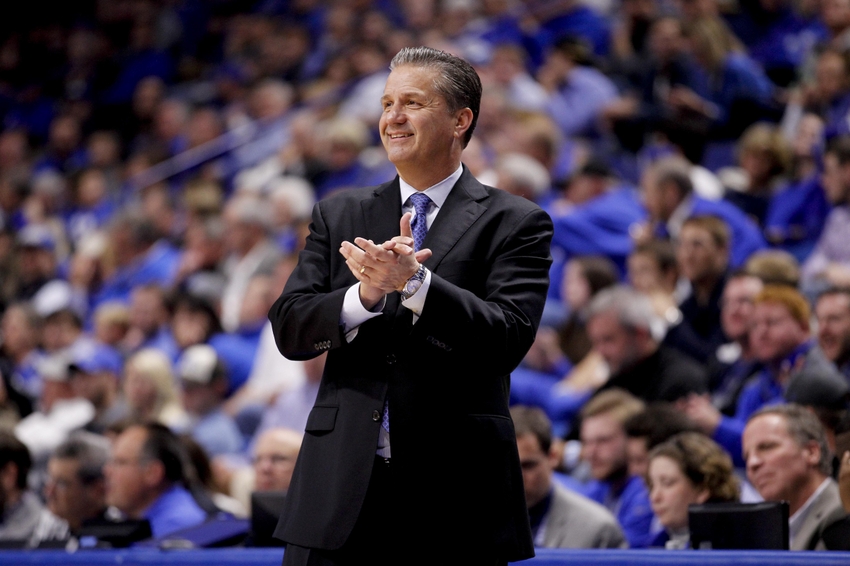 Kentucky Basketball Ascends to No. 1 in AP Top 25 and USA Today Coaches Poll after 4-0 start to the season
The Kentucky Wildcats, after a 4-0 start, including a blowout win over 13th-ranked Michigan State, has ascended to No. 1 atop both the AP Top 25 and USA Today Coaches Poll today.
The Cats amassed 42 out of 65 available first-place votes in the AP Top 25, while garnering 20 out of 31 available first-place votes in the USA Today Coaches Poll. For coach John Calipari, this marks the sixth time he's skippered the Cats to the top of the polls during his eight-year run in Lexington-and fourth consecutive season. For the program, this marks the 123rd week all-time in the AP Top 25, third overall, behind only UCLA (134) and Duke (129). Kentucky is 66-6 while being ranked No. 1 under Calipari.
Both polls read like a who's-who of Kentucky's most hated rivals, predictably, with Indiana, North Carolina, Kansas, Duke and Louisville all in the top 10. UCLA ranks 13th in each poll, while Bob Huggins' West Virginia cracks the top 20 in each. Michigan State, following its second loss of the season, fell to 24 in the AP and 20 in USA Today Coaches. Kentucky remains the only SEC in either top 25 poll, although Florida received votes in both polls, while Texas A&M and Arkansas received votes in the USA Today Coaches Poll. SEE BOTH TOP 25 POLLS.
AP Top 25
Kentucky (42), 1,592 points
Villanova (21), 1,561 points
Indiana (2), 1,443 points
North Carolina, 1,399 points
Kansas, 1,374 points
Duke, 1,337 points
Virginia, 1,198 points
Arizona, 1,129 points
Xavier, 1,099 points
Louisville, 947 points
USA Today Coaches Poll
Kentucky (20), 754 points
Villanova (4), 725 points
Duke (5), 658 points
North Carolina, 654 points
Indiana (2), 650 points
Virginia, 600 points
Kansas, 600 points
Xavier, 645 points
Arizona, 530 points
Louisville, 470 points
Kentucky returns to action Nov. 23 to take on Cleveland State in Rupp Arena, part of the Bluegrass Showcase. Tip-off is at 1 PM EST, and the game will be broadcast live on the SEC Network.
More from Wildcat Blue Nation
This article originally appeared on