Kentucky Basketball Calling On Fans to "Paint Rupp"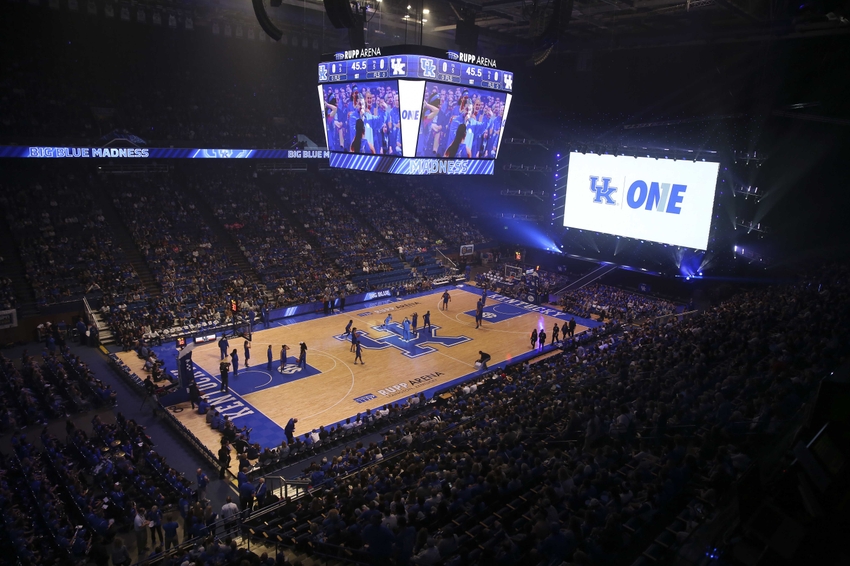 The Kentucky Basketball program is calling on Big Blue Nation fans to come out Saturday to "Paint Rupp" in alternating blue and white colors, by section, for the nationally televised game against UCLA
The Kentucky basketball program is calling on all Big Blue Nation fans to help support the team by wearing all blue or white, depending on their seating section, for Saturday's nationally televised game against 11th-ranked UCLA.
The top-ranked Wildcats come into the game undefeated at 6-0 after the recent blowout win over Arizona State, 115-69, in the Bahamas. UCLA also enters the game undefeated at 7-0 and stands as Kentucky's toughest test yet in this young season. And like Kentucky, UCLA has a freshman sensation all their own in point guard Lonzo Ball, who is already garnering comparisons to Jason Kidd. Ball recently earned MVP in the Wooden Legacy Tournament, where UCLA topped Texas A&M by seven in the finals. Ball averaged 15.7 points, 9.3 assists and 4 rebounds, also picking up Pac-12 Player of the Week.
With a freshman talent similar to UK's sensational backcourt, former Hoosier Steve Alford running the ship, and the UCLA name on the jersey, the hype machine in Lexington is running full tilt in anticipation.
Even Coach John Calipari got into the action on social media, as he often does, turning to Twitter to help blast out the word:
More from Wildcat Blue Nation
Tip-off is scheduled for 12:30 PM EST, and the game will be broadcast on CBS. Saturday's game marks the second of two games in a home-and-home series announced in 2014. Last season, UCLA knocked off then No. 1-ranked Kentucky 87-77 in UCLA's Pauley Pavilion. Kentucky leads the all-time series 7-5.
This article originally appeared on