Kentucky Basketball: Calipari believes Wildcats will be elite defensively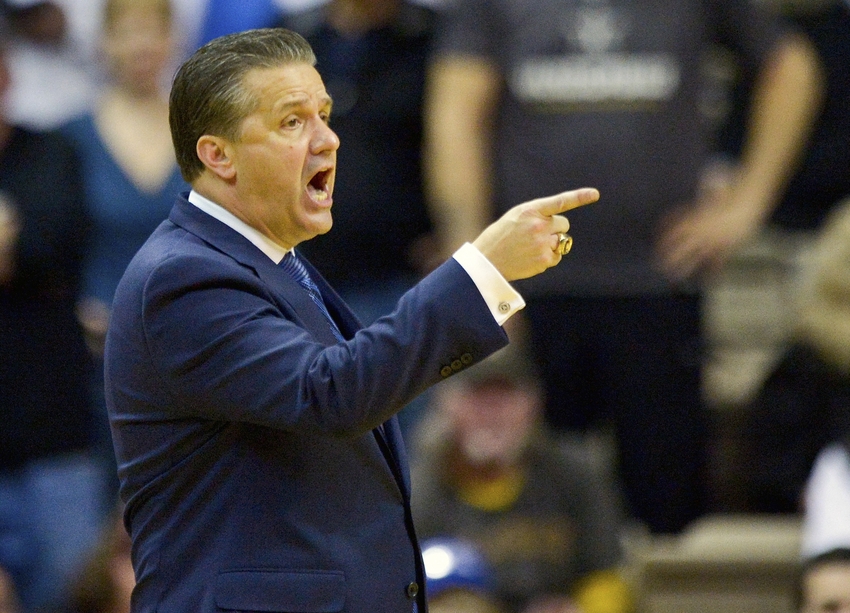 Could this be the best defensive team that John Calipari has had with Kentucky basketball?
With questions regarding their outside shooting, the Kentucky Wildcats will have to be elite defensively if they want to have a shot to win the National Championship over Duke and other contenders.
Head coach John Calipari is always very blunt about his team around this time of year (normally saying that they aren't a very good basketball team). But that doesn't mean he will leave out praise for what could potentially be a special defensive unit.
"I would say we are going to be a mauling, helping, rotating, shot-blocking team. … On offense, a team that tries to score within three seconds. … I'm going to be disappointed in February if this isn't the best defensive team (he's had at Kentucky)."

"This team is not going to be what it is before February." Calipari said he might start four freshmen at times, or at least three.
As with any team that is made up of multiple inexperienced freshman, Kentucky is going to take a while to gell on both ends of the floor. On the defensive end in particular, players will have to get used to Calipari's system in in-game scenarios, while also getting a feel for switching in pick-and-roll situations and general help defense.
But it's clear that Kentucky has the personnel to be as dangerous of a defensive unit as there is in college basketball.
On the perimeter, the Wildcats have one of the best on-ball defenders in the country in Isaiah Briscoe. The sophomore has a strong frame, good lateral quickness and excellent intensity that helps him slide his feet effectively without fouling.
Five-star point guard De'Aaron Fox is also regarded as a very respected on-ball perimeter defender. Using his super speed, Fox can pressure ball handlers in a full court setting, or he can drive the point guard nuts by picking up the ball immediately when his opponent passes half court.
Dominique Hawkins won't receive a ton of minutes, but he has been a reliable defender (on and off the ball) for three years. Malik Monk is more of a shooter, however, he too has the traits (size and athleticism) to be a solid compliment to the other three guards.
Kentucky Basketball: ESPN Predicts UK Landing Three Recruits
Where things become even more intriguing is in the front court. Wenyen Gabriel, Edrice 'Bam' Adebayo and Isaac Humphries make up a trio that will help protect the rim.
Gabriel is a very raw player who relies on his motor and athletic traits. That is not necessarily a good thing on the offensive end as he continues to try to find the proper position for him to be successful. However, it's great news for the Wildcats on defense. Gabriel's energy never stops flowing and because of his length, he is capable of guarding three-to-four positions from the get-go.
He can stop opponents on the perimeter, while also having the shot blocking ability to take on bigs in the paint.
Adebayo will be a force on the glass and his toughness will give him the chance to body up bigs in the post. Add in the fact that he's a terrific shot blocker, and Kentucky will have a much more potent interior defense than last season.
The 7'0″ from Australia, Humphries, will also get in on the fun. He only played 9.1 minutes per game last season and isn't explosive or impressive athletically, but he did average nearly a block per game. His size and strength will be an asset for Calipari and company.
Although Sacha Killeya-Jones is an unknown (at this point) and Derek Willis is a stretch four, both players will help close out defensive possessions with rebounds.
But as good as the personnel looks on paper, is it seriously possible that this Kentucky team could be better defensively than the 2012-13 team that went 38-2 or the 2014-15 team that finished 38-1?
The 2012-13 team finished number one in KenPom's defensive efficiency rankings as they featured Anthony Davis, Michael Kidd-Gilchrist and Marquis Teague.
To top that, the 2014-15 squad was also number one in KenPom's defensive efficiency rankings and had even better individual defenders in Devin Booker, Willie Cauley-Stein, Marcus Lee, Alex Poythress, Karl-Anthony Towns and Tyler Ulis.
Calipari knows his team better than anyone though, so maybe it isn't un-realistic. Or maybe he is boosting the confidence of a group that could have growing pains at the start of the season without the head of their program, Ulis, in the fold.
If Kentucky truly has one of the better defenses in all of college basketball, they are very well in the picture to win it all. If not, there may be many struggles, especially when March rolls around.
More from Busting Brackets
This article originally appeared on