Kansas State Basketball Fans Should Celebrate Weber's Milestone Win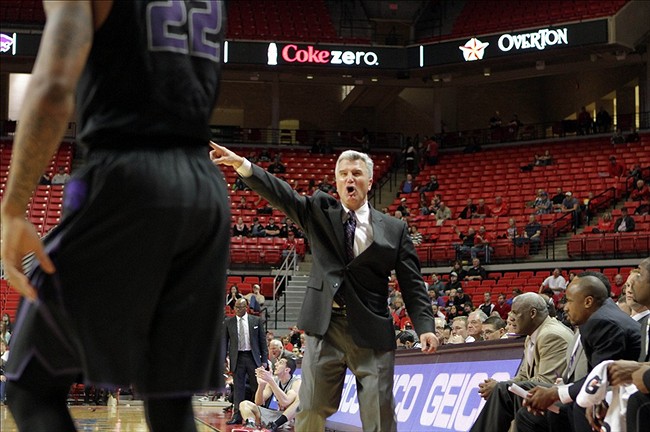 Love him or not, Bruce Weber has won a lot of basketball games and Wildcat fans need to appreciate his accomplishment.
Kansas State basketball fans probably don't think of Bruce Webber as one of the winningest active Division I coaches but he is indeed.
The Wildcats 74-55 win over Prairie View on Tuesday night gave Weber a milestone 400th career victory.
That's an amazing accomplishment for any coach and should be celebrated.
However, considering Weber reached the milestone on the same night another Big 12 coach reached the 600-win plateau, Weber will be overlooked.
In his 5th season at Kansas State, Weber also has 10 NCAA Tournament appearances in his career and believes he can get the Wildcats back to the big dance.
Weber is far from the most loved coach in Manhattan. He has a tough job but is quietly ignoring the Kansas State Basketball fans who wanted him replaced by former Wildcat player and assistant coach Brad Underwood at the end last season.
Forget that former K-State star Marcus Foster, who Weber dismissed from the Wildcats' program in March of 2015, is leading undefeated Creighton averaging 19 points a game.
Forget that the Weber also dismissed Tre Harris and sophomore Jevon Thomas decided to transfer.
Weber's 2016 team is off to an 8-1 start for the first time since the 2011-12 season. Nothing to be ashamed of here.
Despite a slow start on Tuesday, K-State was again impressive on both ends of the court.
Offensively, the Wildcats connected on 54.3 percent (25-of-46) from the field, including 55 percent (11-of-20) from 3-point range, and had assists on 20 of their 25 made field goals. The team shot 50 percent or better in both halves for the third time this season.
Defensively, the Big 12's top scoring defense held its fifth opponent this season to 55 points or less, while Prairie View A&M (2-7) became the seventh foe to shoot 40 percent or less from the field at 39.3 percent (22-of-56), including 27.8 percent (5-of-18) from 3-point range.
The 'Cats should be better than their predicted 9th place pre-season pick and with an upset here or there could receive an NCAA tourney bid.
Get the FanSided App
In all, Weber has 37 years of college coaching experience, which includes 19 seasons as an assistant coach for coaching legend Gene Keady at Western Kentucky and Purdue.
Weber has been around the best and he knows what it takes to win. His milestone deserves to be celebrated.
This article originally appeared on