Kansas Falls to Indiana in Overtime: Three Takeaways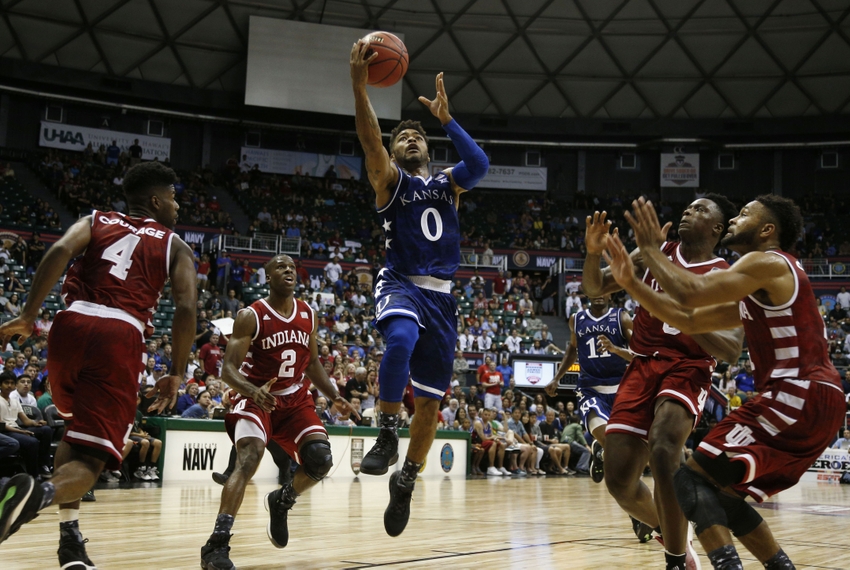 In a hard-fought, foul-laden game, the KU basketball season opened with a 103-99 loss to Indiana. Is there anything we can learn?
For this early in the year, roles seem well-defined.
Like we assumed before the season, the KU basketball starters are set. Frank Mason, Devonte Graham, Josh Jackson, Carlton Bragg, and Landen Lucas have all established themselves as starters. Off the bench, Svi Mykhailiuk appears to be the first off the bench, followed by Lagerald Vick. Udoka Azubuike will be the first, and looks to the only, rotation big so far.
Both Svi and Vick played pretty well. Svi played a career high 32 minutes, scoring 12 points on 5-9 shooting. Vick played 28 minutes due to Graham and Mason's foul issues, scoring seven points on 2-5 from the floor. Both provided good defense as well. Vick did reasonably well on James Blackmon, but Blackmon was terrific tonight. He hit several contested three's to ice the game. He finished with 26 on 4-8 shooting from beyond the arc.
In an overtime game like this, KU's lack of depth showed, especially down the stretch. The Jayhawks' lack of capable bodies in the frontcourt meant that even when Landen Lucas and Carlton Bragg weren't playing well, head coach Bill Self had nobody else to go to. Self even went with five guards at one point late in the game. Either Dwight Coleby or Mitch Lightfoot has to establish himself as a viable option for Kansas to play the style of basketball Self wants.
This backcourt is still great.
Frank Mason is an absolute stud. He finished tonight with 30 points, nine assists, and seven points, in 40 minutes. Some of KU's best offense was getting Mason driving downhill and converting or getting fouled in the lane. Graham was very good in his 35 minutes as well. He finished with 16 points, four rebounds, and three assists. Kansas fans should be encouraged by Mason and Graham's combined four turnovers in 75 minutes. Kansas will win a lot of games with that kind of production.
Josh Jackson is still working to get in a rhythm. He played 27 mostly disjointed minutes tonight. The talented freshman never got in a rhythm after two early fouls, and only shot 3-11 from the floor. After the game, Self said Jackson had poor shot selection, but showed solid effort in pulling down six rebounds with no turnovers. Defensively, Jackson was actually pretty good. He held O.G. Anunoby to 13 points on 3-7 shooting. Anunoby is bigger and more experienced, but Jackson played well on him. I'm not worried about Jackson at all. He's entirely too skilled and talented to struggle. He'll find his rhythm, and once he does, look out.
The one concern I do have about the backcourt is shooting. Perimeter players combined to shoot only 7-23 (30.4%) from three-point range, on mostly good looks. Jackson and Svi will be streaky all season, while Graham is the best shooter of the group. I'm not sure the three will ever be a consistent enough weapon to make up for the subpar post production. That being said, it's still very, very early.
The little things need work.
The Jayhawks were dominated up front and in the rebounding battle tonight. Thomas Bryant was load to handle, getting a double-double with 19 points and 10 rebounds. He even made two threes early to set the tone for the Hoosier offense. Rebounding and second chance points killed the Jayhawks tonight. On the boards, Indiana outrebounded Kansas 50-39, and scored 12 second chance points. Frank Mason cannot continue to be the Jayhawks' leading rebounder. Bragg and Lucas have to step up. That worries me, as IU isn't a great rebounding team because of their lack of size. It could be an issue all season for Kansas.
I thought the game was poorly officiated. That being said, Kansas has to cut down on fouls, especially with the lack of depth. KU was called for 32 fouls tonight, and fouled out four players. Two more had four fouls a piece. Shot selection was also an issue. Too often, Kansas players, especially Jackson, settled for midrange jump shots instead of driving to the rim. Against other team's more porous perimeter defense, this has to change.
Bottom Line.
Fans shouldn't read a lot into this loss. Kansas played a very, very good Indiana team down to the wire in a game that probably won't mean much come conference play. Kansas also played nowhere near its potential. They do have much to improve on, as is to be expected in November. I fully expect them to, and the Jayhawks will be a threat to win it all.
More from Through the Phog
This article originally appeared on