Kansas Basketball: Three Questions Against UAB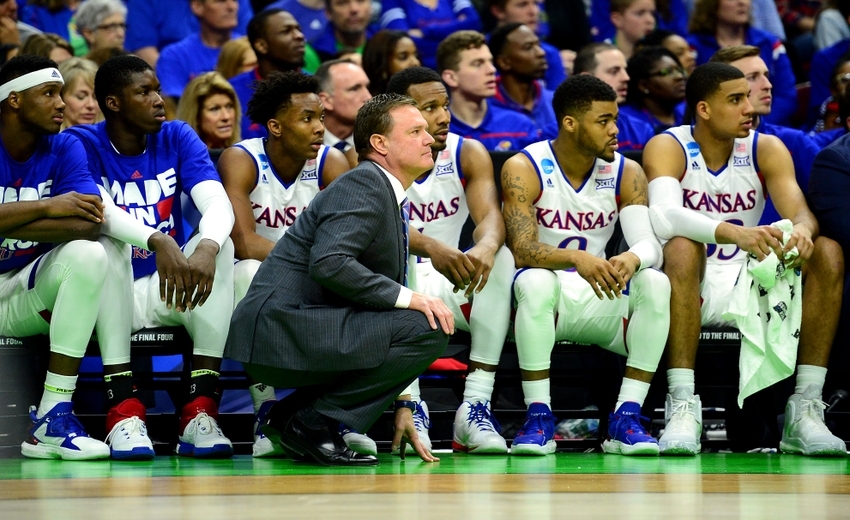 Kansas basketball returns to the Sprint Center tonight to face the University of Alabama-Birmingham Blazers. What should fans want to see from the Jayhawks?
Much like the game against Siena, this is a mismatch on paper. Will the Jayhawks play like it?
My go-to resource for college basketball statistics, KenPom.com, illustrates this point. The Kansas basketball team is ranked 6th in his composite rankings, while UAB is ranked 100th. The mismatch is especially apparent in the frontcourt. The Blazers have some depth, headlined by leading scorer Chris Cokley, who scores 14.3 points per game. At 6'8" and 216 pounds, he's slightly undersized for a forward, but still pulls down six rebounds per contest. 6'9" forwards William Lee and Tosin Mehenti round out the main rotation for UAB.
That being said, KU still shouldn't overlook the Blazers. UAB won Conference USA last year, going 16-1 in conference and 26-7 overall. Head coach (and former Jayhawk) Jerod Haase left after the season to take the same position at Stanford. The Blazers only lost one rotation player off that team, senior guard and leading scorer Robert Brown. This will be a great test for the Jayhawks to see where the team is at this point, as much as one can glean from a game in November.
More from

Through the Phog
Will the Jayhawks' shooting woes continue?
Through three games, the Kansas basketball team is shooting an anemic 27% from beyond the three-point arc, not nearly what I expect from what should be a good shooting team. Frank Mason and Devonte Graham have struggled the most, each shooting just 20% from distance. Even sharpshooter Lagerald Vick has been bad, only making one of eight attempts. Any game now, I expect them to break out and shoot their opponent out of the gym. Tonight could be that night. UAB ranks 294th in three-point defense, allowing opponents to make nearly 39% of their attempts.
I expect the Blazers to pack the paint, and force the Jayhawks to try to beat them with jump shots. Thankfully for KU, ball movement has been decent so far, and should give them plenty of good looks from distance. The key will be actually converting on the numerous opportunites they'll get. I would be thrilled if the Jayhawks made the most of it.
Can KU develop some depth?
In the last game against Siena, head coach Bill Self didn't stretch out his bench. Hopefully tonight, the Jayhawks can stretch their lead enough to give Udoka Azubuike, Dwight Coleby, and Mitch Lightfoot quality minutes. So far, the reserve big men have combined for only 14 minutes per game combined, so against a softer opponent, I hope they can get more game experience. At some point in the season, KU will need the extra size inside.
It would be for the backcourt's benefit to get some extra rest as well. So far, Graham and Mason are playing over 35 minutes per game, too many to expect them to be at their peak come the NCAA Tournament. If he can stay out of foul trouble, Josh Jackson could reduce the burden of the two guards. At only 22 minutes per game, Jackson will need to play more to get in a rhythm and be the elite player we all know him to be.
Bottom Line
Hopefully, KU plays closer to its potential tonight, and not down to its opponent. UAB is a tough and veteran team, so the Jayhawks shouldn't look passed them. At the end of the night, I don't think they will. Final score: 81-62.
More from Through the Phog
This article originally appeared on