Kansas Basketball: Stanford Hopes to Slow Down the Jayhawks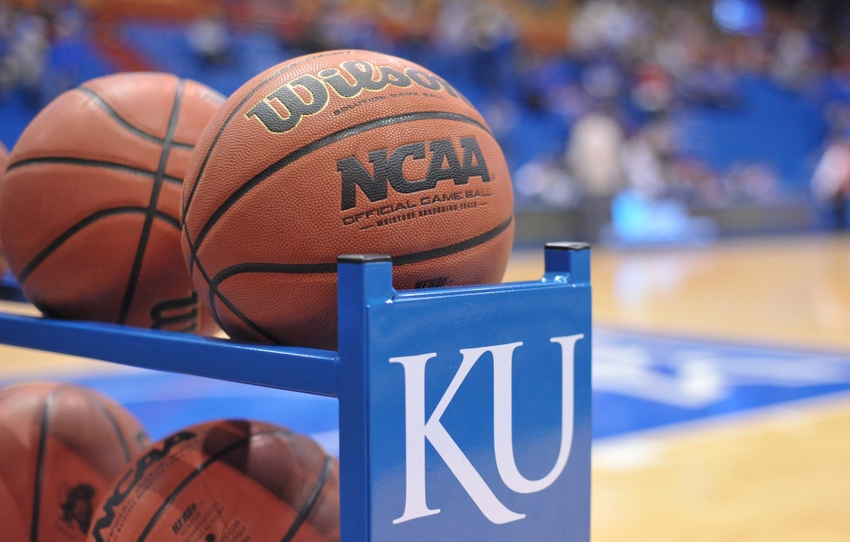 On Saturday, the Kansas basketball team has a 2014 NCAA tournament rematch with the Stanford Cardinal. Here's what I want to see from the Jayhawks.
First and foremost, the frontline needs to step up.
Stanford has good frontline, headlined by junior Reid Travis. He's nearly a double-double player, averaging 16.3 points and 9.5 rebounds per game. Whoever starts for Kansas basketball will have their hands full with the 6'8" junior. The Cardinal have some depth and experience up front as well. 6'9" junior Michael Humphrey starts alongside Travis, and averages 7.4 points and 4.4 rebounds per contest. Senior Grant Verhoeven is usually their first big man off the bench. Verhoeven adds bulk to the Stanford frontcourt at 6'9" and 245 pounds. He adds 6.3 points and four rebounds per game. The Cardinal have one seven-footer, sophomore Josh Sharma. He's only 210 pounds, so Udoka Azubuike should be able to push him around.
After a solid second half against Long Beach State, Carlton Bragg should keep up his better play. Self agreed at today's press conference, "…he made some good plays the second half that certainly should give him some confidence and they were real plays. It wasn't like he lucked into plays. He did a great job on the glass. He made a couple of face-up shots, which is what he does best. I thought he did some really nice things." Bragg scored six points and grabbed six boards in the second half against Long Beach, a trend we all hope continues.
Self also expanded on what he hoped Bragg could be for KU this year, "I told him I envision 12 and 7 (points and rebounds), but his role is being a defensive presence, blocking or altering (shots), being a great defensive rebounder, (being) active on the glass, playing smart." I think those are fair expectations for Bragg this year. Today in a Facebook Live, 247 Director of Basketball Scouting Jerry Meyer commented on Bragg's development, saying "Bragg was known as a talented player, he could shoot it some… there were always questions about basketball instincts and toughness. He really hasn't developed the way the Kansas coaching staff was hoping to this point."
Kansas should dictate the tempo.
The Cardinal are a slow team, ranking 201st in the country in adjusted tempo, per Kenpom.com. Kansas is 88th. This season, the Jayhawks play best when they get out in transition and score with their myriad of ballhandlers. Stanford is the exact opposite. Head coach Jerod Haase's roster is full of big men and average athletes. They do play smart basketball, as one expects from Stanford. They rely on execution in the half court, and make teams defend for most of the clock.
KU should try to speed Stanford up, in hopes of getting them out of rhythm and turning the ball over. They turn it over fairly frequently, and have 17 or more turnovers in four of their eight games. Bill Self's pressure defense should result in quite a few turnovers from the Cardinal. They have six players averaging 1.5 turnovers per game or more. Look for KU to jump the passing lanes early and often.
The Jayhawks need to improve on the glass.
Stanford will be a great test for that. They're 35th in the country at rebounding, and outrebound their opponents by over five per game. KU is 60th in the country in rebounding, which is aided by their soft schedule of late. Like Self mentioned today, Bragg has to be a good rebounder for KU. Landen Lucas (oblique) is questionable to play, and has been KU's best rebounder since last season. Azubuike will start, and hopefully can use his length to grab rebounds over the Cardinal.
Due to Lucas's absence and Bragg's ineffectiveness, Josh Jackson has taken over as KU's leading rebounder, at 5.7 per game. Udoka and Lagerald Vick follow at an even five per contest. They'll all have to have effective games on the glass for KU to have a chance in the rebounding battle. The veteran Stanford team, with warning from for KU player and now head choach Jerod Haase, will not be intimidated by the Fieldhouse, and will get after Kansas on the boards. They should be ready for a fight.
Bottom line.
Kansas is by far the more talented team, but it's an interesting matchup. Stanford has experience, depth, toughness, and an all-conference performer in Reid Travis on the frontline. They'll aim to slow KU down and make them play disjointed and sloppy basketball. Because of this, the game could be closer than we want. But I don't think there's a realistic chance of Kansas losing at home. Jayhawks win, 73-59.
More from Through the Phog
This article originally appeared on