Kansas Basketball: Josh Jackson says Kansas is trying to go undefeated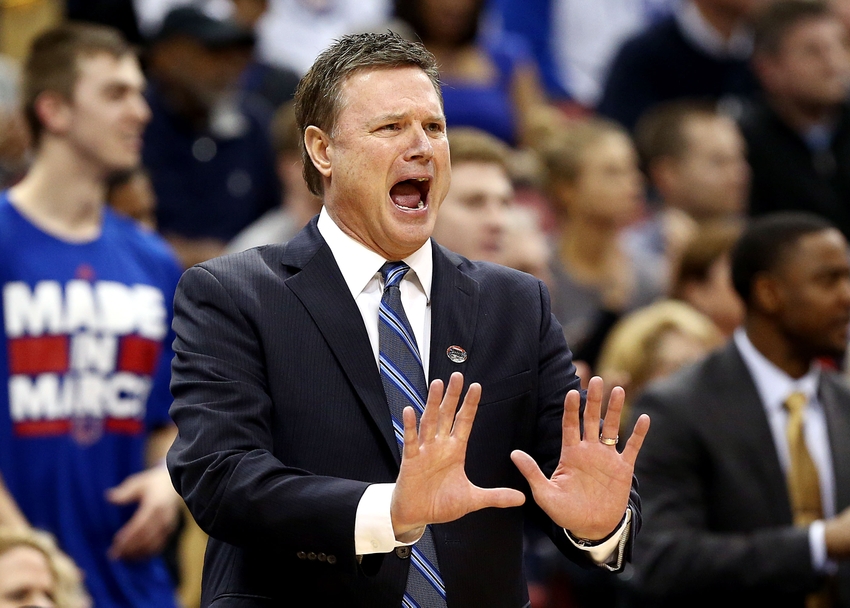 Kansas basketball is searching for their 13th straight conference title, but their star freshman wants more than that.
With many teams across the Big 12 losing multiple veteran pieces, Kansas is once again the clear favorite to capture the conference's regular season title. Their 13th straight title would tie John Wooden and UCLA for the most consecutive conference crowns in NCAA basketball history.
Bill Self's squad also has a roster that is capable of making a run in March. They don't have the overall talent of Duke, but they certainly have the experience, depth and coaching expertise.
Expectations should be high in Lawrence, especially with the presence of the potential number one overall pick in the 2017 NBA Draft, Josh Jackson, on the roster. But is Jackson raising expectations to an unfair level? Is he putting added pressure on himself and his teammates before the season even begins?
"We're going for a national championship this year," Jackson says. "We're also trying to go undefeated. Hopefully that happens. I know it's hard to do, but we've got the power to do it."
Uh oh. The freshman used the dreaded "U" word.
Surely, Self should not be thrilled as these type of comments tend to stick with the teams and players that mention them, even if they're just a bout of confidence. On top of that, it's almost impossible to go undefeated in any sport, especially college basketball where the parity is the main reason March Madness is one of the most exciting sporting events of the entire year.
Even the Kentucky Wildcats of 2014-15 (a team that featured four lottery picks and six total draft selections), were unable to complete the feat after losing to Wisconsin in the Final Four.
The last team to go unbeaten in college hoops is Indiana in 1976, and frankly, I expect that to hold true to form for a long time.
So, no Duke isn't going undefeated. Kentucky isn't going undefeated. Villanova isn't going undefeated. And Kansas is NOT going undefeated.
On the other hand, what in the world is Jackson supposed to say?
He didn't say that Kansas would go undefeated. He simply said they are trying to.
And isn't that the goal – to win every game? Don't you want your players to be competitive?
Frankly, the Big 12 isn't as strong as it has been in year's past. Kansas could occasionally limit some of their top players' minutes during match-ups with the bottom-feeders of the conference and still likely win the crown.
Is that something we want to see? Or do we want to see the best players like Jackson competing their hearts out night-in and night-out, despite being one wrong ankle twist or knee buckle away from losing millions?
Opposing teams could use this as bulletin board material and Jackson's comments certainly don't benefit Kansas. But the freshman shouldn't be criticized for having confidence in himself and his teammates.
This article originally appeared on