Kansas Basketball: Frank Mason III's clutch play carries Jayhawks over Blue Devils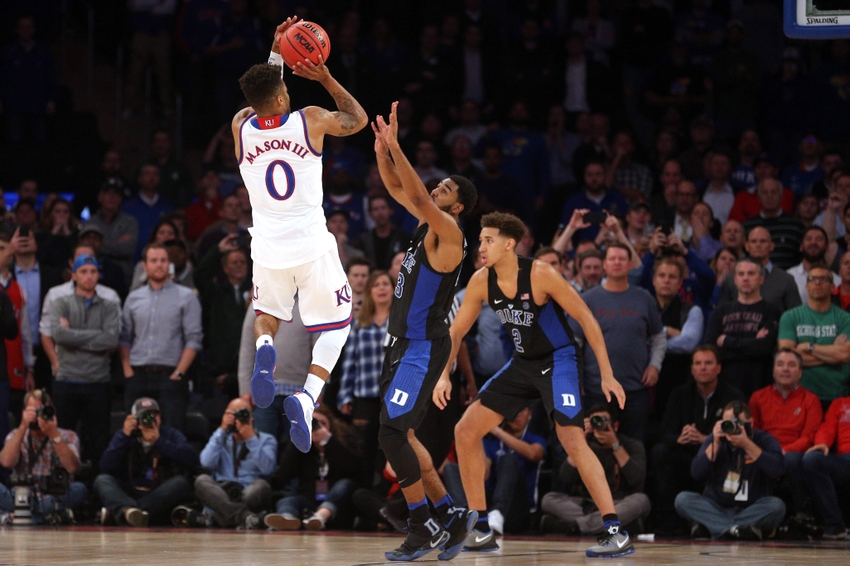 Frank Mason III's game-winning, off-balance jumper leads Kansas basketball to upset win at Madison Square Garden.

77

75
It was the marquee match-up of the Champions Classic at Madison Square Garden: The top team in the country, Duke, versus a Kansas team that has National Championship potential. The Blue Devils were facing their first true test of the season, while Kansas was looking for their first win of the year after losing a thriller to Indiana in Hawaii.
The game may have lost a little luster without Marques Bolden, Harry Giles and Jayson Tatum in the lineup, but boy did it live up to the hype.
The 7th ranked Jayhawks survived a late Duke comeback thanks to senior point guard Frank Mason III, who hit an off-balance, game-winning jumper with 1.8 seconds remaining to clinch a 77-75 win over the top team in the country.
Mason finished with 21 points on 8-of-13 shooting on Tuesday night, while Devonte' Graham put up 13 points and freshman Josh Jackson added 15 points on 7-of-9 shooting in just 18 minutes played. The Jayhawks only shot 12 percent from downtown, but they also hit 51 percent of their shots from the field and out-rebounded the Blue Devils by nine.
Jackson was assertive and looked more comfortable, and Graham played his usual superb game, but this victory was all about Mason. The senior point is now averaging 25.5 points per game this season, as he dropped 30 in the Jayhawks' season opening loss to Indiana.
He is the leader of the team, one of the best long range shooters on the roster and is the toughest guard in the country. And don't forget, he is competitive and clutch.
If you watched the ending of these last two games, you would surely know how important Mason is to Kansas' success. Against Indiana, Mason scored nine points in the final five minutes of regulation, including two must-have And-1's. In overtime, Mason didn't hit a field goal, but he did make four free throws to keep the game close and manageable down the stretch.
Arkansas Gives Southern Illinois A Beat-down
Fast forward to Monday, and Mason was tremendous. Despite dealing with foul trouble for the majority of the first half, Mason came back in the second frame to earn another key And-1 with 1:54 left in the game. He capped his night with a smooth game winner that sent The World's Most Famous Arena into an uproar.
Between his heart and experience, Mason is the perfect leader for this Bill Self team.
If it wasn't for Duke's late game comeback (they trailed by nine with 3:45 remaining), the storyline would have revolved around the amount of fouls that were called. This was a foul fest…there's no other way to describe it.
The teams combined to commit 48 personal fouls that resulted in 49 free throws. Jackson, who scored 11 of his 15 points in the second half, fouled out with 5:08 remaining, and that truly changed the dynamic of the game.
With Jackson guarding him for most of the night, Duke star Grayson Allen was awfully quiet. He suffered an injury right before halftime (he had to be helped off the court), but even before taking a tumble after a missed layup, Allen wasn't playing well.
It looked like the junior guard was headed for another disastrous Champions Classic outing on Tuesday night (he scored six points on 2-of-11 shooting last year versus Kentucky), but with Jackson out of the game, he broke loose down the stretch. Allen made a key three to cut Kansas' lead down to six and also finished a layup to put Duke down by just three with 1:02 remaining.
The Jayhawks showed they can overcome adversity though. They not only responded to a difficult opening loss, but they defeated the best team in the nation (albeit without three of their top five players) and they battled through what was a long road trip (they traveled straight from Hawaii to New York City).
For Duke, this was an encouraging performance. Allen shot 4-of-15 overall and scored just six points, and the Blue Devils still remained in the game against the Jayhawks. They were also able to give Chase Jeter and Luke Kennard more prominent roles, which is important for their experience moving forward.
Duke is still the best team in the nation if everyone is healthy. However, Mike Krzyzewski and the rest of the Blue Devils roster won't be hoping to see Mason any time soon.
More from Busting Brackets
This article originally appeared on