Kansas Basketball: Five reasons why the Jayhawks will win it all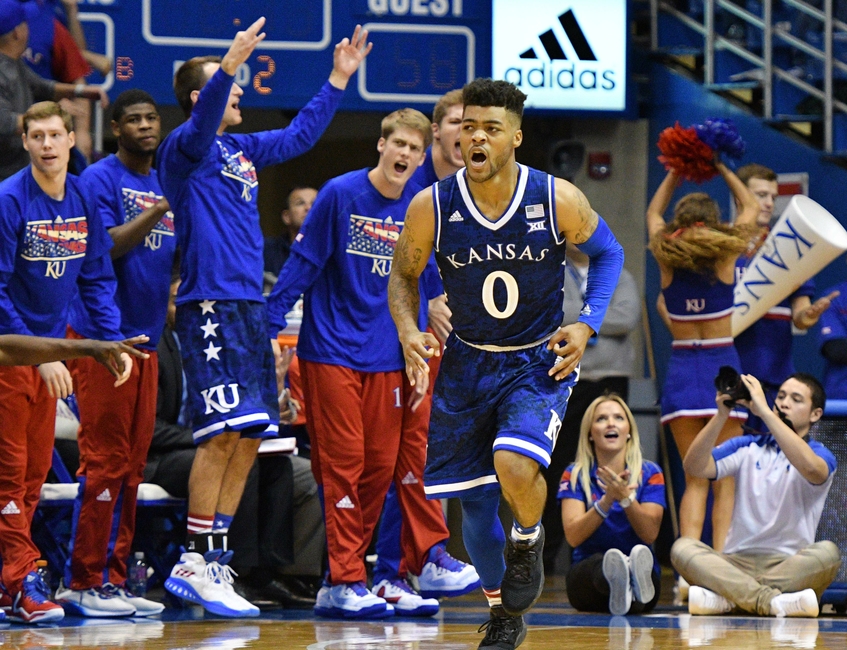 What are five reasons why Kansas basketball will win the National Championship this year?
Like Duke, the Kansas Jayhawks already have one loss to their name but have still put forth an impressive early season effort.
Their lone defeat came in their first game of the season to an Indiana team that put on an offensive display. However, Jayhawks were able to rebound by knocking off the Blue Devils at Madison Square Garden, adding a win that will look phenomenal in march.
The Jayhawks are currently 4-1 and are 5th in the latest AP Poll. They have beaten two solid mid-majors (Siena and UAB) by a combined 41 points and knocked off Georgia in the CBE Hall of Fame Classic.
Kansas still has tests against Stanford, Nebraska, Davidson and UNLV before conference play. They also travel to Rupp Arena in late January to play Kentucky as part of the Big 12/SEC Challenge.
Regardless, the Jayhawks are clear favorites to win their 13th straight Big 12 championship. While the home-and-home schedule will always be difficult, the conference is expected to have a down year after the departures of many key veteran pieces, including Buddy Hield and Georges Niang, amongst others.
Before the season even began, many close to the game of college basketball believed that if it wasn't Duke cutting down the nets in April, it would be the Jayhawks. So let's take a look at the five reasons why Kansas will be the most feared team when March Madness rolls around.
5. Bill Self is one of the best coaches in college hoops
Bill Self has led Kansas to 12 straight Big 12 regular season titles and has reached the NCAA Tournament in every season that he resided in Lawrence. While Self receives some flak for having only two Final Four appearances and one National Championship, he consistently has Kansas in the national conversation.
The Jayhawks can score and most importantly, they are anything but a liability on the defensive end. They take care of the basketball and are tested during the non-conference portion of the year thanks to Self's scheduling.
He may not have maximized Andrew Wiggins' one year in Kansas back in 2013-14, but we also have to remember that Joel Embiid had a back injury, putting the Jayhawks in a difficult position come NCAA Tournament time. Had they had Embiid in the lineup, Kansas' end of the year results might have been drastically different than a second round loss to Stanford.
4. The pieces fit perfectly
There are a plethora of teams across the country that are loaded with talent. However, talent alone does not guarantee success. Great players have to be willing to play together and the pieces have to fit in order for long tournament run to become a reality.
A recent example of high talent, but poor chemistry/fit comes from the 2015-16 LSU Tigers. Ben Simmons is tremendous all-around player and was ultimately the number one pick in the 2016 NBA Draft, but Antonio Blakeney, Brandon Sampson and Tim Quarterman all needed to have "theirs" in addition to Simmons. Add in the fact that Johnny Jones struggled to mold the group together, and LSU completely whiffed on their high expectations.
The UConn Huskies of 2016-17 is another team that comes to mind. While the season isn't even close to over, their personnel seems to pose a major concern.
I don't mean to single out the Tigers and Huskies, but they are the obvious recent examples.
Meanwhile, Kansas does not have this issue. They have two tremendous veteran guards in Frank Mason III and Devonte' Graham who make each other better. They have Josh Jackson, who is the perfect small forward next to Mason and Graham's playmaking and scoring. Their front line is a bit of a question, but they possess glue guys in Landen Lucas, Udoka Azubuike and Lagerald Vick who impressed in the Champions Classic.
If Carlton Bragg Jr. can step up and Sviatoslav Mykhailiuk can continue to show a well rounded game, the Jayhawks will be awfully tough to beat in the tournament.
3. Josh Jackson is really really good
Small forward Josh Jackson joined the Jayhawks as one of the top freshman in the country. He has lived up to the expectations so far.
Through five games, Jackson is averaging 14.4 points, 6.2 rebounds and 2.4 assists per game. Against Duke in the Champions Classic, Jackson took over the game for a stretch in the second half before fouling out. He scored 15 points on 7-of-9 shooting in 18 minutes, and followed that performance up with 22 points against UAB and 15 points and 11 boards in a win over UGA.
The 6'8″ native of Detroit must work on his outside shot, but his passing skills, attacking mentality and defensive versatility is much-needed on the wing for this Kansas team.
And of course his dunks are fun too.
Jackson receives comparisons to former Jayhawk Andrew Wiggins because of their similar athleticism, size and frame. While Wiggins was hesitant to take over games at times in college and didn't have the competitiveness that Jackson currently has, the now-Minnesota Timberwolve averaged 17.1 points and 5.9 boards for one of the best teams in the nation.
The good news for Jackson is that he isn't the go-to guy on this roster. Frank Mason III and Devonte' Graham are the two leaders as upperclassmen and are expected to take the big shots down the stretch.
2. Experience…Experience…Experience
Besides good guard play (we will get to that shortly), the number one thing that is needed to make a long run in the NCAA Tournament is experience.
Kansas has plenty of it. Their two headed backcourt of Frank Mason III and Devonte' Graham are in their senior and junior years respectively. Their starting center, Landen Lucas, is a senior and one of their top bench players Sviatoslav Mykhailiuk is a junior.
Carlton Bragg Jr., Lagerald Vick and Josh Jackson don't have the veteran status of the others, but all three will be tested against top notch teams during the non-conference portion of the schedule. By time March rolls around, Bragg could be in the midst of the breakout year that everyone was projecting and Jackson could be the best freshman in the country. Vick is already playing outstanding as a versatile defender off the pine.
1. The backcourt
Kansas has the best backcourt in the country right now, and it might not even be close.
Frank Mason III is averaging 21.6 points, 5.0 assists and 4.2 rebounds per game, and has become the early favorite to win the Naismith Award for as the top player in college basketball. His game winning, off-balance jumper to beat Duke at Madison Square Garden is the highlight of the college hoops season so far.
More from Busting Brackets
Mason is an elite on-ball defender, can score in a variety of ways and is a terrific ball handler who doesn't fail to get his teammates involved. The 5'11" lead guard is also one of the toughest players in the nation. What 5'11" player would be able to average 4.2 rebounds per game?
He has played in big games throughout his career and he won't be phased by the bright lights of March Madness.
Then there's Devonte' Graham. The former Appalachian State commit is averaging 14.4 points, 4.6 assists and 3.2 rebounds per game for the Jayhawks. He is shooting 42 percent overall from the field and 30 percent from three point land. He's also only averaging 1.6 turnovers per game.
Like Mason, Graham can score from all three levels and even though his percentage doesn't show it, he can knock down the three ball efficiently.
Defensively, Graham has shown that he can limit the opposing team's best player. Last year against Oklahoma in Norman, Graham was in Buddy Hield's grill from start-to-finish. Sure, Hield scored 24 points, but he only made five shots from the field and Kansas won a huge game on the road on their way to a conference title.
A dynamic backcourt goes a long way in the tournament. This Kansas group could have the chance to be March heroes like the duo of Kemba Walker and Shabazz Napier were years ago.
This article originally appeared on