Kansas Basketball: DeAndre Ayton Picks Arizona over KU and UK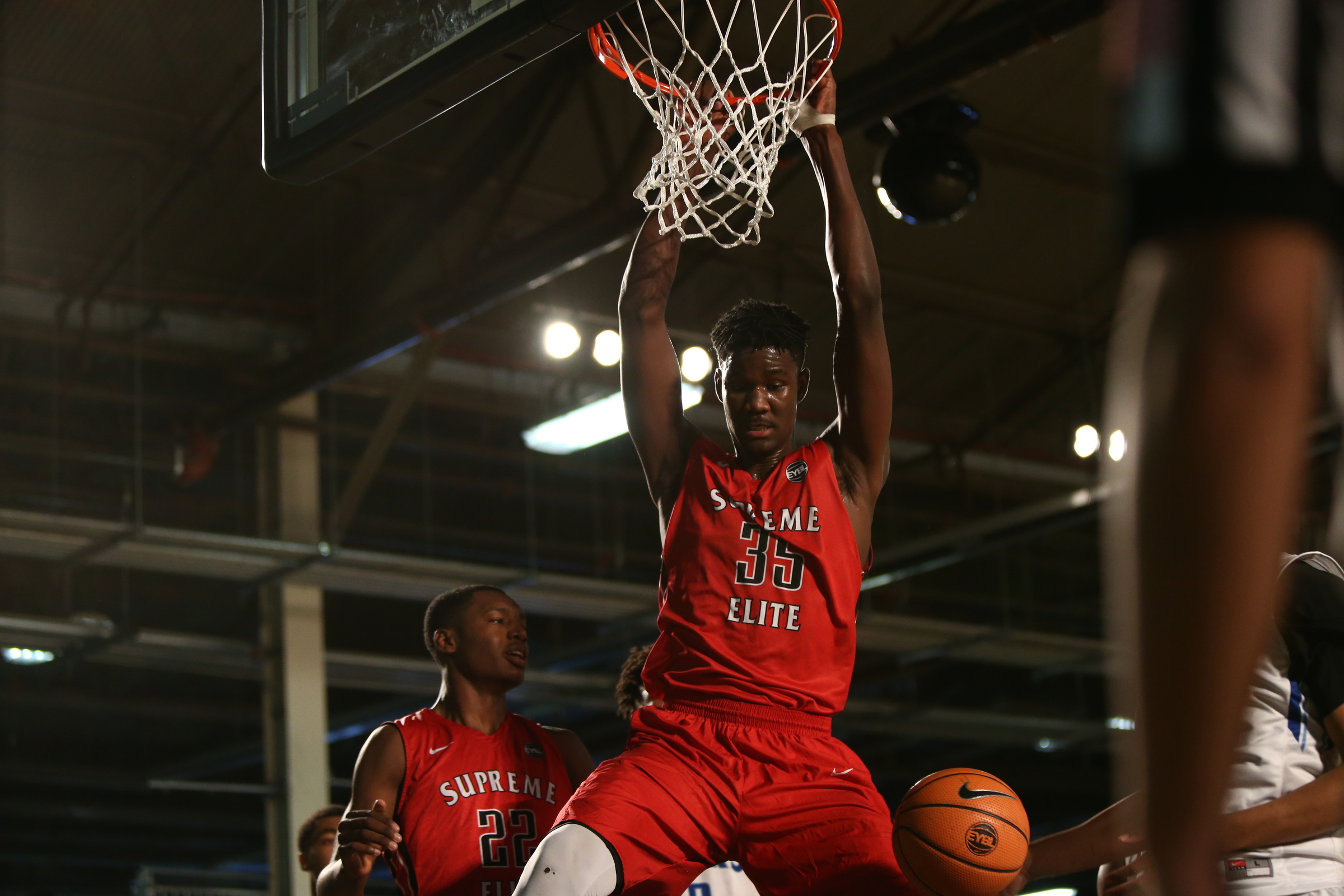 In a sudden turn of events Tuesday, consensus top recruit DeAndre Ayton chose Arizona/Kentucky over Kansas and Arizona. The 7-footer will be the crown jewel of the class for the Wildcats. Where does Kansas go from here?
The Kansas staff made Ayton their top priority among 2017 big men, and was seen as the leader until the announcement. But Ayton elected to go with the "local" team in Arizona.
It is unclear where the Jayhawk basketball staff goes from here, but there are several KU targets left in the class. Watch for KU to turn their attention to the west coast, for big men Brandon McCoy and Cody Riley.
McCoy is a very talented, if enigmatic, big man. He's a terrific prospect, but has been overshadowed playing with Ayton on the EYBL circuit. He has tremendous size and length, measuring at nearly 7'1 at the 2016 Nike Basketball Academy.
McCoy possesses a knack for blocking shots, which is helped tremendously by his 9'1 standing reach and solid leaping ability. He shows an ability to stretch the floor, and with further development, can be a threat to 15-17 feet.
However, McCoy is also raw to this point. He doesn't have a great feel for the game, or a developed offensive skill set as his post moves and passing are a work in progress. It also remains to be seen how much weight he could add to a thin frame.
On the recruiting front, KU is on his list and has offered, but it may be very difficult to get him to leave the west coast. McCoy has not announced plans to visit any school so far.
KU fans are probably familiar with Cody Riley since the Jayhawks have recruited Riley since he was very young. Another California big man, Riley has fallen some in the rankings over the last year due to other players catching up physically.
Riley has good size as a 4 man, coming in at 6'8, 255 pounds, but he has a huge 6'11.5″ wingspan. He can be a very good post scorer, with good footwork and touch around the basket. Riley is also strong enough to use his big frame to finish through contact. He's a willing and able rebounder on both ends, using both his length and plus athleticism to pull down rebounds. He's also a very good passer, especially from the high post.
The issue with Riley is his upside, or lack thereof. He's very physically mature and old for his class, as he'll be nearly 20 when he steps foot on a college campus. That being said, Riley could be a very effective college player. He lacks some lateral quickness, and may have difficulty defending smaller or quicker forwards in college. At this stage, he also thinks of himself more as a wing than a big man, and will take significant coaching to reset this mindset.
Riley's recruitment has been quiet since he released his list of five last summer. KU is included, along with UCLA, Oklahoma, USC, and UConn. Most believe he is UCLA bound, but Kansas can make up ground during Riley's official visit to Late Night in the Phog.
While KU missed out on its top target, there are still several big men who haven't decided on a school yet. Many assumed Ayton was a KU lock, so perhaps other players will give KU a second (or first) look. Additionally, the staff can prioritize the players that the Jayhawks need to pursue Big 12 and national titles.
More from Through the Phog
This article originally appeared on