Kansas Basketball: Can KU Take the CBE Title Over Georgia?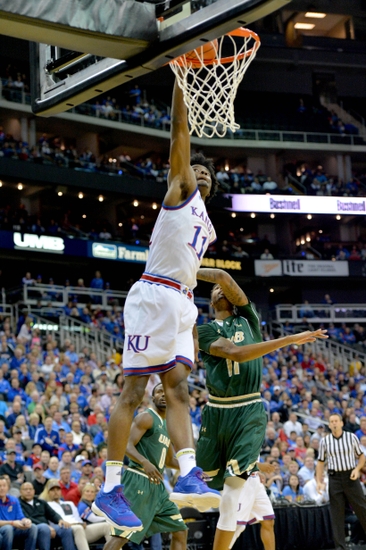 For the second time in as many days, the Kansas basketball team plays at the Sprint Center against a quality opponent. What should fans watch for?
Georgia has their own version of Frank Mason, J.J. Frazier. Can the Jayhawks keep a lid on the diminutive point guard?
Like Mason is to the Kansas basketball team, Frazier is to the Bulldogs. He's only 5'10" and 155 pounds, but plays much larger. Against most opponents, he gets into the lane at will. Frazier's penetration can collapse the best defenses, and open up the supporting cast for open looks from distance. The good news for KU is that Georgia doesn't have many shooters that are effective from outside, when excluding Frazier. The Bulldogs only shoot 32% as a team from beyond the arc. Frazier is also Georgia's second leading scorer, at 18.8 points per game.
It will be interesting to see how head coach Bill Self and the Kansas staff want to defend Frazier. Do they put Mason on him to start, because he can match Frazier's quickness? Or do they use Graham, whose size and length could bother the 5'10" guard? I'd look for the Jayhawks to throw a lot of different looks at Frazier, not letting him get used to any one defender. Taking him out of his rhythm could give KU a runaway victory.
In a battle of power forwards, who will come out on top?
Both KU and Georgia have talented four-men. KU boasts Carlton Bragg, the skilled 6'10" forward. Georgia has 6'8" double-double machine Yante Maten, who averages 20.8 points and 8.5 rebounds per game. To slow down the physical Maten, Bragg's length will have to bother him, and Bragg can't get pushed around on the block, as he's prone to do. Bragg will also have his hands full in rebounding against the tenacious Georgia forward.
On the flip side, Maten could have a difficult time dealing with Bragg, especially away from the basket. Look for Kansas to try to exploit this early to get Bragg in rhythm. I look for Bragg to play more than his 21 minutes per game, as long as he can stay out of foul trouble. It's imperative that someone on the roster become a post presence, as Self said last night, "We've got five good perimeter players, but we've got to find some way to make a basket inside."
How will Josh Jackson follow up his best game so far?
Last night against UAB, Jackson was phenomenal. He made highlight play after highlight play, including three big dunks, and a terrific pass. Overall, he scored 22 points and pulled down seven rebounds. Above all, Jackson stayed out of foul trouble. Last night was Jackson's first career game with under four fouls. I think he can repeat that performance tonight.
Jackson has a favorable matchup tonight. He'll likely be defended by redshirt junior Juwan Parker. Parker missed all last season after Achilles surgery, and hasn't faced anyone like Jackson since returning. I'd look for another big night for the talented freshman. If Jackson's jumper isn't falling, he should continue to attack the lane. Very few wings in America can stay in front of him on a drive. He talked about it last night, "I dunk so hard so nobody challenges me when I go to the basket." Jackson said. "Definitely Russell Westbrook," Jackson said, when asked who he compares his driving style to.
Bottom line.
This should be another learning experience for the Jayhawks. Georgia is a pretty good team (61st in the KenPom rankings), and has several veteran players that present a challenge to Kansas. However, the Jayhawks are 14-point favorites going into the CBE title game. Jayhawks win 77-64.
More from Through the Phog
This article originally appeared on