Kansas Basketball: 11/16 Recruiting Roundup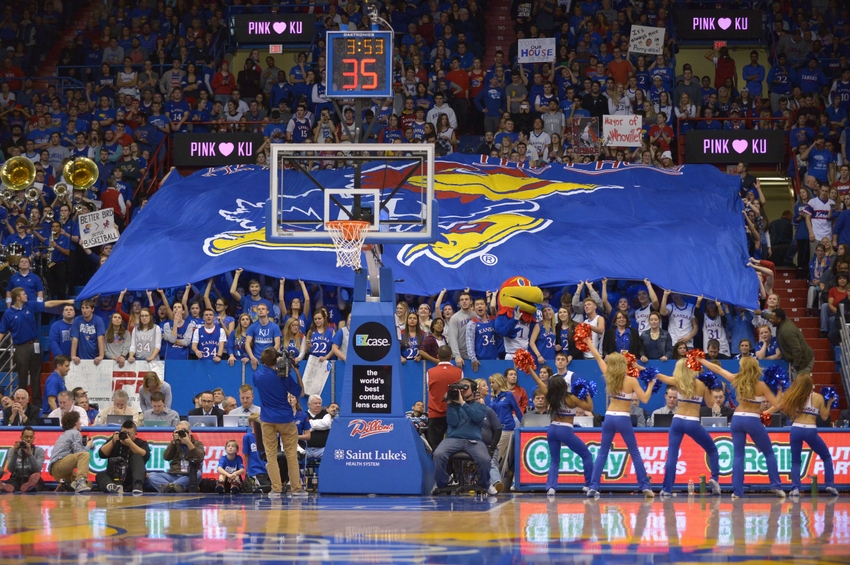 After missing on several high-profile targets, the Kansas basketball staff looks to rebound on the recruiting trail with two top players.
After long being rumored a USC or overseas lean, the skilled forward announced he would commit to a college this week. After Preston's visit to the Kansas basketball program for Late Night in the Phog, momentum seemed to shift to Kansas. In addition, the plethora of playing time available in the frontcourt plus a strong returning roster makes KU a very appealing destination for the five-star forward. Rumor has it that Preston will announce tomorrow, November 17th and sign in the spring. For what my opinion is worth, I think KU lands Preston tomorrow.
Even though Preston is very talented, I do have concerns. First is his collegiate eligibility. It's well documented that Preston has bounced around during his high school career, before landing this year at Oak Hill Academy in Virginia. The biggest red flag around Preston's eligibility lies in his time at Advanced Prep International, a now basically defunct institution/basketball factory that lost NCAA accreditation. Frankly, Preston's year at Oak Hill is a last-ditch effort to get the go-ahead from the NCAA.
What would Preston bring to Kansas?
I'm also concerned about Preston from a basketball standpoint. He isn't the best fit for Self's system. Preston isn't a very efficient offensive player, and needs to develop better instincts for the game, especially on the defensive end. His effort on that end is usually lacking. So far in his career, Preston hasn't thrived in a structured system like the one Kansas runs. To succeed for the Jayhawks, the staff will probably have to break a lot of bad habits and build Preston back up as a player relatively quickly. He has the skills to fill the role of a Perry Ellis or Carlton Bragg, but needs development. The tools are all there. He can do it all: handle, shoot out to the three-point line, and is a good enough penetrator, a la Ellis. If Preston becomes more unselfish, works on defense, and buys in to being a dominant 6'10" four-man, the sky is the limit.
More from

Through the Phog
The long saga of Trevon Duval's recruitment took another turn last night, as the five-star point guard released his top five schools: Arizona, Baylor, Duke, Kansas, and Seton Hall. The surprise was two-fold. First, that Duval cut his list this early, after announcing just a month prior that he was "reopening" his recruitment. The second surprise was the omission of Maryland, long considered a frontrunner for Duval.
It is unclear to me (and about everyone else) just how big of players Arizona and Duke are for Duval. Arizona would effectively be eliminated if freshman Kobi Simmons returns to school, and have Parker Jackson-Cartwright and 2017 signee Alex Barcello in the fold. The story is much the same for Duke. They seem to be frontrunners for four-star point guard Matt Coleman, and it's far from certain whether freshman guard Frank Jackson enters the draft. If the Blue Devils have both in 2017-18, then they would probably not take Duval.
That leaves Baylor, Kansas, and Seton Hall. Seton Hall is the hometown school (Duval is originally from the east coast), and has an Under Armour tie-in. He would also be by far their best player next season. Baylor has been recruiting Duval for a very long time, and offers a lot of playing time and offensive freedom. Then there's Kansas. If Duval wants to play for a blue blood and top program, Kansas is the best option.
With Devonte Graham almost certainly departing for the NBA after the season, the Jayhawks offer ample playing time and a system that can feature guards (see last night's game vs. Duke). It should also encourage Kansas basketball fans that Duval paid his own way to see Late Night in the Phog. I expect an official visit later on in the season. There was some chatter earlier in the year that Duval would go overseas. This has died down somewhat, as he transferred high schools from API to IMG Academy in Florida. IMG has staff dedicated to helping student-athletes meet NCAA requirements. It's a sign he wants to go to college, like Preston.
Duval would be unique in the Self era.
Duval is unlike any point guard Kansas has had in the Self era. First, he's bigger, at 6'3." He's lightning quick and a great downhill driver, with the ability to finish at the rim. His jump shot needs to be more consistent, but can get there with time. He has the athleticism and length to be a very good defender as well, with his lateral quickness and 6'8" wingspan. Duval would fit well with the other guards on Kansas's roster. He would be on the ball, and allow Lagerald Vick and Malik Newman to get a ton of open shots.
Bottom Line
If, and it's a big if, Kansas can land Duval and Preston, it would salvage a once-bleak looking year for Self and the Kansas staff. When adding in signee Marcus Garrett, and possibly Kenny Wooten and a wing, the 2017-18 Jayhawks could be very, very talented.
More from Through the Phog
This article originally appeared on