Jawun Evans named All-NCAA Player of the Week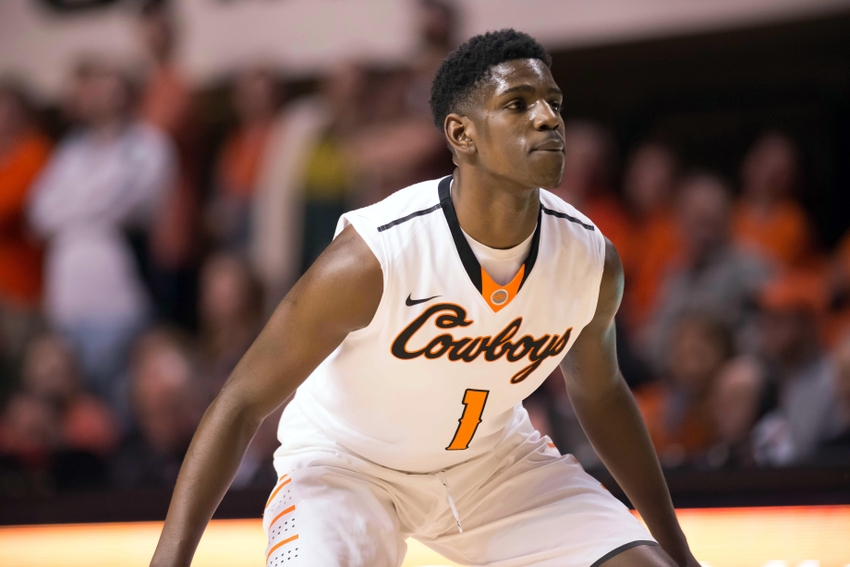 Oklahoma State sophomore point guard Jawun Evans is named to the All-NCAA Team of the Week, after a spectacular performance in Maui.
Oklahoma State sophomore point guard Jawun Evans was named to the NCAA Basketball All-Week Team at the guard position. UCLA true freshman point guard Lonzo Ball was the other guard named to the team.
According to NCAA.com, Evans might be the most impressive looking player offensively in college basketball. He is averaging 24.7 points per game, including two 30 point games in the Maui Jim Maui Invitational Tournament. That is almost double his points per game from last year, which was 12.9.
Alongside senior shooting guard Phil Forte, Evans is helping Oklahoma State making a legitimate early-season push for the NCAA Tournament. The Pokes have only lost one game this season to the number three ranked North Carolina Tar Heels. Impressive victories over the Georgetown Hoyas and Connecticut Huskies could help the Pokes resume at the end of the season.
The averages that Evans is posting this season, outside of points and shooting percentage, are close to what they were last year. He's averaging 5.3 rebounds per game, and 3.0 assists. His rebounding average is a career high, but he is averaging less than 1.2 assists per game less than he had last season.
If Evans continues this level of play offensively, he has a good chance to be an All-American. It seems like the better the competition, the better Evans plays. Two of Evans' three games where he scored at least 30 points he also got five steals. Evans has been a catalyst to the Cowboys strong defensive play to force constant turnovers.
The other players that made this week's All-NCAA Team were Pitt's forward Michael Young, St. Mary's forward Jock Landale, and Georgia Tech's center Ben Lammers.
Oklahoma State takes on a division two opponent in Rogers State on Wednesday. Then they get one of their tougher tests of their out of conference schedule on Saturday against Maryland. The Terrapins point guard Melo Trimble will make for an interesting matchup against Evans.
This article originally appeared on