Jalen Brunson took a back seat last year and Villanova is better for it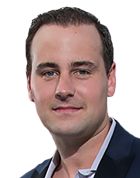 When Jalen Brunson entered his freshman season at Villanova, he did so as Jay Wright's highest rated point guard signee since Maalik Wayns.
Brunson, the son of nine-year NBA veteran Rick Brunson, secured all the accolades during his illustrious high school career. He was a McDonald's All-American, played in the Jordan Brand Classic and won two gold medals with USA Basketball.
And most point guards with that pedigree and resume are handed the ball from Day 1 and asked to lead the charge.
But not Brunson, the No. 26 overall recruit in 2014.
"Jalen really took a backseat last year," Villanova coach Jay Wright told FOX Sports. "Again, the humility to do that, and the intelligence, he knew that's what needed to happen for this team to be the best team it could be. He's a basketball lifer, he just gets it."
"There's very few guys that would do that, you know," Wright added. "A McDonald's All-American who committed just (takes) on that role so the team can win."
A true lead guard, Brunson was touted during his prep career for his feel for the game and ability to orchestrate an offense. While Brunson started 39 games for the eventual national champions a season ago, senior Ryan Arcidiacono was their primary ball handler.
"It was definitely tough at first," Brunson said about his role last season. "Coming off as a high recruit like that, most of those guys want to play right away and have the ball in your hands all the time and make all the plays, but coming in I knew that I was going to be part of a great team."
"I'm pretty sure everyone in the country wants a bigger role if they're not a star player," he added. "So obviously there was times I wanted a bigger role, but I really just put the team first because I wanted our team to thrive."
And thrive it did.
"Yeah, it definitely worked out," he laughed. "I'm excited and wouldn't trade it for the world."
Not only did it work out for last season, but according to Wright, the experience helped Brunson's progression this year, as well.
Brunson's shift back on the ball has been seamless. He's been a steady, reliable force for Villanova, averaging 14.1 points and 4.2 assists a game. His blend of passing and facilitating with his improved scoring attack has been tough for opposing defenses to handle. He's improved as a shooter too, making nearly 45 percent of his three-point attempts.
"He likes the ball in his hands," Wright said. "Sometimes he would play off the ball last year with Arch and I really think it helped him. I think he was really able to play without any pressure and now there's a lot of pressure on him this year. He's always got the ball in his hands, he's got to make big plays.
"None of us are surprised with how he's playing this year. We were more surprised with how he took on the role he did last year," he added.
His teammates agree.
"He learned a lot from Arch last year, but you could tell he was ready to break out and really control the show," Kris Jenkins told FOX Sports. "He's doing a great job and he's going to continue to get better because that's the type of player he is, and that's what we are going to demand of him."
Brunson said his role last year molded his mindset and improved his ability to consistently make the right play. An example is his assist-to-turnover ratio, which sits at 2.02, up from 1.39 last season.
"It just helped me look at the game differently," Brunson said. "Knowing what guys are going to be doing on the court, where to get them, how to hit them, get them easier shots and not always contested shots."
"He is the leader on the floor in terms of basketball and in terms of running the show," Wright said, "and he is very comfortable in that position. He is also depended on to score, and he's comfortable in that position. The role available to him this year fits him perfectly, and you're seeing him thrive in that role."
Not only is Brunson thriving, but so is his team. National Player of the Year candidate Josh Hart is having the best season of his career, so is last year's tournament hero Jenkins. The Wildcats are 19-2 after Marquette roared back to beat them Tuesday, sit atop the AP poll (for now) and appear positioned for another deep run. They face a tough non-conference test on Sunday against No. 12 Virginia (1 p.m. ET, FOX).
"I definitely think we can do it again," Brunson said. "We have the talent, we have the experience, but that's one thing we can't focus on. We can't focus on trying to repeat, we have to focus on being the best team we can be.
"Last year we just focused on getting better every day and we just kept getting better to the point where we won a championship but now we just got to focus on getting better day by day, game after game, just focus on being us, being ourselves and doing what we do."