It's Time the Arizona Wildcats Get a Break, and that doesn't mean Another Injury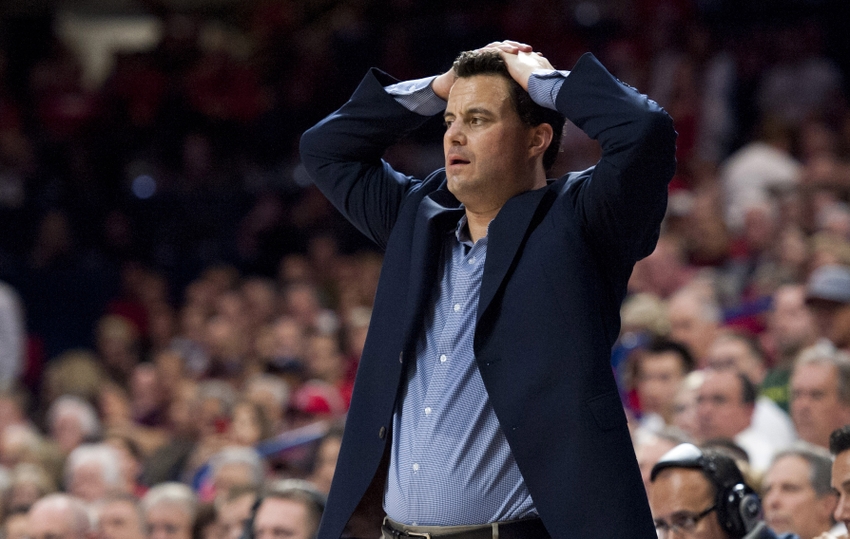 During warm-ups of this year's much anticipated Arizona Wildcats Basketball season opener, there were two Cats missing.
It was evident the Wildcats were short-handed during warm-ups, and the situation worsened minutes into the game when redshirt freshman forward Ray Smith went down with another injury.
Just a few years ago, the Arizona Wildcats Athletic Department was riding high touting the incredible success of the two most visible and profitable sports in the NCAA.  The football team won the 2014 Pac-12 South title, maybe a little prematurely, but nevertheless the title was theirs.  Things could only get better.
Simultaneously, the Arizona Basketball team was on their way to their own tremendous season which resulted in a Pac-12 regular season title, a Pac-12 tournament title, and a fabulous run to the Elite 8. At Arizona, Coach Sean Miller reloads, so again, things could only get better. If nothing else, how could these programs get worse?
Every sports team deals with injuries, especially as the season goes on. Top programs have state of the art weight rooms and dynamite trainers to keep the players as strong and healthy as possible. But….This. Is. Arizona.
Enter Scooby Wright. Arizona fans love Scooby Wright. And they love Scooby Wright on and off the field, including walking the sidelines after a couple injuries early in the 2015 Arizona Football season. He came back for the final game against New Mexico in the New Mexico Bowl, but then we lost him to the pros.
Followed by Scooby was Arizona Basketball's freshman phenom Ray Smith, who was to be key in helping the Wildcats defend their Pac-12 titles. Arizona fans also love Ray Smith, even though he didn't get to play last year due to injury. Unfortunately, this year's opening game was a repeat for Smith and the Wildcats. Smith went down a couple times but came back. But the third time was the unlucky charm and he went out the rest of the game. Not again. The air in McKale could be cut with a knife.
When actors give their speech as they win an award, they always thank their friends and family while being careful to acknowledge anyone they may have left out. We at Zona Zealots will do the same. We've compiled a short list of injuries and absences for various reasons over the last season of basketball (+ one game) and season and a half of football:
Scooby Wright
Cody Ippolito
Anu Solomon
Brandon Dawkins
Zach Hemmila (we always miss you #Forever65)
JJ Taylor
Nick Wilson
Ray Smith (x2)
Thanks to all the fans but I'm blessed man to even be where I am. One of my lil bros from vegas was murdered in his apartment the other day.

— Ray Smith (@raysmith2297) November 2, 2016
Kaleb Tarczewski
Ryan Anderson
Chance Comanche
Allonzo Trier
Parker Zellers
Freddie Tagaloa
Gerhard De Beer
Please forgive us if we didn't mention any missing athlete. You all mean so much to the University of Arizona and we thank you for choosing the Red and Blue.
So now what? There are hard lessons in life. Nobody makes it through unscathed. In the business world, we jump at any opportunity to prove our worth, be noticed by our boss, and get that promotion. We never know when that opportunity will come, but when it does it needs to be seized.
"Everyone of these guys have come to Arizona for a big opportunity, now all of the guys have a big opportunity now" Sean Miller

— ZonaZealots Go Cats! (@ZonaZealots) November 2, 2016
Maybe the best lesson is a prophetic tweet from Ray Smith five months ago.
It's crazy that it took me 2 ACL tears to finally realize that I need to put God first !

— Ray Smith (@raysmith2297) May 30, 2016
Smith's newest injury will put his faith to the test. It appears he is trying to find a silver lining, and he is right. This is sports. He is still a student-athlete. He can hopefully play again soon and get his degree. Is the glass half full or half empty?
It's all perspective, right? You're alive, your fans care a whole lot about you no matter what, and you are attending a great college! https://t.co/l4ivRIcVZF

— ZonaZealots Go Cats! (@ZonaZealots) November 2, 2016
Video of Sean Miller post-game press conference via the Arizona Daily Star:
The Wildcats are not alone. Monday morning sports radio in the Phoenix area is a downer this fall. Many weekends all three football teams in the state–the Wildcats, Sun Devils, and Arizona Cardinals have lost. ASU is also dealing with a quarterback merry-go-round. With that being said, we are still pulling for all the Arizona Wildcat teams and all the athletes. There is no better school to attend and no better conference. #BearDown Wildcats, hang in there.
But honestly, can't this run of bad luck just end already?
This article originally appeared on