Iowa Hawkeyes Women's Basketball Shows Potential In Loss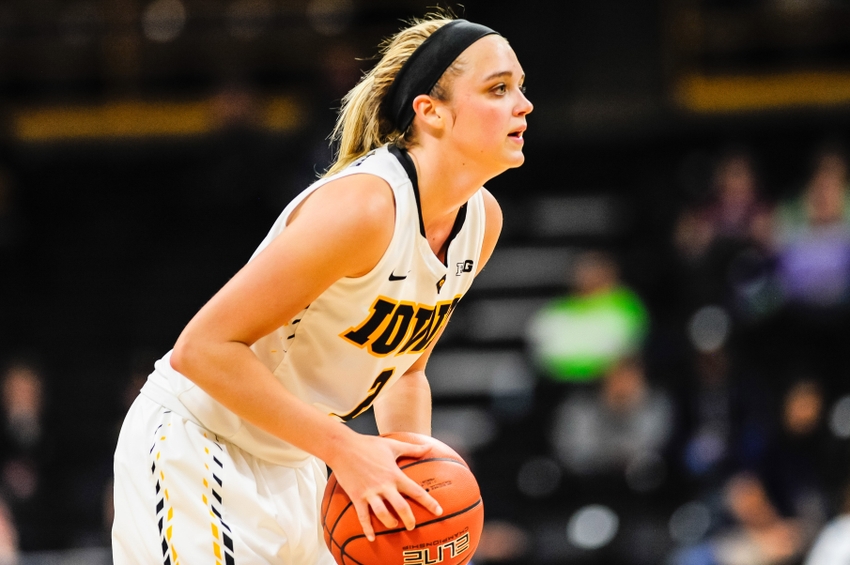 A look at how Iowa women's basketball almost upset Notre Dame
Heading into December, the Iowa Hawkeyes women's basketball team is 5-3. They lost to an underrated South Dakota State team by two at home and then lost to the ninth-ranked UCLA Bruins by 13 in the Cancun Challenge.
On Tuesday night, Iowa hosted the top-ranked Notre Dame Fighting Irish as part of the ACC/Big Ten Challenge. The Irish came in with a perfect 6-0 record, including a win over a ranked Washington squad. Plus, ESPN has hyped up a potential 1v2 matchup between Notre Dame and Connecticut next week.
Nonetheless, in front of 3,809 people, just 25 percent of Carver Hawkeyes Arena, the Hawkeyes almost handed Notre Dame just their third non top-five regular season loss since 2011-12. Notre Dame pulled away at the end and won 73-58, but Iowa played them a lot closer than the score indicates.
Led by Ally Disterhoft's 18 points and Megan Gustafson's 16 points and 11 rebounds, the Hawkeyes only trailed by eight at the end of the third quarter before a nine-point fourth quarter haunted them.
Still, being down eight after three quarters doesn't tell the full story. A young Iowa team, which is budding with potential, stuck to their game plan and almost came out on top.
Dear Old Gold Early Morning Iowa Hawkeyes News
Lisa Bluder continued to try to develop depth by playing 11 players and giving all but one at least eight minutes of playing time. Sure, Disterhoft and Tania Davis each played 30-plus minutes, and Gustafson played 29 minutes, but Iowa didn't try to over rely on their starters in a game that could have overwhelmed their young bench.
Instead, Iowa used this as a learning experience and wanted to see how their rotation and players stack up against arguably the best team in the nation. Seven of the 11 players that played for Iowa are underclassmen, which shows the potential this team has and also the trust Bluder has in her young team.
It paid off for Bluder in a big way.
After Notre Dame jumped out to a 13-5 lead, Iowa and Notre Dame tied 44-44 over the next 26 minutes of the game. It would have been easy to give up after a slow start or when Iowa went down 37-25 with 5:39 left in the first half.
Instead, the Hawkeyes clawed their way back to a respectable eight point deficit at half and went on an 8-2 run to start the second half.
With seniors Disterhoft and Alexa Kastanek acting as a veteran leaders, Iowa didn't quit like a lot of young teams would have. A lot of young teams would be deflated after a slow start against Notre Dame, which contributes to Notre Dame's huge victories. Although, Iowa showed fight in their loss the whole game, which is what you want to see from young players.
They started to play tougher defense and get into the lane to start the second half, and it resulted in Iowa pulling within two points multiple times. In fact, Iowa only trailed 50-48 with 2:37 left in the third quarter.
In the end, though, Iowa started to miss shots and Notre Dame took advantage, as they usually do, of a short poor stretch by Iowa. In a game where the Hawkeyes needed to play near flawless for four quarters, they only did so for 2.5 quarters, and that's not enough against a great team like Notre Dame.
That being said, the Hawkeyes showed what team they can be in the Big Ten this year. They're young but they fight and don't give up or back down from a ranked team. Besides, Disterhoft and Gustafson are one of the better one-two punches in the conference.
Just like on the men's side, this is a rebuilding year that could turn into more. Iowa might not be the best team in the nation, however hustling and putting pressure on good teams all game will win Iowa games this year.
It's the Hawkeyes third loss of the season, but it's one of the prettiest 15-point losses you'll find.
This article originally appeared on