Iowa Basketball: Why Tyler Cook Injury Isn't All Bad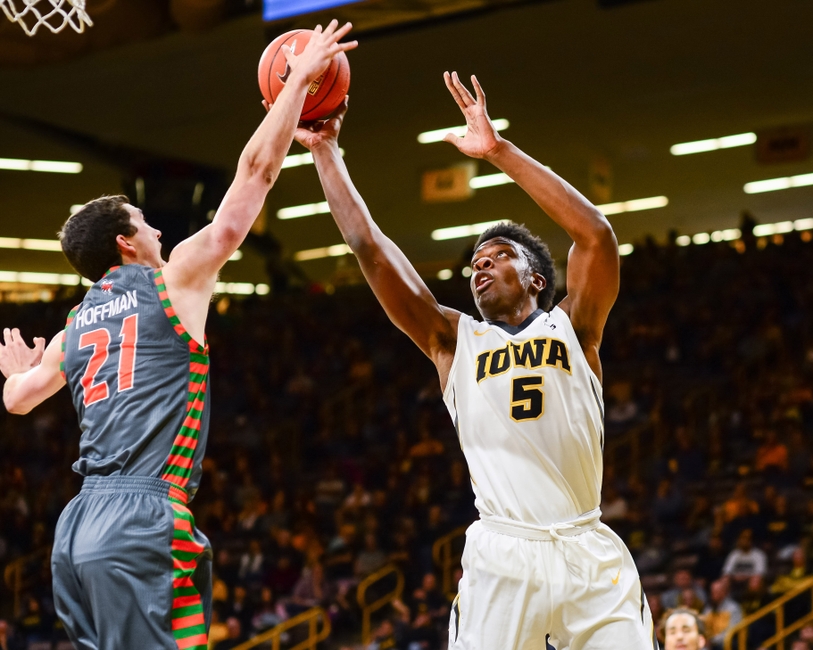 A look at Tyler Cook's injury and why it might help Iowa
Currently on a three game skid, Iowa basketball announced yesterday that star freshman forward Tyler Cook will miss three weeks with a broken right index finger.
Cook is second on the team in scoring at 13.7 per game and tied with Nicholas Baer for a team-high 5.3 rebounds per game. He's also shooting 56.4 percent from the field and has been a nightmare for teams to guard in the paint this season.
He and Peter Jok have been the Hawkeyes only consistent source of offense this season, which leaves a lot of uncertainty about how Iowa will fare without him. Iowa's first game without Cook resulted in a 92-78 loss to Notre Dame, in a game that was a lot closer than the score indicates.
Despite Iowa being 0-1 without Cook, there is reason to believe that Iowa will come out better as an overall team when he returns.
If Cook only misses three weeks, he should return by December 20. That means Cook would have warmup games against North Dakota and Delaware State before conference play. He would get his shot and legs back under him for games Iowa really needs him to win.
Dear Old Gold Early Morning Iowa Hawkeyes News
That would mean Cook would only miss four games — all home games against Omaha, Stetson, Iowa State and Northern Iowa. Plus, there is a small chance he returns for Iowa's game against Northern Iowa on December 17, which is just three days before his expected return.
Either way, Iowa should go 2-2 in that span. With or without Tyler Cook, the Hawkeyes are capable of blowing out Omaha and Stetson.
Plus, Iowa should be able to get up against Iowa State and play some of their best basketball of the season. Fran McCaffery will have a big problem on his hands if the Hawkeyes don't play their biggest in-state rival tough at home.
Northern Iowa is not a pushover, therefore Iowa would likely be an underdog even with Cook. Sure, having Cook back would help them, however, with the way they've played recently, losing Cook to injury is the least of their problems and won't be the sole reason they lose or win.
If Iowa is 5-6 when Cook returns it wouldn't be the end of the world because Cook's injury gives Iowa a chance to build a more well-rounded team.
Of course, Peter Jok can't have games like last night when he shot 4-of-20 from the field and 2-of-11 from three. That being said, Iowa can't expect him to do all their scoring and will need players to step up in Cook's absence.
That doesn't mean someone needs to have 10 highlight dunks every game or dominate the post, but Iowa needs another scoring option to emerge. With Cook, for good reason, Iowa relied on a two-man offense with an occasional bucket from a role player. Now, role players will have an increased role.
Against Notre Dame, Jordan Bohannon emerged for Iowa. He had career-highs of 23 points and seven made threes. Also, Cordell Pemsl dominated in the paint with 18 points on 8-of-9 shooting.
Moving them to the starting lineup probably played a role in their increased production, but Iowa also needed to trust them more on offense, especially with Jok struggling.
Their offense didn't only look for Cook in the paint and clear out to let him post-up his defender, or look for Jok on the perimeter to let him create an open shot for himself. Iowa moved the ball and Bohannon became a lot more aggressive shooting the ball.
In fact, four of five starters attempted at least nine shots last night. The only time this season that someone outside of Cook or Jok attempted nine shots or more in a game was when Isaiah Moss attempted 13 off the bench and Brady Ellingson attempted nine off the bench in Iowa's blowout win over Savannah State.
It shows the reliance that Iowa has on their two star players. Although, as previously mentioned, other players will have to step up. It won't just be one player who will replace Cook, rather a well-balanced scoring attack.
Besides, teams will double-team Jok until Iowa proves they can score without him. Notre Dame put a lot of pressure on Jok every time he touched the ball, and it ruined his rhythm early and got him in a funk. Teams know that's how you beat Iowa, at least until Cook returns or another reliable scoring option emerges.
For as much as Iowa has struggled scoring and rebounding this season, losing Tyler Cook for three weeks is the last thing they wanted. Although, Fran McCaffery will get to test new lineups and role players will have bigger roles.
Sure, Iowa is less likely to beat Iowa State or Northern Iowa, but it's not like the Hawkeyes looked great to begin the season.
Iowa will have a more balanced attack when Cook returns, which means teams won't be able to double-team him and Jok as often. That will lead to easier scoring opportunities for Iowa's two leading scorers.
The Hawkeyes will be better prepared for conference play, which is what matters. Besides, losing Cook for cupcake games against Omaha and Stetson is much better than when Iowa travels to Purdue.
More from Dear Old Gold
This article originally appeared on