Iowa Basketball: Who Will Start at Point Guard?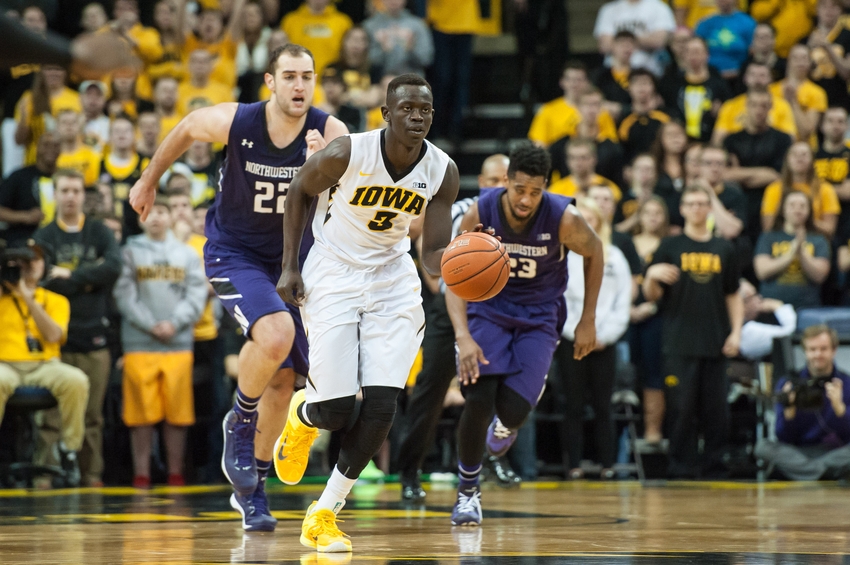 Breaking down the confusing point guard position Iowa has
Iowa basketball is in a tricky position at arguably the most important position on the floor. A year ago the Iowa Hawkeyes had two solid point guard options in Mike Gesell and Anthony Clemmons. Now, they are in a pickle trying to decide who should start at point guard.
The Hawkeyes have a couple of easy games against Kennesaw State and Savanna State to start the year, however their schedule gets tougher very quick. Two weeks into the season, Iowa will take on a Virginia team that is coming off a 29-win season and should be a top-25 team again this year.
That leaves very little time for the Hawkeyes to settle on a floor general. Of course, they can try multiple players and decide a little later before the start of Big Ten play. But the Hawkeyes don't have a cake walk of a non-conference schedule and can't afford to lose winnable games because of uncertainty at a position.
That being said, there are many ways Iowa can go. While they don't have established options like they have owned over the past couple of years, there is a lot of potential at the position. It has a chance to become one of the more surprising spots on the Hawkeyes during the 2016-17 season.
With a completely new look to the roster, Fran McCaffery will mix and match players early in the season to try to find lineups that work to help him form a consistent rotation. Although, the sooner someone steps up and McCaffery settles on his starting five, the sooner they can mesh together and be ready to hang around with the elites of the Big Ten.
Here's a look at who the Hawkeyes could start at point guard.
Peter Jok
Tyler Cook might enter the year as on of the most highly touted freshman in his class, but make no mistake, this is Peter Jok's team. Jok is the only returning starter from a year ago, as well as the only player on the roster to top 20 minutes per game in 2015-16.
The 6-6 guard finished second on Iowa in scoring a season ago, averaging 16.1 points per game, behind Jarrod Uthoff. Although, Jok immediately turns into the top scoring option on the Hawkeyes this season, therefore he should easily top the 12.4 shots per game and team-leading 6.2 threes per contest he averaged a season ago.
With the uncertainty that comes with Iowa's roster this season, Jok will take on an even bigger role to begin the season. That's why starting, and playing him heavy minutes, at point wouldn't be a terrible idea. Fran McCaffery wants to get the ball to Jok often, and there's no easier way to do that than to have him bring the ball up.
Sure, Jok thrived mostly on catch-and-shoot threes last season but creating shots for himself more often is inevitable this year. He showed the ability to create for himself in 2015-16, although it never developed into a huge part of his arsenal on offense.
Starting Peter Jok at point guard would also let the Hawkeyes start a bigger back court than most teams, giving them a needed advantage considering their tallest player is 6-9. It would likely mean Dom Uhl would start at shooting guard, with Nicholas Baer at small forward, and Tyler Cook and Ahmad Wagner down low. Sure, their front court doesn't have great size still, but no one is shorter than 6-6, a huge plus on a team with not a lot of size to spare.
However, there is a lot of questions regarding Jok as a point guard. Watching him play, it's evident that he's not a traditional point guard that looks to pass. He's a scorer, and that's fine since point guards rarely have pass-first mindsets anymore.
However, how will the team's leading shot producer handle a role where he will need to create offense for his teammates?
He doesn't need to become a 10-assist per night guy, although his 1.4 assists per game and 2.1 assists per 40 minutes doesn't shout point guard. Jok will play with the ball in his hands plenty whether he's the point guard or shooting guard, although being the team's go-to point guard might not be the best option considering the lack of ball movement that could occur.
Iowa would benefit more using Jok's 40.2 percent three-point shooting with him playing off-the-ball and taking over late in games or when the shot clock is running out.
Christian Williams
The favorite to start alongside Peter Jok in the backcourt is 6-6 sophomore guard Christian Williams. He only appeared in 20 games for 101 minutes as a freshman, but he did start to crack the rotation at the end of the year. In fact, Williams played in both NCAA Tournament games and made five appearances in March, including a 12-minute stint against Indiana in which he recorded eight points and two steals.
Williams does not have a lot of experience, but he has some, and that's important. His increased role at the end of the season showed that Fran McCaffery started to trust him more, a testament to his development as a freshman.
Now, Williams comes in with just over 100 minutes under his belt and the experience of learning from two four-year seniors in 2015-16. That will be crucial considering the Hawkeyes don't need him to be a star, rather a smart playmaker like Mike Gesell and Anthony Clemmons were.
Neither Gesell nor Clemmons dominated in any area, but they played tough defense and were smart passers. With Jok, Uhl and Cook in the starting lineup, Williams will have plenty of options to pass to and won't be a top option in the offense. That will lower the pressure on him and let him focus on getting a rhythm, rather than throwing up shots early in the season and losing confidence.
Even though it's a small sample size, it's evident that Williams has work to do on the offensive end. He shot just 32.1 percent from the field and 31.8 percent from deep. To be fair, it's not easy for a freshman to crack the rotation late in the season and come into the game and be a force on the box score in minimal time — Williams averaged 5.1 minutes per game. It's a given, though, that he'll have to shoot better if he cracks the starting lineup.
The good news is that Williams did average 10.7 points per 40 minutes. Also, Williams isn't only focused on scoring, he wants to set up his teammates and rebound.
Williams has great size at 6-6 with a 6-11 wingspan. He could prove to be a crucial player on the glass this season after Iowa lost their two leading rebounders from a season ago. He might not lead the team in rebounds, although, Iowa ranked just 98th in the nation in rebounding a season ago, therefore help from their backcourt adds a dynamic they didn't have a season ago.
When it comes down to it, Williams gained McCaffery's trust at the end of the last season, and his style of play complements the scorers in the Hawkeyes' starting lineup. The sophomore guard likely won't light up the scoreboard this year, but that's not what Iowa needs. He'd be much more useful setting up Jok and Cook than trying to use his pass-first mentality coming off the bench.
Jordan Bohannon
The younger brother of Jason Bohannon, a standout at Wisconsin in the 2000's, Jordan Bohannon looks to make a name for himself with the Hawkeyes. Bohannon followed his older brother and was named Iowa's Mr. Basketball as a senior last season. This season, he'll have a chance to be the second freshman starter on the Hawkeyes.
Bohannon's game is simple, he wants to score. He averaged 25.8 points per game as a senior at Linn-Marr and connected on 42.8 percent of his three-point shots. Widely considered Iowa's second best recruit this season behind Tyler Cook, Bohannon has a chance to be the team's best three-point shooter as a freshman.
Iowa needs to replace Jarrod Uthoff's three-point shooting from a season ago. While Jok received the most attention for his deep ball, Uthoff attempted 5.2 threes per game and connected on 38.2 percent of his three-point attempts. Bohannon obviously won't have the same all-around impact as Uthoff, although being able to space the floor is something he'll bring right away as teams will need to respect his outside shot.
To go along with his outside shooting, the 6-1 guard did show solid rebounding ability in high school. He led his team with 5.3 rebounds per game. That being said, Bohannon is shorter than both Clemmons and Gesell, and Iowa doesn't have a seven-footer in their frontcourt anymore. That could prove to be troubling on an undersized Iowa team.
Although, the biggest learning curve for the young guard will be learning to become a facilitator. He can score from anywhere on the court and showed great range in high school, however, the Hawkeyes don't need him to be the team's top option on offense as a freshman.
He might be able to develop into more of a facilitator, although he'll have to show that in practice leading up to the team's first game because he was never asked to be anything other than the top option on offense in high school.
There is no doubting that Bohannon has the potential to be a special player and an elite scorer. Although, coming off the bench as a freshman might be more beneficial. He would be one of the top options of the second unit and would provide the Hawkeyes with a spark plug off the bench. Not to mention he wouldn't be thrown into a big role right away, allowing him to develop and get acclimated to the college game.
Besides, the Hawkeyes bench has a lot of question marks surrounding it, therefore Bohannon's offensive ability could help stabilize it. Plus, he and Christian Williams will likely split time at point guard until either one proves to be the better option.
Right now, the experience that Williams has, and his style of play, is better suited to start for the Hawkeyes. It'd be surprising if Bohannon didn't start at least a couple of games, though. There is still controversy surrounding the position, which leaves the door open for Bohannon if he starts his collegiate career out strong.
This article originally appeared on