Iowa Basketball vs Virginia Cavaliers: How Hawkeyes Can Pull the Upset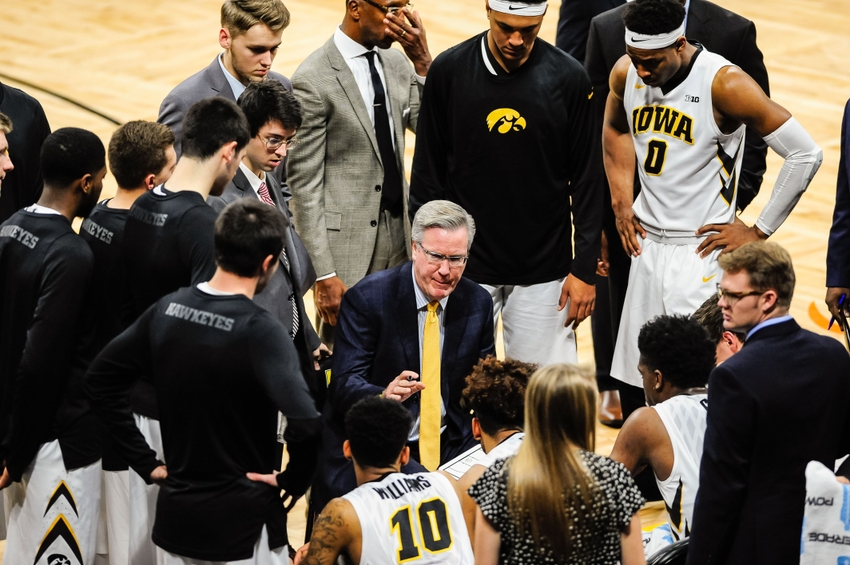 A look at how the Iowa Hawkeyes can upset the Virginia Cavaliers
After a respectable 3-1 start, Iowa basketball will have maybe their toughest test of the season on Friday. Their first game in the Emerald Coast Classic is against the Virginia Cavaliers, who are ranked seventh in the current AP Poll.
Iowa is a young team that is still searching for their identity. That being said, they played Seton Hall tough earlier in the season and have blown out their three mid-major opponents. Of course, playing against a top-10 team is a new challenge for much of their team.
No one is giving a young Iowa team a chance against Virginia, but there have already been bigger upsets this season. Still, the Cavaliers look like one of the better teams in the nation again, but this is their first test of the season.
Up to this point, Virginia has only faced mid-major competition. They have won with ease, but Iowa might be able to catch them off-guard if they get off to a fast start. Plus, the Cavaliers are a young team after losing multiple leaders from a year ago to graduation.
It won't be easy, but it's also not impossible. Here's how Iowa can win the first game of the Emerald Coast Classic.
Three-Point Shooting
Outside of Peter Jok, Iowa has not ben a good three-point shooting team. They rank 85th in the nation with a 38.3 three-point percentage, yet attempt 28.8 threes per game. Considering their lack of size it makes sense, but Iowa needs to shoot better against Virginia to have a fighting chance.
Jok might eclipse his team-high 8.5 three-point attempts per game, but he can't do everything on offense. Sure, they'll feed Tyler Cook in the paint, but Iowa is a three-point shooting team. That means players like Brady Ellingson and Nicholas Baer have to continue their solid shooting, as well as Jordan Bohannon and Dom Uhl becoming more reliable options.
Iowa Football: Are the Hawkeyes to Blame For Losing Recruits?
Both Bohannon and Uhl are three-point specialists, yet neither is shooting above 30 percent from deep. Uhl is shooting 30 percent on 2.5 threes per game, and Bohannon is shooting a dreadful 29.4 percent on 4.3 threes per game. Considering Uhl is a starter, and Iowa plays Bohannon and Christian Williams about the same amount of minutes, they could provide Iowa's offense with a huge boost.
The Cavaliers are one of the best defensive teams in the nation, so Iowa won't get a lot of open looks like in recent games. Therefore, Iowa can't hesitate on open looks and might need to force shots if they're unable to get inside.
They connected on 8-of-21 threes against Seton Hall, their best defensive opponent to this point, but will need to be even better against Virginia. The Cavaliers are holding teams to 25.3 percent shooting from deep this season. Granted Virginia has not faced a Power Five opponent yet, but Tony Bennett coached teams are historically very strong defensively.
Threes can save or kill a team, and that's what will happen for Iowa on Friday. If they're hitting their outside shot then the Hawkeyes will stay in the game, but the Cavaliers will have a big opportunity to blow the game open if Iowa struggles from behind the arc.
No Big Offensive Games For Virginia
Virginia has three players averaging double-digit points per game, but Marial Shayok leads the team with 12.5 points per contest. It's rare to see a top-10 team not have any great scorers, but Virginia lost Malcolm Brogdon from a year ago and are still searching for a leader on offense.
It's hard to know what Virginia's rotation will look like against Iowa since the Hawkeyes should play Virginia closer than their first four opponents. Although, Iowa can't let a single player on Virginia have a great offensive game.
The Cavaliers want to keep this game low-scoring. They only average 75 points per game, which is a mere 175th best in the nation. In fact, freshman Kyle Guy's 20 points against Grambling State in Virginia's last game was their first 20-point scorer of the year.
Virginia hung around 65-70 points, but Guy's outburst led them to a season-high 90 points. The Hawkeyes haven't been great defensively, especially in the paint, but they'll need to tighten up their defense on Friday, obviously.
Iowa is capable of holding Virginia's offense in check and trying to score just enough to win. That being said, if Isaiah Wilkins or Guy get hot, the Hawkeyes will be in for a long night. It's not easy to score against Virginia, and it only gets harder when down big.
Peter Jok will be the best offensive player on the floor on Friday night, but one offensive star for Virginia could be the difference maker. The Cavaliers are a well-balanced team with a lot of players who can score, but if a legitimate scoring threat on Virginia emerges, it would cause a nightmare of a situation for Iowa.
Iowa's Bench Has to Step Up
Last game against Rio Grande Valley, Iowa's bench got valuable minutes in the second half. Fran McCaffery learned more about his team and has a better idea of who will see minutes against Virginia. That being said, McCaffery has to trust his bench more than he did against Seton Hall when Jordan Bohannon and Ahmad Wagner were the only players to play double-digit minutes.
McCaffery likely will trust his bench more, but the bench has to produce. There has been a significant drop-off from the starters to the bench so far this season. It's not a surprise that the starters are better, but Iowa's bench has been significantly worse and let teams back into games.
As seen from Virginia's well-rounded numbers, the Cavaliers have a deep bench. Iowa doesn't have to match it, but they have to keep Iowa in the game while their starters rest. Peter Jok and Tyler Cook will sit less than five minutes each, but they can't carry the whole load.
Brady Ellingson is averaging a bench-high 9.3 points per game and is shooting a ridiculous 63.6 percent from deep. Ellingson also had a 23-point outburst against Savannah State but has since regressed. He simply isn't being as aggressive on offense. The Hawkeyes have to put pressure on Virginia's defense, and Ellingson is someone who can do that.
He's one of Iowa's better offensive players and someone who can space the floor. He should see a decent amount of time, especially if Dom Uhl struggles.
Also, Iowa will rely on backup point guard Jordan Bohannon. He averages more minutes per game than Christian Williams and played almost 20 minutes against Seton Hall. Iowa needs his outside shot, as well as his proven ability to create opportunities for teammates.
The Hawkeyes have potential on their bench, and it needs to surface on Friday. They got significant minutes last game to work out some kinks, and looked much better than in the first half. Although, a bad first half would mean an Iowa loss against Virginia.
This article originally appeared on