Iowa Basketball: Should Dom Uhl be Starting for Hawkeyes?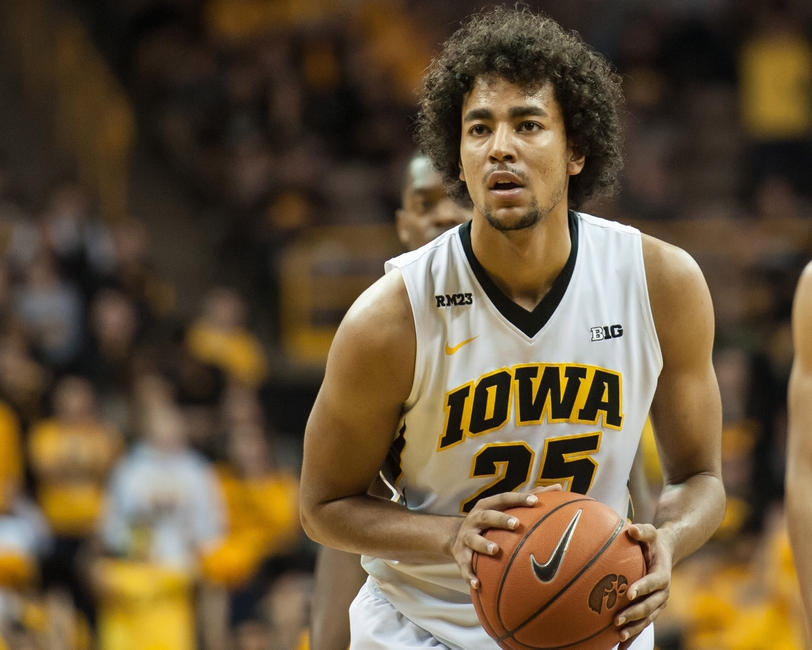 Dom Uhl has started the Hawkeyes first two games, but he might be moved to the bench if his production doesn't increase
The good news is that Iowa basketball is 2-0 through their first two games of the season and have avoided a disastrous upset as they try to build chemistry with their new core. At the same time, the Hawkeyes still have a lot of questions surrounding their starting lineup that have not been answered through the first two games.
Junior forward Dom Uhl got the nod as the team's starting power forward through the first two games. It's been an up-and-down start to the season for Uhl, one that might result in him moving back to the bench soon if his production doesn't increase.
Through two games, Uhl has contributed a mere 5.5 points and 4.5 rebounds per game, while playing fewer than 20 minutes each game. He has also connected on just 2-of-7 shots this year, including 1-of-6 from three.
With the first two games being blowouts against lesser competition, it's not surprising that Fran McCaffery chose to give his bench more run. Freshman forward Cordell Pemsl took advantage of his bigger role earlier in the season and could force McCaffery's hand of moving him into the starting lineup.
Michigan Football vs Iowa: Game Balls and The Depression Sets In
In just 17 minutes per game, he has contributed 14 points and 7.5 rebounds per game and shot 11-of-14 from the field. The freshman has dominated on the glass and has been unstoppable in the paint.
When he doesn't score, he usually draws a foul and gets to line, where he is shooting 6-of-11. It's not a great mark from the line, but he did connect on all seven of his free-throw attempts against Savannah State and is proving he can consistently get to the line.
Uhl did attempt 10 free-throws against Kennesaw State, however he went just 6-of-10 from the line and didn't get to the line at all in Iowa's second game. On a team with three-point shooters, Uhl isn't utilizing his ability to get to the basket and drawing contact.
The Hawkeyes already have five players with seven or more three-point attempts this season, including two in the starting lineup — Peter Jok and Nicholas Baer. Therefore they could greatly benefit from a slasher either in the starting lineup or coming off the bench.
Uhl proved he's a solid three-point shooter a year ago when he connected on 45 percent of his threes. Although, thus far, he's reverted back to his freshman season when he shot a measly 18.5 percent from deep. Either way, Iowa doesn't need Uhl to become a sharpshooter.
Baer is 5-of-9 from three this season, and rarely put his head down to drive to the basket. It doesn't mean that Uhl should never shoot a three, but he's shown the ability to get to the rim before, and that's what he needs to focus on.
He played better on offense last year when only 36.1 percent of his shots were threes, rather than this year when 85.7 percent come from behind the arc. Iowa can't live and die by the three this year, and Uhl is someone who can give them other scoring opportunities on offense.
It's only been two games against competition that Iowa didn't need to play their true rotation against, therefore better games should be ahead for Uhl. Although, Seton Hall is a very big game for Uhl and Pemsl.
It's the first respectable opponent of the year for Iowa, and it will be interesting to see how Pemsl handles being bullied in the paint. As nerve-racking as his first couple of collegiate games were, Iowa will know how he handles pressure by how he plays against Seton Hall and Virginia in the next couple of weeks.
Also, the starters should see significantly more minutes in the near future. With a new team, McCaffery was smart and gave his bench significant run in games Iowa jumped ahead early. Although, it could be telling if McCaffery doesn't play Uhl more.
Some players perform better off the bench, which doesn't mean less minutes, and that might help Uhl from a psychological standpoint. Plus, it wouldn't hurt to have his veteran leadership on the second unit, especially if Pemsl thrived in a starting role.
When it comes down to it, Pemsl has dominated in the first two games, but Iowa needs to see how he handles Power-Five competition. Still, Uhl is on a thin leash and his starting job is not 100 percent his. He's proven in the past to be a solid contributor off the bench, which will instill confidence in McCaffery if he chooses to move him back.
Besides, adding Pemsl to the starting lineup would give them better rebounding and another inside presence alongside Tyler Cook. That would be huge for an Iowa team who was out-rebounded against Kennesaw State in their season opener.
It's hard to tell much from games against Kennesaw State and Savannah State, and figuring out who plays at ends of games is more important than starters, but Cordell Pemsl has been impressive so far and deserves a shot in the starting lineup if Uhl continues to struggle.
This article originally appeared on