Iowa Basketball: How Hawkeyes Can Upset Iowa State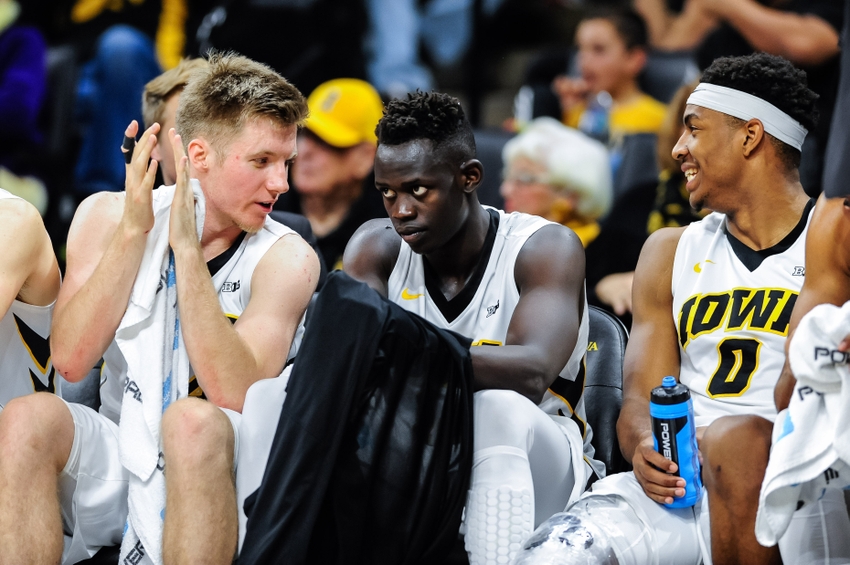 Here's what the Iowa Hawkeyes need to do to upset Iowa State
The great thing about a rivalry is that anything can happen. Iowa basketball is 4-5 and simply haven't looked like a good team this season, but it is still possible that they upset 25th ranked Iowa State.
Last season, Iowa blew a 20-point lead and a 15-point halftime lead to the Cyclones to give Iowa State their third straight win in the Cy-Hawk men's basketball series. Even with a team full of seniors, Iowa couldn't fight off the comeback on the road in Ames, Iowa.
The same type of wackiness could be in store this year, despite the Hawkeyes having a roster filled with young players. Only four players on Iowa's current roster has played in this rivalry before, therefore the atmosphere of this home game might come as a shock.
Even though Iowa will be a huge underdog, it's never safe to count out a young team in a rivalry game. If their youth steps up for the occasion, Iowa could escape Thursday night with a win to bring them back to .500 on the season.
A lot will have to go right, but it wouldn't be the first crazy thing to happen in this rivalry.
Defend The Paint
Saying Iowa has struggled on defense would be an understatement. The Hawkeyes allow 83.1 points per game, which ranks a mere 332nd in the nation. In fact, Iowa allowed at least 90 points in three straight games before holding Stetson to 68 points.
A big reason for their defensive struggles this season is due to their inability to defend in the paint. With Tyler Cook out, Ryan Kriener, who averages 6.9 minutes per game over seven games, is the only active player on Iowa 6-9 or taller. The Hawkeyes now mostly rely on 6-8 Cordell Pemsl or 6-7 Nicholas Baer and Ahmad Wagner in the paint.
Even with Cook, the Hawkeyes lack a true rim protector. No one averages more than 0.9 blocks per game, which is telling of the easy baskets they allow at times.
On Thursday, Iowa faces an Iowa State team who thrives on getting to the basket. The Cyclones rank 119th in the nation in three-point attempts and only Nazareth Mitrou-Long and Matt Thomas take more than 3.5 threes per game.
Plus, Iowa State's top two scoring options in Monte Morris and Deonte Burton do most of their work in the paint. Only 28.1 percent of Morris' shots and 18.8 percent of Burton's shots come from behind the arc.
Considering Morris and Burton average 24.9 shots per game, it's evident that Iowa State's 28th ranked scoring offense thrives on getting to the basket rather than settling for outside shots.
Iowa can't give up easy baskets if they want to win, which means defending the paint in every defensive scheme because they usually breakdown on full-court presses and zones. Forcing the Cyclones to become a jump shooting team is the easiest way to control their offense, but that only happens if you keep them out of the paint or defend shots without fouling down low.
Big Game From Peter Jok
It's hard to say that Iowa takes advantage of big games from Peter Jok. The Hawkeyes are 0-3 when Jok scores 30-plus points this season and just 2-2 when he shoots above 50 percent from the field.
Still, even with the emergence of Jordan Bohannon, Isaiah Moss and Cordell Pemsl, Iowa's offense will only go as far as Peter Jok takes them. He's the only active player on Iowa to attempt more than nine shots per game and has attempted at least five threes in every game, including double-digit three-point attempts three times.
Iowa can't rely solely on Jok, however they also can't expect the bench to cover up a poor game from him against a ranked team. Star players step up in big games, and Peter Jok is Iowa's star player, therefore he needs to be productive in the 36 minutes he sees.
33 points on 38.1 percent shooting and 27.3 percent shooting from three won't get the job done, just like it didn't against Omaha. Iowa State will hone in on Jok, which means Iowa will need to make a more conscious effort of running plays for him, as well as Jok creating shots for himself.
No matter how great Bohannon and Pemsl play, Iowa won't win if Jok doesn't shoot well from the floor. He doesn't need to go off for 42 points like he did against Memphis or make 9-of-13 shots like against Rio Grande Valley, but he also can't shoot 4-of-13 from the field like on Monday against Stetson.
Every possession is valuable when trying to pull the upset and that makes Jok's shot selection, since he attempts a team-high 16.9 per game, even more important.
Poor shooting might not have hurt Iowa against Stetson, but the Hawkeyes will have a hard time staying close if their best player forces bad shots and never finds a rhythm, which is what happened in their blowout loss to Virginia.
Quick Start
Iowa can't dig itself in a deep hole and pray for a miraculous comeback like Iowa State had last season. With a hectic Carver crowd behind them, the Hawkeyes need to use the crowd noise to their advantage and jump out to a quick lead, or at least hang around.
The pressure on the favorite only gets bigger the longer a team hangs around. It happened last week when Omaha upset Iowa. The Mavericks never took a huge lead in the first half, rather stayed within five points for the first 10 minutes. It rattled the Hawkeyes a little and gave Omaha confidence that they could stick around.
Even with a win over Stetson, which ended a four-game losing streak, Iowa won't enter the game as the most confident team in the nation. They know they're underdogs and playing a very good and ranked Iowa State team. However, Iowa could quickly gain confidence and belief that they can hang with the Cyclones from one big play or string of baskets to start the game.
Against Virginia, Iowa trailed 11-2 after 3:31 and missed their first five shots of the game. The Hawkeyes looked rattled and defeated before the first media timeout. It seemed like they were already counting themselves out because of a slow start and their inability to crack Virginia's defense right off the bat.
It's telling of how young Iowa is and also how important getting out to a quick start is. Iowa doesn't need to go on a 10-0 run to start the game, although it would be helpful, but not going down early and keeping the crowd in the game will be key.
Bench Scoring
Someone off the bench has to emerge for the Hawkeyes. Barring Ahmad Wagner being unable to play, Brady Ellingson, Christian Williams, Dom Uhl and Nicholas Baer will be the Hawkeyes' options off the bench.
Outside of Baer, who has only come off the bench once this season, no one is playing with confidence coming off the bench. For as important as Peter Jok's shot is and Iowa's starters not letting Iowa State have a significant advantage over them, the Hawkeyes need production from their bench to pull the upset.
Ellingson and Baer, and possibly Uhl, will all play double-digit minutes against the Cyclones. Giving the starters rest without a huge decrease, if any, in production will be huge for Iowa.
Against Omaha, the bench combined for a measly nine points. However, the expected bench's first game together against Stetson exploded for 28 points. Sure, they played more minutes in a blowout, but they also just looked better overall.
It gives Fran McCaffery lineup options and doesn't make him feel like he needs to rush his starters back in the game. Ellingson, Baer and Uhl have all shown the ability to be a reliable scorer at one point or another in their career, but getting them back to that confidence and level of play is what Iowa is working on.
Plus, in Iowa's first three wins, the Hawkeyes had at least one bench player score in double-figures, compared to none in their five losses this season.
Simply put, their offensive attack of Jok, Bohannon and Pemsl won't be enough. Moss and Wagner might have another good game, but good teams have at least a little production off the bench, and right now Iowa doesn't have any.
Also, someone having a big game off the bench on Thursday could be the confidence booster they need to kick-start their season and provide Iowa with a reliable option every night.
This article originally appeared on