Iowa Basketball: Get to Know the Virginia Cavaliers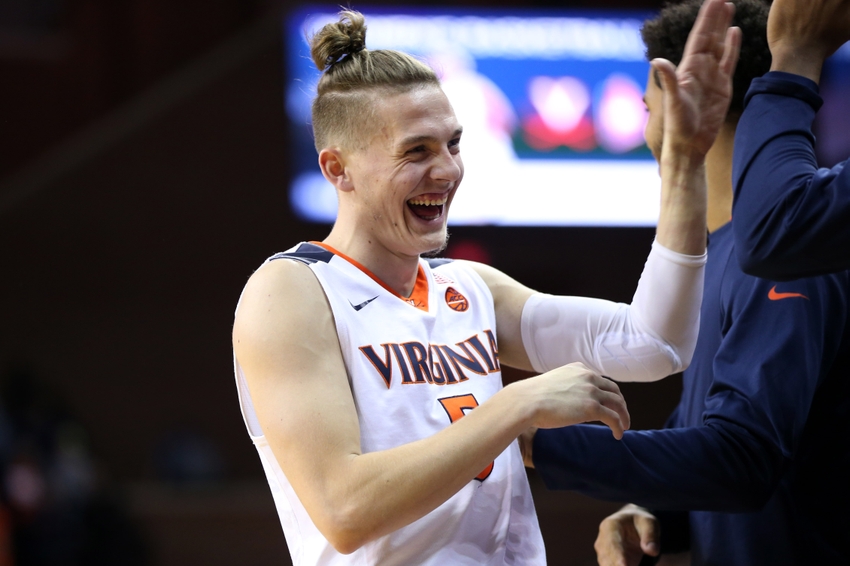 A look at the seventh-ranked Virginia Cavaliers
After struggling in the second half against Seton Hall and cruising to three wins against mid-major competition, Iowa basketball sits at 3-1 heading into the Emerald Coast Classic. The in-season tournament features Virginia, Memphis and Providence this year. Virginia, the seventh-ranked team in the nation, is the heavy favorite against Iowa and in the tournament.
To no surprise, Virginia has had no problems replacing Malcolm Brogdon so far. They're 4-0 and beat Grambling State 90-34 on Tuesday. The Cavaliers have won all four games by at least 20 points. Even though they haven't faced a legitimate Power Five team like Iowa, Virginia's early season play has been impressive, nonetheless.
Virginia gets it done on the defensive end, as they allow the fewest points per game in the nation. UNC Greensboro in the season opener is the only team to score more than 40 points against them so far. It's definitely an advantage they'll have over other ranked teams, but Virginia also doesn't have a bonafide star which could cause problems in conference play.
Marial Shayok and Kyle Guy are their only players to average double-digit points. They also only have three players averaging five-plus rebounds per game, and one player dishing out more than four assists per contest. The Cavaliers are a deep, well-balanced team that has played 11 players in every game this season.
The Cavaliers should have a tighter rotation against Iowa on Friday, but they won't be afraid to go to their bench if Iowa plays them tightly or Virginia starts to blow the Hawkeyes out. Not many people are giving Iowa a chance, and a big reason is because of Virginia's depth and Iowa's lack of production from their bench this season.
Right now, Virginia is playing as well as any team in the nation. They're about to get to the tougher portion of their non-conference schedule, though. Therefore, we can't 100 percent tell how good Virginia is since Iowa is their first Power Five opponent.
That being said, here's a look at Tony Bennett's career at Virginia and two players to watch.
Tony Bennett
Tony Bennett has built a powerhouse at Virginia. He took over in 2009-10 after a 10-18 season, and the Cavaliers instantly saw improvement. They won 15 games in his first season and have not been under .500 since.
Bennett is now in his eighth season as Virginia's head coach. He's 169-72 all-time with the Cavaliers and a remarkable 93-19 (.830 winning percentage) since the 2013-14 season.
Stars of the Game: Iowa Hawkeyes 28, Illinois Fighting Illini 0
While Bennett has had trouble winning in the NCAA Tournament, he's cemented himself as one of the best coaches in the nation. It's a hard feat to accomplish, especially in the ACC. Still, Bennett has brought Virginia back to their glory days and made them a perennial contender alongside Duke and North Carolina.
Bennett's success wasn't easy, but it came faster than most expected. In his third season, Virginia won 20 games, climbed to #15 in the AP Poll and made it to the NCAA Tournament, which snapped a four-year drought and was just their third appearance in 15 years.
In his fifth season, Virginia had their first 30 win season since 1981-82 and made it to the Sweet Sixteen. The Cavaliers then won 30 games the following year and 29 games a season ago, which marks their first trio of NCAA Tournament trips since 1992-95. It's also the first time in Virginia basketball history that they had back-to-back 30 win seasons.
The whole time, Bennett has built the program around defense.
Virginia is consistently one of the best defensive teams in the nation. Last season, they gave up the second fewest points per game, which is a long ways from ranking 54th in the nation during his first season, or 282nd the year before he took over. In fact, Virginia has been a top-five defensive team in each of the past five seasons.
It should be a great coaching battle as Fran McCaffery and Tony Bennett are two of the most underrated coaches in college basketball.
Players to Watch
Kyle Guy: 11.0 PPG, 2.0 RPG, 2.0 APG, 70.0 FG%, 80.0 3P%
Virginia doesn't have a veteran superstar on their team, but they do have a freshman stud in Kyle Guy. The highly recruited shooting guard ranks second on the team in points per game and field-goal percentage but leads the team in three-point percentage.
Through four games, Guy has made 14-of-20 shots and 8-of-10 threes, which are insane numbers no matter who you play. He will have a bigger challenge on Friday against Peter Jok, though. Jok has been great on both ends this year. Guy will have to step up on defense, as well as finding ways to score against Jok, who has shut down teams' top options this year.
This will be a great test for Iowa and Kyle Guy, who will likely come off the bench for a fifth straight game. That being said, he is coming off his first 20 point game, which might mean he's starting to figure out the college game. If Guy starts to get hot then Iowa could be in for a long night.
Isaiah Wilkins: 5.8 PPG, 5.8 RPG, 1.0 BPG, 55.6 FG%
Iowa might have a slight advantage on the glass, but it will start with stopping Isaiah Wilkins. He leads the team in rebounds per game and is second on the team in blocks per game, as well. The junior forward is only 6-7, but he has nine rebounds in both games he's played at least 25 minutes in this season.
In fact, Wilkins is averaging 7.5 points and nine rebounds per game while shooting 50 percent from the field when playing at least 20 minutes. When Wilkins sees under 20 minutes, he averages four points and 2.5 rebounds per game but shoots 66.7 percent from the field.
Barring a major surprise where Virginia benches their second most used player, or foul trouble, Wilkins should see a season-high in minutes against Iowa. Wilkins only averages 5.8 points per game, therefore he's not someone Iowa needs to hone in on.
He'll get his points, but he won't win Virginia the game that way. Wilkins could be the difference maker if he dominates the glass and puts defensive pressure on Iowa in the paint.
This article originally appeared on