Iowa Basketball: Get to Know Texas-Rio Grande Valley Vaqueros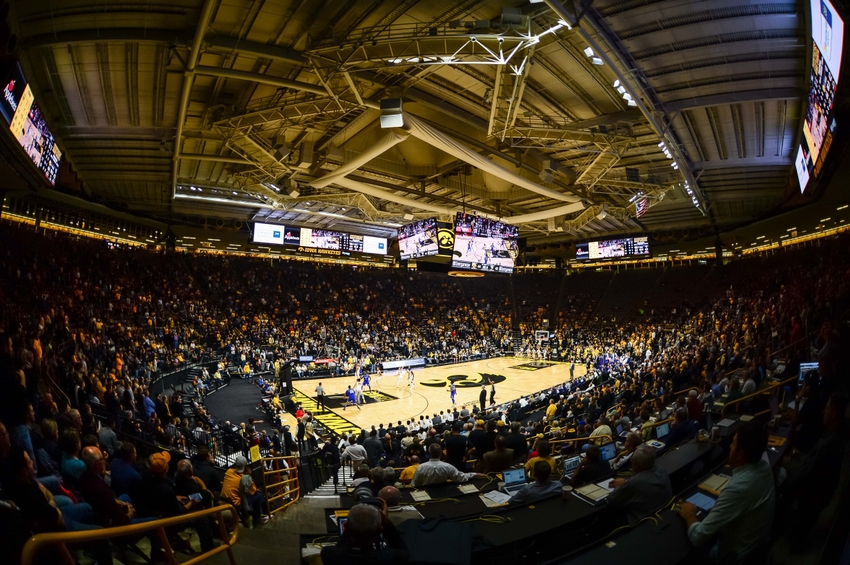 A look at Iowa's opponent on Sunday, the Texas-Rio Grande Valley Vaqueros
Not many teams, if any, are good in the WAC. Although, Iowa basketball's opponent on Sunday, the Texas-Rio Grande Valley Vaqueros, are already 0-3 this year and have a legitimate shot of finishing last in the conference.
In their 49th season, UT-Pan Am has changed conferences eight times and are currently in their fourth season in the WAC, with only one 10-win season. In fact, the Vaqueros have not been over .500 since 2007-08 and have never made the NCAA Tournament. They were ranked as an independent in 1974-75, though, when they went 22-2 and climbed as high as 15th in the AP Poll.
Coming off an 8-22 season, the Vaqueros have already lost their first three games of the season. They put up a fight against UT-Martin, losing 88-80, but have suffered blowouts in their last two games. Memphis beat them by 19 and Texas A&M-CC won by 22.
The Vaqueros are 176th in points per game and 342nd in points allowed per game, allowing a dreadful 92 points per contest.
Dating back to last year, the Vaqueros are on a five-game losing streak and have lost 12 of their last 14 games. This year, Iowa is their second and final Power Five opponent. They are also 0-5 against Power Five opponents since 2012-13 when Iowa last played them.
The Hawkeyes won the season opener that season 86-55 at home. Aaron White led the way with 16 points, five rebounds, four steals and two blocks for the Hawkeyes. Plus, four starters scored in double-digits, with Mike Gesell, who scored seven, being the lone starter not to.
Here's a look at UT-Pan Am's head coach and players to watch when Iowa plays the Vaqueros this year.
Lew Hill
After being an assistant coach at Oklahoma, Lew Hill took over as the Vaqueros' head coach this year. It hasn't been an easy start to his head coaching career, but the Vaqueros obviously needed a change at head coach. Hill took over from Dan Hipsher, who went just 27-66 in three seasons as head coach.
Of course, the rebuild of this program will take time, which is something not many coaches have had with the Vaqueros. Only five of 12 coaches in their program history have stayed for at least five seasons. Plus, it hasn't happened since Bob Hoffman coached the Vaqueros from 1999-2004, and the Vaqueros have cycled through four coaches since.
Whether they're fired or leave for a better job, the Vaqueros haven't found stability, which is important when trying to rebuild a program.
While the Vaqueros won't attract any big name recruits, it will be important for the program to see how Hill recruits, which will take multiple years. Hill will need time to revamp a team that hasn't had back-to-back .500 seasons since 1993-1995.
The good news is that the Vaqueros have strong ties with another Oklahoma head coach, as well, Lon Kruger. UT-Pan Am is where Kruger started his coaching career in 1982, and the Vaqueros are hoping Hill brings some of the magic that Kruger has with him. So far it hasn't worked out well, but it's all a process and he didn't recruit any of his players, yet.
In his first season, Hill is evidently trying to get a better grasp of his team moving forward. 11 players have played in all three games this season, and it should be expected that the Vaqueros throw a lot of different lineups at Iowa.
Players to Watch
Nick Dixon: 19.0 PPG, 7.0 RPG, 2.0 APG, 2.7 SPG, 56.3 FG%
Nick Dixon, a junior guard, leads the team in points, rebounds, assists and steals per game this season. He's easily their most complete player, and Iowa will run away with the game if they stop him. Although, considering their struggles to stop guards from penetrating against Seton Hall, Dixon could be in for another solid scoring game.
Dixon wants to get into the lane or open for a mid-range jumper. Iowa needs to force him to shoot the three or pass, though. He is only shooting 14.3 percent from behind the arc, and the Vaqueros don't have many scoring options outside of him.
Defensively, Dixon has at least two steals in all three games this season and four against Memphis. At 6-2, he'll like stay on Christian Williams most of the game. Iowa's point guards have had turnover issues this season, and Dixon could exploit that if they're not careful with the ball.
Antonio Green: 18.0 PPG, 2.0 RPG, 44.8 3P%
The Vaqueros back court is small with two 6-2 guards, but Antonio Green and Nick Dixon complement each other well. While Dixon doesn't want to shoot the long ball, Iowa can't leave Green open behind the arc. He has at least 20 points in two of three games this year and has made at least four threes in both, as well.
Despite ranking second on the team in points per game, Green is who the Vaqueros run their offense through. He leads the team in minutes and has 15 more shots than Dixon. In fact, Green has at least nine three-point attempts in every game so far. He's not afraid to shoot, but Iowa has to force him off the three-point line.
Green is a brutal 22.2 percent from two-point range. That being said, he does a decent job of getting to the line, where he shoots 87.5 percent. If the Vaqueros have any chance of pulling the upset, Green will have to be on fire from deep all game.
This article originally appeared on