Iowa Basketball: Get to Know Seton Hall Pirates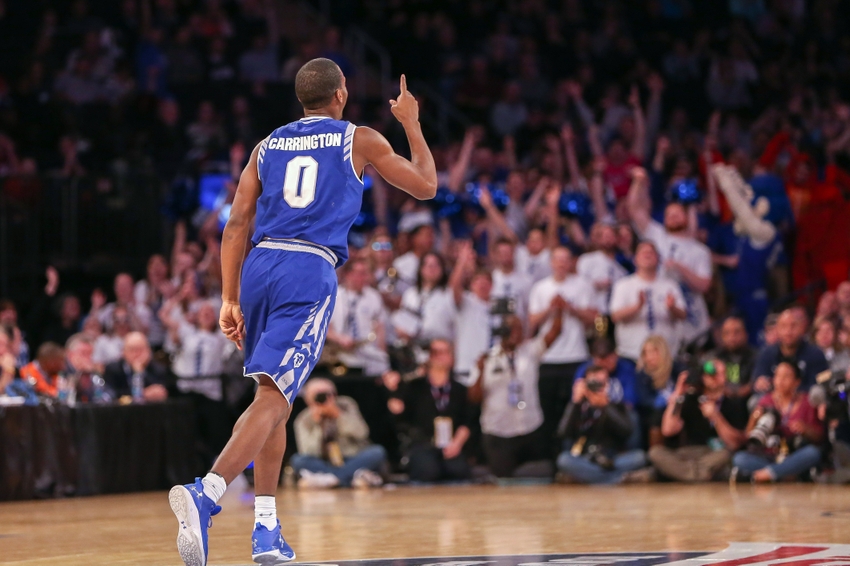 A breakdown of Iowa's opponent on Thursday night, the Seton Hall Pirates
After cruising to two wins to start the 2016-17 season, Iowa basketball will get their first respectable opponent of the season on Thursday night. The 2-0 Seton Hall Pirates come to Iowa City to take on the Hawkeyes as a part of the Gavitt Tipoff Games.
Just like many expected, the Pirates cruised through their first two games, as well. After a 25-9 season a year ago, and losing in the first round of the NCAA Tournament to Gonzaga, Seton Hall definitely has the talent to be one of the better teams in the Big East again.
That being said, the Pirates still will have to find a way to replace star guard Isaiah Whitehead, who left for the NBA Draft, although it's a good sign that they beat Fairleigh Dickinson and Central Connecticut by a combined 45 points. Still, Whitehead leaving for the NBA was a shock, as he could have been an All-American this year if he stayed for his junior season.
The Pirates received votes in the latest AP Poll this year and are one of the best non-conference opponents on Iowa's schedule this season, despite needing to replace their top option from a year ago.
Despite Iowa's convincing first two wins of the season, they'll have to play with even more intensity and can't let Seton Hall get into a rhythm early. As previously mentioned, the Pirates have great chemistry after returning most of their rotation from a year ago, plus they added four-star shooting guard Myles Powell.
Here's a closer look at Seton Hall's success under head coach Kevin Willard and two players to watch for on Thursday night.
Kevin Willard
Kevin Willard took over for the 2010-11 season and has slowly built Seton Hall back to the level of success they saw in the early 1990s. After finishing 13-18 in his first season, the Pirates won 21 games, eclipsing 20-wins for the first time since 2003-04, but still missed the NCAA Tournament.
That being said, the Pirates climbed as high as 24th in the AP Poll that year, which was their first time being ranked since 2000-01. Seton Hall struggled the next two years under Willard, but a strong 2014 recruiting class, headlined by Isaiah Whitehead, pushed the Pirates in the right direction.
Since, the Pirates ranked inside the top-20 in each of the past two seasons and finished as the 20th ranked team last year. Plus, they made their first trip to the NCAA Tournament under Willard and first as a school since 2005-06. Gonzaga upset the Pirates in the first round, although receiving a six seed shows the massive improvement the program has made under Willard.
This year is Willard's biggest coaching test, though. He has been ranked, won 20-plus games twice and made the NCAA Tournament. Now, he needs to continue the success and make the Pirates a perennial threat in the Big East. Even though he lost Whitehead, he returns a plethora of good players that are good enough to make a return trip to the Big Dance.
With Villanova, Xavier and Creighton in the conference, Seton Hall will be lucky to finish third in the conference again. Although, they still have the talent to be one of the better teams in the conference.
Two Players to Watch
Khadeen Carrington – 22.5 PPG, 3.0 RPG, 3.0 APG, 68.2 FG%, 90.0 3P%
Someone had to take over as the team's leading scorer this season, and it's no surprise that Khadeen Carrington has stepped up so far. A season after averaging 14.1 points per game, Carrington is off to one of the hottest starts in the nation. Besides the fact that he's averaging 22.5 points per game, he is also scoring with ridiculous efficiency.
Carrington has connected on 15-of-22 shots and 9-of-10 threes so far this season. Peter Jok shut down Kendrick Ray in Iowa's first game, although Carrington has better size at 6-4 and is as hot as any player in the nation. Sure, it's come against mediocre competition, but his hot start is unprecedented for any player, especially for one trying to prove that he's a capable top option.
Jok and Carrington could be in store for a shootout if Iowa doesn't make him a focal point on defense and force other players to beat them. It's how Iowa shut down Kennesaw State from the get-go, and is how they'll be able to pull of the mini-upset on Thursday.
Want your voice heard? Join the Dear Old Gold team!
Angel Delgado – 18.0 PPG, 15.0 RPG, 1.0 BPG, 73.9 FG%
There's only one player on Seton Hall to attempt more shots than Carrington this year, and it's Angel Delgado. The junior forward is shooting at an uncanny 73.9 percent clip through Seton Hall's first two games. He does most of his scoring in the paint, and that could be a problem for an undersized Iowa team.
Not to mention Delgado eats up rebounds. Delgado has averaged around nine points and nine rebounds per game in each of his first two seasons, and this could be his breakout season. Delgado already has a 14 and 16 rebound game, and has a chance to put up the same gaudy rebounding numbers against the Hawkeyes.
After being out-rebounded by Kennesaw State in the season opener, Iowa rebounded better against Savannah State. However there is still uncertainty about how they will handle a bigger and more physical big man.
This will be a huge test for Tyler Cook and Cordell Pemsl. Fran McCaffery will have to rely on his freshmen, who have been Iowa's best options in the paint so far this season, against one of the better rebounders in the nation.
This article originally appeared on