Iowa Basketball: B10 Preseason Basketball Power Ranking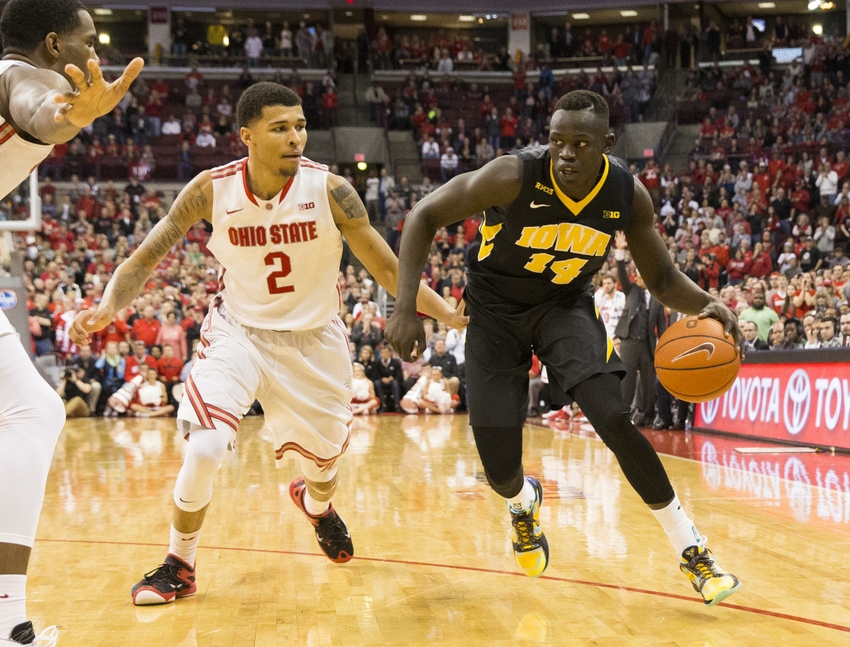 A preseason basketball power ranking of the Big Ten conference
Iowa basketball officially starts their season in a little less than a week. The Iowa Hawkeyes' first game is at home against Kennesaw State on November 11. Although, Iowa enters the 2016-17 season with lower expectations than last year.
The Big Ten will again be considered one of the toughest basketball conferences in the nation. Five teams start the season in the AP Poll top-25, with a couple of more receiving votes and possibly sneaking in with strong starts to the season. Despite the numerous teams in the ranking to start the year, Wisconsin is the only team to crack the top-10, coming in at nine.
The idea of which teams are contenders and which are in a developmental year is evident, but there's no real clear-cut favorite this year. With four teams in the top-15, it's hard to count anything out.
Here is a look at each team in the Big Ten and where they stand in the conference heading into the year with just a week away.
Also, a rating in parentheses out of 10 based on how likely they are to make the tournament. 10 means they're in and zero means there's no way they'll make it. The number will fluctuate as the season goes on.
No. 14 – Rutgers Scarlet Knights (1)
Usually teams that are bad in football look forward to basketball season. Well, Rutgers is one of the unlucky schools that are at the bottom of the conference in both major sports. The Scarlet Knights won just one conference game a year ago and finished 7-25.
To make matters worse, Rutgers suspended 2015-16 leading scorer, Corey Sanders, for the first four games of the season for violating team rules. Sanders averaged 15.9 points, 4.3 rebounds and 1.8 steals per game last season, and that will be a big loss for Rutgers early.
Molloy, Drexel, DePaul and Niagara are all winnable games for the Scarlet Knights, even without Sanders, although that's not the part of their schedule that they're worried about. The Big Ten still seems too big for Rutgers right now, especially since their recruiting class only included one three-star recruit or better.
Three-star forward Issa Thiam should help Rutgers, but he's not a superstar who will take Rutgers to the NCAA Tournament, or even make them a respectable team in the Big Ten, as a freshman.
That being said, aside from losing their top rebounder in D.J. Foreman, Rutgers returned a solid amount of their rotation. That should help them reach double-digit wins, but Eddie Jordan still have a long ways to go.
No. 13 – Nebraska Cornhuskers (2)
Nebraska has won at least 15 games in three of the last four seasons and was ranked just two years ago, also making the NCAA Tournament three years ago. Despite all the recent success, the Cornhuskers are expected to take a huge step back from their respectable 16-18 record a year ago.
Shavon Shields graduated and Andrew White III transferred, leaving Nebraska without their two best players from a year ago. Shields and White were Nebraska's top scorers and rebounders last year, with Shields also leading the team in assists and ranking second in steals.
Nebraska hopes that their two-three star recruits help, but Tai Webster is the main player who needs to step up for Nebraska this year. Last year, in 27.7 minutes per game, Webster led the team in steals, ranked third in points and fourth in rebounds, assists and blocks.
He has the talent to turn into Nebraska's go-to-guy, although how quickly that will occur is the question. Besides, Webster alone can't lead the Cornhuskers to massive success.
They had two good players leading them last year and they only went 6-12 in conference play. The Cornhuskers simply didn't have many other options outside of Shields, White and Webster, and that quickly becomes their biggest issue this season.
If players step up then the Cornhuskers could surprise people, but the NCAA Tournament is a stretch either way.
No. 12 – Minnesota Golden Gophers (2)
In less than five years, Minnesota has gone from being the eighth ranked team in the country, to winning 25 games to winning eight games a season ago and finishing second to last in the Big Ten. The Gophers went 2-16 in conference play last season, but a strong recruiting class led by Amir Coffey should get them headed in the right direction.
Minnesota does lose Joey King, who averaged 11.6 points and 3.8 rebounds per game a season ago, but do return Nate Mason and Jordan Murphy. For a team to bring back their top two players and also add three freshman who should contribute right away is huge.
That being said, Coffey probably won't come in and dominate right away. Besides, the chances of Minnesota flipping their eight win season from a year ago into a NCAA Tournament bid this year is unlikely even if Coffey does exceed expectations.
The Gophers didn't rank inside the top-230 in points per game nor points allowed per game. That speaks to not only their lack of star power last season but also their lack of depth.
It will take more than three solid contributors for them to reach the heights they were at just three years ago. Although, Minnesota should improve from last season and finish more in the middle of the Big Ten.
Minnesota has a chance to surprise a lot of people if their bench steps up and Coffey, Eric Curry and others prove to be the leaders the Gophers lacked a season ago. It's a rebuilding process for Minnesota, though, and that could take multiple years.
No. 11 – Penn State Nittany Lions (3)
Penn State didn't play horrible defense last season, but their inability to score cost them. The Nittany Lions ranked a mere 316th out of 351 teams in points per game. They could possibly be even worse off this year on offense after losing leading scorer Brandon Taylor.
The loss of Taylor is catastrophic for a program that has slowly built themselves up to a perennial .500 team. Taylor led the team in points and rebounds per game last season, as well as being their leader. As hard as Taylor will be to replace, it does allow other players to see an increased role.
Shep Garner will become the leader of Penn State this year after averaging 14.8 points, 3.4 assists and 3.2 rebounds per game last season. That being said, Garner has to be a more efficient scorer with Taylor gone. He only shot 38.2 percent from the field a season ago, despite connecting on 36.6 percent of his three-point attempts.
The good news is that Penn State played 10 guys consistently last season, therefore it's not as big of a task for players to take on an increased role. They return six of their 10 rotation players from a .500 team, which is a lot more than most teams.
Penn State is consistently a .500 team who doesn't dominate in conference play. If they can't adapt to life without Brandon Taylor then they'll fail to have their third straight .500 season or better. However, if Garner steps up and their bench continues to be a consistent contributor, the Nittany Lions will finish with at least a .500 record.
No. 10 – Illinois Fighting Illini (4)
The Illini return three double-digit scorers from a season ago, but there's no doubt that Illinois will only go as far as Malcolm Hill takes them. The senior guard is one of the better players in the Big Ten this year after averaging 18.1 points, 6.6 rebounds, 3.3 assists and 1.2 steals per game a season ago.
Hill impacts the game in multiple ways on both ends of the court, but he can't win games by himself. As previously mentioned, Mike Thorne Jr. and Jalen Coleman-Lands both averaged double-digit points a season ago, plus the Illini get Tracy Abrams back from injury.
Abrams has had a solid career with Illinois, and he's the guy the Illini need to step up to help replace Kendrick Nunn's 15.5 points and five rebounds per game. It would be huge if Abrams returned to being the double-digit scorer he was before missing all of last season.
Illinois should return to being .500 but 2017-18 is their true target year since they have four four-star recruits in their class of 2017. Although, the Illini could surprise people with their veteran leadership and deep bench.
Malcolm Hill is a very good player, and I wouldn't count out a huge senior season to try to catapult his team into the Tournament. John Groce could prove a lot as a coach if Illinois snaps their three-year NCAA Tournament drought, but it will probably last one more season.
No. 9 – Northwestern Wildcats (4)
Northwestern is still searching for their first NCAA Tournament appearance in school history. They started last season strong before going 8-10 in conference play and dropping to 20-12 on the season.
With Tre Demps and Alex Olah seniors, it seemed like their year to make a run at the Big Dance, but it didn't work out and now Northwestern looks a lot different. Demps and Olah are no longer with the team and Bryant McIntosh has to take another step in his development to keep Northwestern afloat.
The junior guard improved his scoring to 13.8 points per game and also dished out 6.7 assists per contest. Although, with Demps graduated, McIntosh can't settle to just be a distributor. While Northwestern returns a good amount of their rotation from a season ago, including Scottie Lindsey who shot 40.9 percent from three, the Wildcats need McIntosh's offense the most.
He shot a respectable 36.6 percent from three and 42.3 percent from the field but has never been the Wildcats' go-to-guy. Northwestern proved last year that they have the depth to win, but now they need to show they have the star power to carry them to the NCAA Tournament.
This could finally be Northwestern's year, but next year seems more plausible considering the uncertainty surrounding their second and third options.
Chris Collins is a good coach, although, just like in football, their offense needs to be better for them to win. Owning the 39th best scoring defense doesn't help when ranking 204th in points per game. Northwestern could be good, but let's assume that they have a transition period and finish with about the same record as last year.
No. 8 – Iowa Hawkeyes (4)
There is a lot of uncertainty surrounding Iowa this season, and for good reason. They lost four starters, including All-American Jarrod Uthoff, and the addition of freshman phenom Tyler Cook likely won't be enough for them to win 20-plus games for the fifth straight season.
However, after scoring 28 points in 28 minutes against Regis, any doubt that Peter Jok can't lead Iowa is gone. Sure it came against Regis in an exhibition game, but Jok still looked sharp and took control of the game when needed.
The Hawkeyes still have a lot of questions they need to answer. As of now, Jok's and Cook's roles are the only ones set in stone, with everyone else fighting to be in the starting lineup. The sooner Fran McCaffery figures out his starting five the better, especially considering their tough non-conference schedule.
Even with all the issues that could arise out of Iowa City this winter, Fran McCaffery is one of the more underrated coaches in the nation and always gets more out of his team than expected. For that reason, Iowa starts the year ranked eighth in the power ranking with an outside chance to make the NCAA Tournament.
Iowa won't be great like the first half of last year, but they returned the majority of their bench, added their best recruit under McCaffery and have a very good coach. Don't expect the world from this team, but don't sleep on them either.
No. 7 – Ohio State Buckeyes (7)
The Buckeyes finished 21-14 and 11-7 in conference play last season and return a good portion of their roster. Marc Loving, Keita Bates-Diop and Jae'Sean Tate all averaged at least 10 points and five rebounds per game last season, and JaQuan Lyle also chipped in double-digit scoring.
That alone is enough to convince a lot of people that Ohio State has a chance to return to being a top-25 team this year. Although, add in that they landed four-star recruits Derek Funderburk and Micah Potter, and three-star recruit Andre Wesson, and Ohio State looks like a dark horse in the Big Ten.
The Buckeyes mix of young talent with veteran leadership should help them this season, as well as in the future. Although, the Buckeyes need someone to emerge as the leader of the team.
Loving somewhat did that last season by leading the team in points and chipping in 5.3 rebounds per game. Although his 41.4 field-goal percentage is underwhelming, especially when considering he could lose shots this season to incoming freshman.
When it comes down to it, the Buckeyes should be a good team, but there's no telling how good. Their ceiling is a top-15 team, but their basement is missing the NCAA Tournament for the second straight season. Thad Matta is one of the best coaches in the nation, though, therefore it's hard to imagine no one will emerge as a leader on and off the court for Ohio State.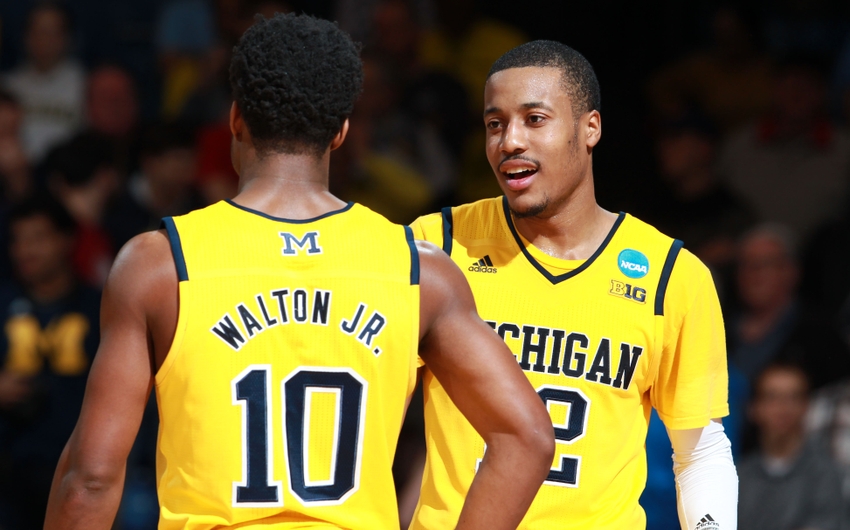 No. 6 – Michigan Wolverines (7)
The loss of Caris LeVert won't be easy to overcome for Michigan, but his injury history has meant that the Wolverines have had to play without him a lot. Therefore, they should be better prepared for this season as Derrick Walton Jr. and Zak Irvin look to lead the Wolverines.
Michigan returns five of their top six players in minutes per game last season, as well as owning one of the better recruiting classes in the conference. Xavier Simpson and Jon Teske both have the potential to be contributors right away, but the biggest key for the Wolverines is to find their leader on the court.
When healthy, LeVert has been the Wolverines' best player. That being said, when he went down with an injury Michigan's problem was that no one else took on a bigger role. Walton, Irvin and Duncan Robinson all averaged 11 points per game, which worked with LeVert's 16.5 points per contest and passing, but now Michigan needs one of them to emerge as the team's go-to-scorer.
In my mind, it lands on the shoulder's of Derrick Walton Jr., whose game is similar to LeVert's. He might not be as productive, however he's a good passer, can score, rebounds well for a guard and forces turnovers on defense. If he improves his shooting (37.7 percent) then he has a chance to become a household name.
Michigan has veterans and solid incoming freshman, but their lack of a go-to-player could cause them problems. They still might have the talent to make the NCAA Tournament without one, but more should be expected from this team.
No. 5 – #25 Maryland Terrapins (9)
Diamond Stone, Rasheed Sulaimon, Robert Carter and Jake Layman are all gone. Out of Maryland's very good 2015-16 squad, the only household name that remains is point guard Melo Trimble. After jumping onto the national scene as a freshman, Trimble regressed as a sophomore and lost some of the hype that surrounded him, as well.
He needs to regain that swagger if Maryland wants to be a top-25 team this year. There's no doubt that the talent is there, even with his undersized stature, but he has never had to do it by himself. He has always had a loaded roster that didn't put pressure on him to score. Although now, Trimble must lead the Terrapins in scoring for the third straight season.
Even with the loss of four really good collegiate players, Maryland should have a good team. Justin Jackson, Kevin Huerter and Anthony Cowan are three recruits who will instantly have a sizable role. Also, Jared Nickens, the only player besides Trimble to average at least five points per game last season, will see an increased role from his 19.5 minutes per game a season ago.
Maryland might not be a top-25 team, but they have gone a combined 55-16 in the past two years since joining the Big Ten, finished the season in the AP Poll top-20 both years and have one of the better coaches in the nation, as well.
This is a scary team if Trimble becomes the leader and star player everyone is expecting him to be this year, but they could also be one of the bigger flops after losing so much talent.
No. 4 – #15 Purdue Boilermakers (10)
Purdue actually lost one of the better centers in the Big Ten, A.J. Hammons, although, there is still a chance that Purdue is even better this year. The Boilermakers will miss Hammons, as he led the team in scoring and blocks per game while finishing second in rebounding, but they do have solid replacements.
Caleb Swanigan and Isaac Haas form one of the more intriguing duos in the Big Ten this season. Last season, they combined to average 20 points and 12 rebounds per game. That should go up with Haas' role increasing. While both Haas and Swanigan own massive potential on the offensive end, Purdue could face defensive troubles in the paint without Hammons protecting the rim.
Haas ranked second on the team with 0.8 blocks per game, and Swanigan blocked a measly 0.2 shots per contest. However, at 7-2, Haas has the potential to alter shots with more experience and playing time.
On the perimeter, the Edwards' will lead Purdue. Carsen Edwards, Purdue's top recruit, and Vince Edwards, who averaged 11.3 points and 5.4 rebounds per game last season, will be Purdue's top options.
Carsen Edwards and Michigan transfer Spike Albrecht will fight for the starting point guard role, but they have a chance to start alongside each other still. After a mediocre season at the position, Purdue now has two very good options.
Purdue is an odd team in that they built their roster around two big men in an era where shooting dominates. Still, they have good players on the wing and a solid bench. If Haas continues to develop and Purdue finds a way to protect the rim, they have the potential to be a top-10 team.
No. 3 – #11 Indiana Hoosiers (10)
The loss of Yogi Ferrell and Troy Williams leaves some holes for Indiana, but it could have been a lot worse. Thomas Bryant, a probable first round pick, decided to stay for his sophomore season. Plus, Indiana also brings back James Blackmon Jr. and Og Anunoby.
Plus, they added two-four star recruits and two-three star recruits to bolster their roster even more.
Anunoby will have a much bigger role this season alongside Thomas Bryant in the front court. After a slow start to his freshman season, Bryant should have a very good sophomore campaign. While Blackmon should lead the team in scoring, Indiana needs Bryant to become one of the better big men in the conference on both ends.
Plus, Robert Johnson and Collin Hartman, who each played 20-plus minutes per game last season, are underrated key contributors that Indiana brought back. That being said, the loss of Yogi Ferrell will be harder on Indiana, especially early in the season, than many people expect.
Ferrell started to come into his own as a senior last season and was the leader of the team. While he led the team in scoring, his playmaking at the point guard position gave Indiana a big advantage over other teams. It gave Indiana's offense an identity while having a veteran ball-handler running their offense.
Indiana has the core to repeat as Big Ten regular season champions, but there's reason to be at least a little skeptical until they figure out a way to replace Ferrell. It wouldn't be surprising to see the Hoosiers not looking extremely sharp at the start of the season, but Indiana will figure it out quickly.
No. 2 – #12 Michigan State Spartans
How does now Hall of Fame head coach Tom Izzo replace Denzel Valentine, Bryn Forbes, Matt Costello and Deyonta Davis? He lands Miles Bridges, Josh Langford, Cassius Winston and Nick Ward. The Spartans might have trouble meshing at the start of the season, and their freshman will have off-nights, but having legendary head coach Tom Izzo on the sidelines will help a lot.
Bridges and Langford, both five-star recruits, are two of the most intriguing freshmen in the nation this season. Michigan State is no longer a great veteran team, instead they will be a great freshman-led team who plays fast and is extremely athletic.
Also, don't forget the Spartans bring back Eron Harris and Matt McQuaid. Neither put up huge numbers last year, but they have a lot of potential in their expanded roles with Michigan State looking for key contributors outside of their amazing 2016 class.
There is concern about Michigan State early because of their youth. Although, as previously mentioned, it's hard to bet against a Tom Izzo-led team, especially one that everyone knows will figure it out.
Michigan State's football team is having their worst year in recent memory, and their basketball team will make up for it. Plus, Izzo will make sure Michigan State doesn't get upset in the first round again. When Izzo is out to prove something, watch out.
No. 1 – #9 Wisconsin Badgers (10)
After the Bo Ryan saga ended, and Wisconsin figured out how to play without Frank Kaminsky and Sam Dekker, the Wisconsin Badgers were a very good team. Now, they return Nigel Hayes, Bronson Koenig, Ethan Happ, Vitto Brown, and others, but are only ranked ninth in the nation.
Wisconsin didn't land any amazing recruits, which is part of the reason for their low ranking, but by this point everyone should know that doesn't matter when it comes to the Badgers. They'll win with their veteran leadership, play and a deep roster.
This is a team with multiple players who experienced a run to the National Championship Game two years ago. Wisconsin knows how to win, and their somewhat surprising run in the NCAA Tournament last year proves it.
Hayes and Koenig have to be more efficient scorers if the Badgers want to be a true title contender. Although, in the most Wisconsin Badgers way possible, they have amazing depth and two potential under the radar stars to lead them. Plus, Happ is poised for a breakout season after being named the Big Ten Freshman of the Year a season ago.
Wisconsin is good, but not many people will talk about them until tournament time because they don't have a flashy freshman phenom. Although, come March, when Wisconsin is around the top of the Big Ten regular season standings and makes a deep run in the conference tournament, no one should be surprised if they go on another deep run in the NCAA Tournament.
The Wisconsin Badgers are very very good, and they have a chance to be great if Nigel Hayes and Bronson Koenig lead this team like everyone expects.
This article originally appeared on